Astro 4K is a wireless external monitor for boosting up your work efficiency. There are a lot of monitors like this already but Astro 4K has upper hand in some important areas.
Astro 4K has an LCD IPS Ultra HD Display with a resolution of 3840 x 2160, a true 4K. It has complete touch-screen supporting a maximum of 10 point touch. Having a touchscreen is a field where Astro 4K wins as the other such monitors don't provide that. Instead of having to choose between two different monitors of different resolutions, Astro gives you 4K straightaway. The screen supports High Dynamic Range and results in better colors and brightness up to 300 cd/m2. It produces 16.7 million colors and has refresh rate of 60 Hz. You can choose between two screen sizes however, 13.3″ or 15.6″. Both have a 4K resolution still.
Unlike other monitors, Astro 4K is truly wireless. It connects over Bluetooth 4.0 to every laptop/tablet or smartphone. You can even use Wi-Fi to connect. For consoles like PS4 or Xbox, you do need a cable and there is an HDMI port for that too. There is also a port for earphones / headphones.
There are no cable restrictions and you can use Astro 4K in both landscape or portrait mode. With the help of its base you can get a great view of up to a 178° angle.
There are no wires but you do need it for charging. It has two USB Type-C cables. One USB Type-C cable can be used for fast charging. The second USB C can be used for faster data & file transfer. You can also use it for connections if you don't want to connect wirelessly. There are two standard USB ports as well.
Astro 4K charges fast with the USB C and lasts very long due its huge 10,000 mAh battery. It is 3x bigger than what most of the monitors have, while some don't even have built-in batteries. Over one full charge it lasts up to 8 full hours. This is another big win for Astro 4K.
With the Astro monitor, you can also add the Astro Bluetooth speaker. It has a 2000 mAh built-in battery with all kind of ports.
The 15.6″ version has dimensions of 360 x 230 x 9mm and weighs 990 grams while the 13.3″ version is 309 X 197 X 9mm and weights  875 grams. Both the versions are pretty light. The monitor also has a protective case that is resistant to scratches and dust.
Astro 4K is a clear winner in terms of battery & connectivity and one of the bests in other features like screen resolution. Having a touch screen too might be really helpful in increasing productivity.
Astro 4K vs Bladex Vs Vinpok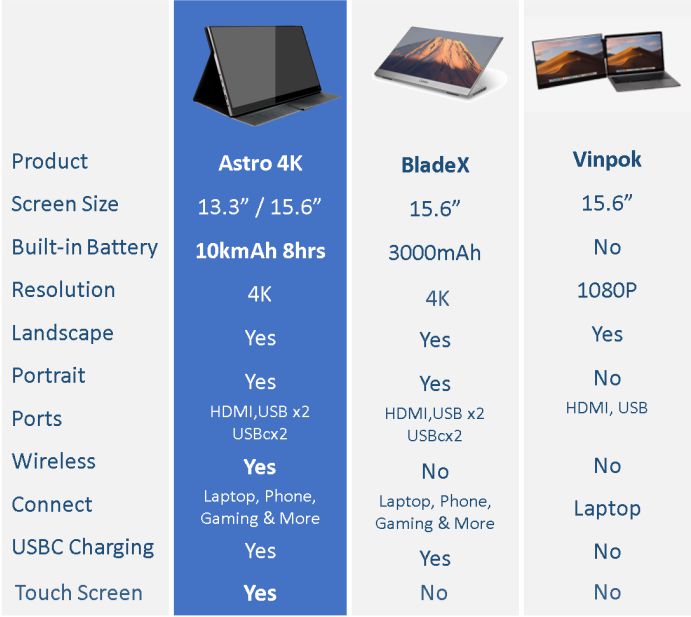 Source – Indiegogo