Electronic vehicles are the need of the time. Global warming and pollution is on an all time high and the fumes of vehicles play a big role in it. E-vehicles don't use fossil fuels. They work completely on electricity and don't cause any type of pollution. This makes them a better substitute for the better of the environment. Many companies and entrepreneurs are working on e-bikes and constantly launching e-biles in market. One of the newest to join that list is AMX.
Created by Analog Motion, AMX is a lightweight E-bike. It's looks exactly imitate those of a normal bicycle. It looks and feels exactly like a regular bike. The difference is that it is more powerful. AMX has a powerful 250 Watts power hub that does most of the job. The motor is located and integrated in a hub in the rear of the bike. The motor poses no resistance and works smoothly. It is ultra-silent and the bike produces no noise while riding. The motor can also be powered down to use AMX like a regular bike.
The bike has disc brakes of size 180 mm and it makes sure that the bike stops right whenever you need it to. Good disc brakes can prevent a lot of accidents from happening. The tires are 2″ wide which provides extra stability when you are riding. Instead of using a traditional metal chain, AMX has a Carbon belt drive. It has several benefits over a normal metal chain. It does not need to be lubricated over and over. The carbon belt does not make any noise while you ride either. However, the Carbon belt drive is only present in the Limited Edition. The Limited Edition also boasts of a High Assist mode which provides an extra 15% power boost. The Limited Edition also offers two exclusive colors for the bike; Deep Blue and Pearl White.
All other features are same in the Classic version. Both versions weigh only 15 kg which is really less for such a vehicle. It is made of advanced Aircraft grade 6061 Aluminum which is really strong. This Aluminum frame is responsible for the lightweight as well. The bike has a minimal display as well which is almost invisible when turned off. The display has an OLED screen which is known for its quality. It shows Speed, Odometer, Assist Level, Top Speed, Average Speed and Battery Meter. The display is certified IPx65 waterproof, CE dust-proof and ROHS life-proof.
AMX Classic also has a Road version that is suitable for off road driving. It has a big 36V 7Ah battery for performance. It just needs 3 hours to fully charge and can go up to 44 kms on one charge.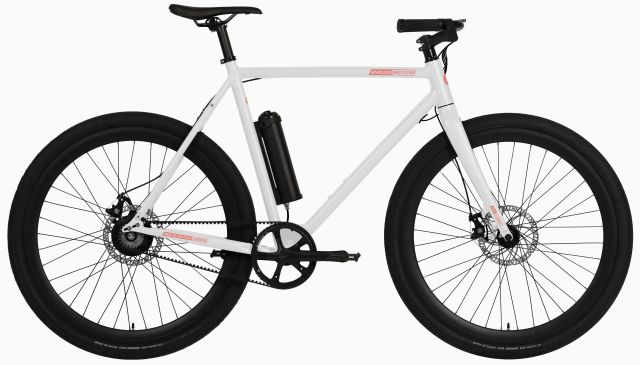 AMX has another version which is even more compact than AMX; AMX Mini. It is only 138 cm long from wheel to wheel as compared to 178 cm of the regular AMX. It also weighs even lesser than 13 kgs which is 2 kg lesser than the regular AMX. AMX Mini does not cut out of the performance either as its range is the same as of other versions that is 44 km.
AMX has a lot of different options according to different preferences of people. It has a version for everyone. It is also good for environment which is a win-win for everyone.
Source – Indiegogo