Strength training can be a challenge to work with, but Vmaxpro offers a simple design for anyone to use.
Vmaxpro is a tool that helps people track their exercises in the gym. This produces recommendations based on AI for what people can do to improve upon their workouts and make their bodies stronger. This is all about helping people to reach their workout goals.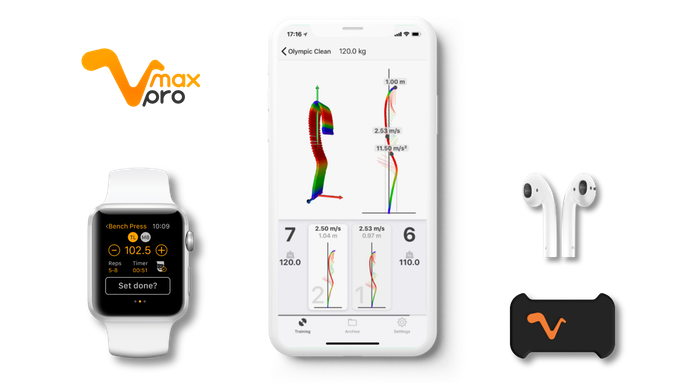 The Vmaxpro is currently being promoted on Kickstarter and has become a big hit there. People can pledge funds to get a version of the Vmaxpro. This should provide a simple approach for reviewing one's fitness efforts without being hard to follow.
How Does This Work?
The Vmaxpro uses a design that links to a mobile device. A Bluetooth connection is fully supported here. This works on many compatible units, although this works best on iOS devices, particularly smartphones.
The user will attach the Vmaxpro sensor to a proper workout unit. This can work on free weights and stationary weights alike. The magnetic body helps to keep it on a surface without risking it slipping off. The shock-resistant body also ensures this can keep on working in moments. This is only 16 grams in weight as though, thus keeping it from negatively influencing how one might lift weights in a workout session.
It also uses a battery for power. This battery can be recharged in moments and will provide about 14 hours of power on a charge or 100 days of power when in standby.
How the App Works
The app that comes with the Vmaxpro sensor reviews the user's ability to lift weights and get to one's exercise goals. An AI coach will produce a velocity profile based on how well someone can lift or move something versus the approximate pressure involved.
The AI will review how this works based on the weight one uses and how many movements or repetitions are run. The support feature here allows the user to stay active and to keep on lifting well.
The detailed readouts will even identify the weakest points in one's repetitions and movements. The free fitness app will provide the user with everyone one needs to know about how a workout is being run and what to expect out of that work in any situation one enters into.
Based on Testing and Research
The people behind the Vmaxpro sensor have been working hard to produce the right product. The team has spent nearly four years working on finding a system that links effortlessly to a lifting unit. The ongoing testing and prototyping has all led to the most detailed and accurate product the developers have ever made. It is no wonder why the product is selling so well on Kickstarter.
See what the Vmaxpro can do when finding a fitness tracking unit. The design of the Vmaxpro provides the user with a simple approach for handling a workout with all the right effort and support that one deserves to get out of it all.
Source – https://www.kickstarter.com/projects/629181264/vmaxpro-digitize-your-strength-training-like-the-p