Kickstarter is presenting Nestling's all-in-one power adapter. It is a quite essential thing, so grab it fast when it is hitting the market. It can be shipped all across the globe and will help you kick start your year in a great way.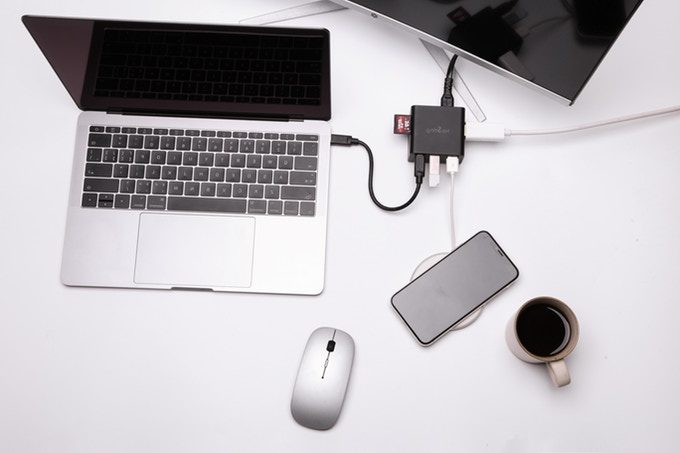 Nestling is the combination of three major things
Power Supply,
USB-C Hub and
Data Transfer
You can do all at once.
With Nestling's power adapter charge your MacBook along with transferring data simultaneously. It is a HUB for the MacBook. Nestling allows to effortless and fast charging of all your devices. It even helps to transfer data for your smartphone, MacBook, and all other everyday devices quickly.
It is a perfect companion for your MacBook with its design and incredible service. You can take it anywhere and you will get efficient and fast charging experience every time, be it in indoor or outdoor.
Nestling is a USC-C Hub. As the USC-C Hub, Nestling allows you to continue using all your existing devices with your brand new MacBook. You get an awesome experience with the Hub for Macbook as it is very crucial to get a compatible device that supports every existing device.
You just need this one Power Adapter to bring with you, if you are on road. It can charge all your gadgets. But yes, all those devices must be USB-C enabled because Nestling is best compatible with USB-C enabled gadgets. Nestling presents optimal experience with its charging performance when you pair it with your MacBook.
Nestling comes with HDMI and SD card port. You get two USB 3.0 port and one SD Card 3.0. Nestling support your 4K video output with its powerful 4K HDMI port. Now you can charge every USB device you possess on the go or at your home and office.
There are different lengths of time required to fully charge different MacBook models. Nestling can fully charge MacBook 12, Air, 13 and 15 in 2 hours, 2 hours, 2.5 hours and 4 hours respectively. 35W Adapter is compatible with the PD 2.0 protocol.
It is not only a powerful companion for your MacBook and other devices, it is very easy to carry and can fit in your pocket. The small, compact size makes it first choice to grasp at the time of road trip or at your office and home, as it charges up all your devices.
We are setting out to design a great product which will not only satisfy all your daily gadget-oriented needs, it will also keep your bag or table hassle-free with no more messy cables.
Nestline weights 237.1g only and it is a convenient choice for all gadget users. You will only need this magnificent adaptor for all your need.
Nestling will also protect your computer's USB-C port against all wear and tear. Random plug and pull will not affect your computer's USB-C port.
Nestling works great between -20° C to 35° C temperature. Each of the packages comes with one of Nestling, one AC cable and one Type-C cable. We are giving world-wide free shipping service for this small-sized yet powerful device.
Go register for the first lot of Nestling adapters Right Now!.