Whether you have gaming laptops under $1000 or cheap laptop under $200, an anti virus software is a must have tool on laptop and desktop computer to protect your data and privacy.
Just because you cannot afford pricey anti virus tools does not mean that you have to go without any antivirus protection. There are quite a number of free antivirus softwares for windows 10 that offer great protection against malicious adware and ransomware. Despite being completely free, these tools give a tough competition to the commercial ones and only a few of the commercial anti-virus programs can beat their effectiveness.
So if you want your computer to be protected against virus, malware but also do not want to shell out a lot of money, these are just the right pick for you.
Some of these softwares offer free versions only for a certain period of time, after which you will have to upgrade and get the full upgraded version.
Most of the free versions are mainly for non-commercial use. So if you are looking for something to be used for businesses, it is highly advisable to make the required payments and get the full security suite. This will ensure the safety of the sensitive information that you may store on your computer, small pc or laptop for business.
The free softwares are mainly designed to detect and remove any malware that might have taken root in the system. However, there are also a few of them that provide real time malware protection and prevent all types of ransomware, botnets, trojans and other such programs from getting a foothold in the system.
The following section discusses 6 best free antivirus programs of 2018.
1. Bitdefender Antivirus Free Edition
The Bitdefender Antivirus Free Edition is like a new lease of life with its extremely speedy performance and a clean interface. It should be admitted that Bitdefender had not updated their engine for quite a long time, rendering the antivirus program quite ineffective. However, they have now released an all new version with extremely fast scanning, excellent virus detection, precise behavioral analysis, phishing protection and automatic scanning from time to time.
The Bitdefender Antivirus Free Edition is essentially only the AV section of the full product. Its scanning mechanisms are very clean, light and well constructed. The Bitdefender is faster than most universally average virus protection software. This makes it somewhat unrivaled in the line of free anti virus tools.
The best part about the Bitdefender is its autopilot mode. This ensures that the software automatically does the job for you even if you sometimes fail to keep up with the scanning routine. This easy virus management also means that the user does not really have to stay alert and attentive all the time. The software is reliable and although it will not stop the pop ups from appearing on your screen, it is very clean and efficient and also saves you a lot of time. PC magazine has already declared it as a winner.
2. Avast Free Antivirus
Avast and AVG have both been quite popular names when it comes to antivirus software. Although the older ones were already good enough, the newer ones have come out with an all new antivirus suite and much wider userbase. Avast and AVG have not actually merged together although there were reports of Avast formally acquiring the AVG.
For now, the two antivirus products are going to remain separated. The company has however released statements that a joint AV package is under construction and might be soon out for all to use. This might, however, take time as the user-base has suddenly received a huge boom and the company could be having around 400 million users at the present. This would mean that the company will be required to work through more data and hence more time.
The key features of Avast Free Antivirus are its excellent virus detection, highly efficient malware scanner, strong password manager, and an additional gaming mode. The newly released version of Avast Free Antivirus has a feature that automatically prevents pop ups and other distractions while the game is on. They are also very effective in reducing the system load while playing games that need heavy and quick processing with quick results. Further, the password manager is like the icing on the cake. This will make sure that all the information stored within the computer is indeed very safe.
This free virus protection software with a complete new overhaul has a high rating for malware protection and offers clean sweeps against attacks. However, there is also a negative side to this software. Due to its highly efficient expanded detection network, the time for software launch is considerably slowed down, which is not very impressive. The uncontrolled pop ups could also be a major distraction while you are sitting at your computer for some work.
AV-Test website has certified it for 100% protection against 0-day threats.
3. Sophos Home
The Sophos Home is quite a new addition to the list of free antivirus software. Despite this fact, the software offers high, business grade security. They do quite a good job. In fact, even a little more than the common antivirus software. It is therefore most suited for a home full of PCs and laptops. This program offers real time malware protection, a feature quite uncommon in free versions. In another case, they also have a number of tools like anti phishing and content control. The software can be synchronized with 10 different PCs which means that the computers used throughout the house can be monitored and controlled. This will make sure that you can easily block various sites that you may consider inappropriate for children.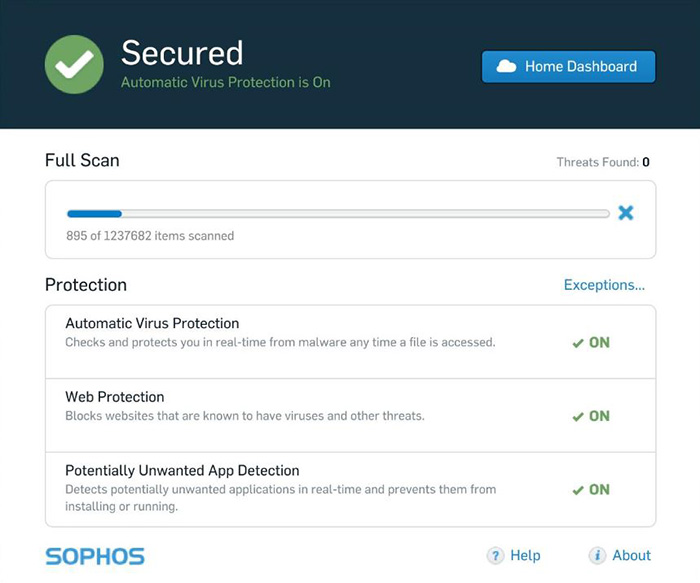 The key features of Sophos Home are
Excellent virus detection
Enhanced parental controls
Phishing protection and
Synchronization with multiple PCs
Although Sophos Home can be used with 10 different systems at homes, it is actually business software and a pro at protecting your files. The antivirus program is already very efficient which means you will not have to constantly deal with requests for up gradation.
4. Avira Free Antivirus
The Avira Free Antivirus is one of the most highly efficient software. It has the ability to offer real time protection against 99.7% of the threats to your system. The antivirus program also does not weigh too heavily upon the hardware and slow down your computer. Along with a clean and friendly interface, the antivirus program offers excellent virus detection, phishing protection and has system optimization tools to speed up the processing time. It offers an optimal management of the system, efficient protection against ransomware and a 500MB/month free VPN.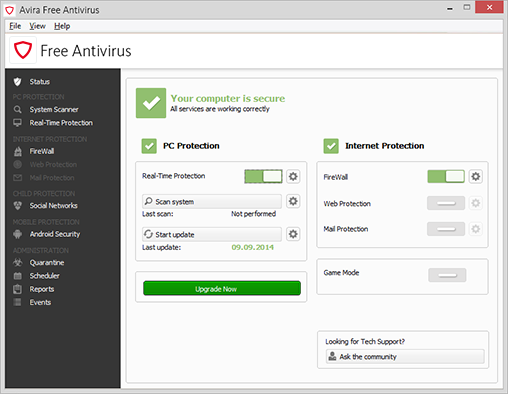 The only reason why the Avira Free Antivirus has not made it to the top position is due to the uncontrolled pop ups and advertisements. Although this is quite expected from a free antivirus, the constant badgering is a little more than what is normally tolerable. There are a few antivirus programs that are really effective in blocking out the advertisements, but Avira may not show strong efficiency even after frequent boosting.
5. AVG Antivirus
This is another free antivirus which offers good virus detection, a malware scanner, and phishing protection. However, this particular antivirus may not be very up to date, considering a number of things. Some of the close observers have been very critical of the AVG. However, it is not entirely ineffective. It does offer a free virus protection with good efficiency with minimal system impact. Although the products have system optimization tools, they go a little too heavy on the advertisements which can become a little too distracting over the course of time. It also has some features like the "tune up" which do not really make any sense and neither play any role in the system optimization.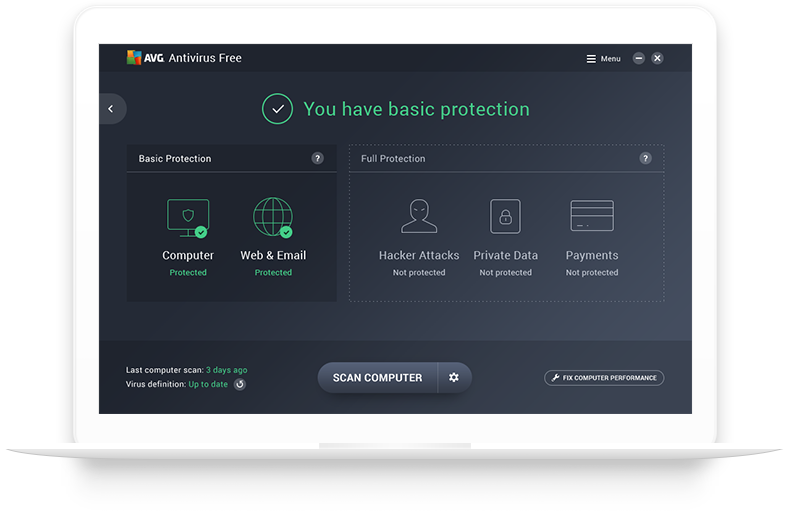 Leaving apart the pop ups, when it comes to the actual antivirus efficiency, it is a surprise that the upgraded version is actually quite different from its parent in both the construct and the task execution. The engine could actually be a bit stronger than what it is. However, there may be some good news if the Avast/AVG combination comes out soon as promised.
6. Panda Antivirus
The Panda Antivirus is very rich in features and great options securing the PC. Although the software promises to be quite lightweight, it may not actually be so in reality. It may also not be very good for blocking away the advertisements. In fact, there are high chances that you will get a pop up for downloading the full version even before you will have finished installing the free version. The key features of the Panda Antivirus include
Cloud based scanning
Gaming mode
USB immunization
Bootable rescue kit
Although the software is quite light as compared to most others and keeps running silently in the background, it does affect many of the system tasks, mainly the installation time of various software, copying and downloading of apps and files. It also puts a heavy load on the CPU mainly during the updating time. Apart from that, it is quite well laid out and comes with a number of extra features like the game mode which automatically optimizes the processing load while playing games. As long as you are using it for non-commercial purposes, the Panda is just fine.
Pro Tip : Always use two anti-virus programs on your computer to get better protection against virus, malware and ransomware.