People are going crazy for selfies for years now and don't seem like going out of fashion in near future. Taking a perfect selfie is not so easy. Your arm can stretch only to a limit. Even your selfie stick has limited angles. That's where aerial photography comes into play. Drone cameras can click pictures with angles that are not possible by hand or any selfie stick. It has been popular since a while and a lot of aerial cameras are out there in market. But the drones are big & heavy and it can be a headache carrying them around.
That's where AIR PIX comes into the play. Developed by AirSelfie, AIR PIX claims to be not only the most affordable but also lightest and portable aerial camera out there. Its dimensions are 102x85x13 mm and that's smaller than even your smartphone. It weighs only 52g. Holding it would feel like holding a small empty mobile cover. However, it doesn't mean it's not strong. It has ABS plastic body which makes it durable enough to take a fall or two. Even though it might not even happen as it is designed to automatically land safely in case of low battery or losing control.
But that's for the body frame. For flight uses, AIR PIX has four coreless motors that allow the device to position itself properly for different angles. By its internal barometer, and a gyroscope, AIR PIX is able to automatically determine its balance and level and correct itself mid-flight. It helps in producing sharp and clear images without any blur.
Not just sharp, but it's 12MP camera is capable of clicking full HD pictures. For video purposes, it can record 1920x1080p Full HD videos at 30fps.
It supports Capture Me Facial Recognition & Tracking. It can automatically find your face and recognize it in the frame of the shot.
You gain the complete control of the camera and many features by using its One-Touch app that's available on both Android and iOS. It is easy to fly AIR PIX around by the digital joystick present in the app. You can also crop, rotate or zoom your photos and videos in the app. There is an option to add stickers and filters. You can also directly share your clicked pictures and videos to Instagram, Facebook or YouTube with the help of the app.
You can even control the camera without your phone. The SYNControl feature allows you to control AIR PIX by just gestures and movements of your hand.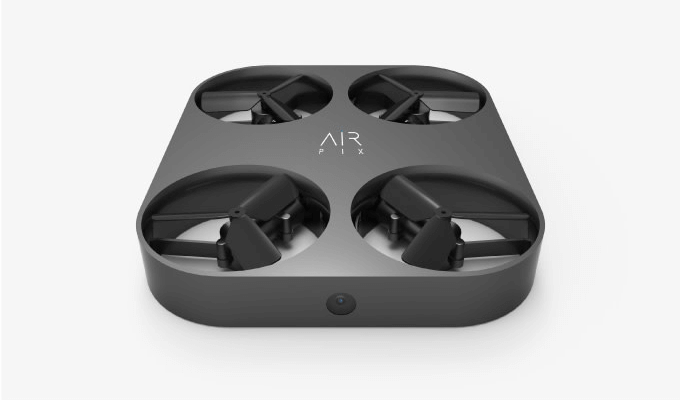 It has a flight range of up to 30 meters. For storage, it has an 8 GB Micro SD card.
As it is so small and lightweight, there is a little bit of compromise in battery. It has a small battery which gives you only a 6-minute air time at big heights. It can only be used for clicking quick picture from bigger heights and you can't record long videos.
AIR PIX is the lightest and smallest but effective drone out there. It has a big limitation with the battery but that can be made up for by the optional 5000 mAh power bank. So if you can buy the additional power bank, you get the perfect device for clicking pictures like never before.