Battery is the fuel that powers the machine that our smartphones and tablets are. However, batteries too need charging. And you do not have option of charging everywhere. This was a problem that could cause serious trouble during travels or in case of emergencies. Power banks solve this problem. Power banks can store thousands of mAh of power, enough to charge any device. This extra battery can turn out be a savior at times. There are countless types and brands of power banks out there. One of these is the new Power X.
Created by ZIRUX, Power X is world's first ever rugged Power Delivery charging power bank. Power X's body is rugged with a protective polymer to make it durable and safe from falls. Power banks are not usually very strong and do not have any kind of protection. A fall can damage them from both inside or outside. Power X eliminates that risk with its rugged case. The case also acts as a heat insulator and prevents the power bank from overheating. Power X's outer body comes with assured Voltage Protection, Temperature Protection and Short-Circuit Protection. Its body is anti-scratch and anti-slip as well.
However, Power X is not all about the build. Its main purpose is charging and its durability would be useless if it is not good at charging. First, Power X has a huge capacity of 27,000 mAh. It has a built-in LG 18650 battery of 27,000 mAh. With that 27,000 mAh, Power X provides an output power of 100 Watts. 100 Watts is enough for charging even laptops suitable for online college.
To top that off, Power X supports Power Delivery technology that provides way faster charging than standard charging. That combined with Power X's 100W capacity allows you to fast charge multiple smartphones or even a laptop. It also has three ports for that which includes 1x USB Type A and 2x USB Type C. Along with a 100W output, Power X has a 100W input as well. Even with a huge 27,000 mAh battery, you can fully charge Power X in just one hour. Power X also supports pass-through charging. It allows you to charge other devices with Power X even while Power X is being charged at the same time.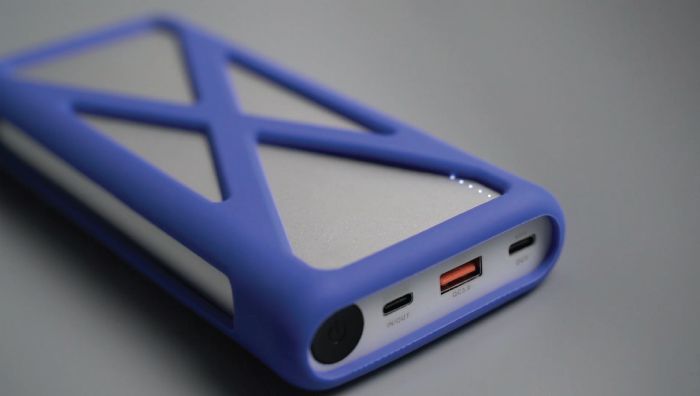 Its dimensions are 186 x 81 x 28 mm. It is pretty thick and due to its rigid form it can be act a stand for a laptop. Doing this would leave some room for the laptop heat to pass and keep the laptop at eye level for good posture. Power X weighs just 550 grams.
Power X in short is a battery beast with a strong and safe overall built. Along with fast charging speeds it will also provide longevity. Power X has many positives that make it one of the top choices in the power bank market.
Source – Kickstarter