Wi-Fi routers are a necessity nowadays. There are not many households without one, or even two. Some of you may believe that routers are all the same and there is no need to replace it until it lasts. However, these units advance on the same way as smartphones. laptops, pcs and other gadgets. Newer routers are capable of delivering higher speeds and to be linked with more devices. NETGEAR Nighthawk X6S AC4000 is a premium Tri-band Gigabit WiFi Router, which comes with all-new features and great performance.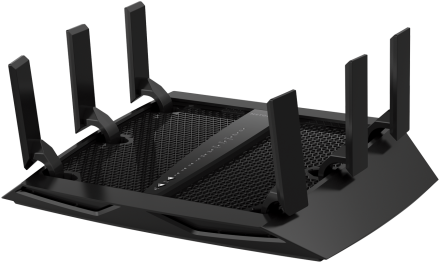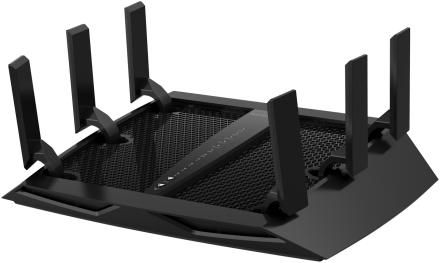 4 Ethernet Ports
Some routers have just one Ethernet port. It is sufficient for most of you, but it isn't great. The model here has 4 Gigabit Ethernet port. Why this is important you may wonder? In essence, it allows you to stay connected at all times and to maximize the potential of your connectivity. The feature is reserved for high-end Wi-Fi routers, so straight away you can see that this isn't an ordinary product. There is no need in mentioning that gamers and internet-addicts will benefit from the system we explained.
Beamforming+ for Speed and Better Performance
Here we have one, a bit special feature. The router will communicate with all connected devices. Thanks to the direct communication, the router is capable of delivering the maximum amount of signal at any given moment. This boosts the productivity and maximizes the speed of the internet connection. This feature also has a positive effect on the range and the overall speed.
64-bit Processor and 3 offload Processor Units
Most Wi-Fi routers use 32-bit technology, simply because it does a decent job and most, average users are satisfied with it. However, 64-bit technology is more efficient. NETGEAR Nighthawk X6S comes with a 64-bit 1.8GHz Dual Core processor at its core! Add to that 3 offload processors to support intensive data processing. Combined, the entire system is capable of providing lag-free seamless gaming, better streaming and surfing experience. If you are a heavy gamer, this is the feature to look for and it is one of the best gaming router to for! The situation is the same if you like streaming movies and HD videos.
Gigabyte WAN Support
It is more than just important to determine how much data a router can accept and how much it can send to other devices. We already explained that it can send data faster to most devices. Now we must add that NETGEAR Nighthawk R8000P wireless router model also supports super-fast WAN connections. For example, Google Fiber is supported and it will work without a single issue. Router works well and is capable of using the most from the incoming connection at any given moment.
Tri-band Wi-Fi
X6S R8000P Gigabit Wireless Router has a tri-band system. What it does is assign the optimal connection to each connected device, so that a device gets the fastest connection possible. Obviously, the entire procedure is done automatically and smartly, so a user doesn't have to adjust the router or a device. The three bands are:
Fast – This band is 2.4 GHz (max 750 Mbps) and it is used for older devices or those which don't support faster band.
Faster – For dual band devices. The speed is max 1.625 Mbps (at 5GHz). Almost all devices today will use this band.
Fastest – With 5GHz (max 1.625 Mbps) this band is reserved for newer devices. It is also going to become the most suitable band in the near future.
The goal of the feature is to ensure the fastest connection for each device. We can only add that it works perfectly and it is a desirable advantage.
MU-MIMO: Multi-user MIMO
MU-MIMO stands for multi-user technology. In essence, it will divide the overall connection to all devices equally. For example, if 4 devices like smartphone, small pc, tablet and mini laptop are connected at the same time and all of them stream videos or play games, the router will ensure each one gets the seamless internet experience. None of the users will experience a slower loading or download time.
Voice controls
One of the most interesting features here is the voice control system. The router doesn't have the voice system built-in into, but it is compatible with Alexa and Echo, from Amazon. Once synchronized, you will be able to control the entire network using your voice. Besides it is useful, this feature makes the entire system more appealing and more desirable.
Beam forming system
Conventional routers have just one antenna. It creates a range in circular shape all around the router. However, a single antenna cannot provide superb results, so usually, a user or two will experience connection difficulties. If you look at commercial Wi-Fi routers, you will notice that they have 8 antennas, used to form an omnidirectional range.
NETGEAR Nighthawk X6S AC4000 Router has 6 antennas, and it uses them to provide a system called beam forming. As the name suggests, the router will deliver a signal to all directions and simulate the omnidirectional one, we just mentioned. Even better, once a router detects one user has a weaker signal, it will reduce the signal flow to the non-used antenna and sent it to the antenna which serves the problematic user. Overall, the range of the X6S AC4000 (R8000P) wireless router device is sufficient to accommodate a house of 4.000 square feet.
Pros:
Tri-band system works perfectly
Beam forming provides range sufficient for 4.000 square feet
Supports Amazon Echo and Alexa
Multi-user MIMO allows seamless downloads and streaming for multiple devices
Dual-core 64-bit processor to support data intensive applications
USB port to share printer and external hard drive
Parental control feature to filter websites
Separate network access to guests
Supports pc backup to usb connect hard drive
Personal FTP server
Supports free apps like

NETGEAR Up – To setup and configure router
NETGEAR genie – To share and stream movies and videos.
NETGEAR ReadyCLOUD – To securely access usb hard drive over cloud
NETGEAR ReadySHARE Vault – To automatically backup pc to external usb hard drive
NETGEAR Connect – To reach out to support
OpenVPN – To access home network or internet remotely

Futuristic design
Cons:
Setup is available, but it is expensive
User doesn't have control over firmware upgrades
A bit pricey
Possible issues with iOS devices
Verdict
NETGEAR Nighthawk X6S AC4000 R8000P router comes loaded with all the features, you are going to need and even with those, you will need at some point. At the moment, it is one of rare tri-band wi-fi routers which support super-fast connections. Overall, it is one of the most powerful routers available on the market. Features it has are outstanding and even the design is futuristic. We will recommend it to users who are professional gamers, who like to immerse in gaming without worrying about slow wifi connection. Those who need a router to meet the demands of multiple users will also benefit from the X6S AC4000 tri-band wireless router.
Check Reviews on Amazon