LG Electronics is the leading consumer electronics and home appliance company and continues to be one of the most trusted brands among countless individuals all over the world. The company has developed and offered premium quality home appliance and electronic products with guaranteed efficiency and quality in all aspects. The LG 19M38D-B 19″ Screen LED Lit Monitor is one of their incredible product offering.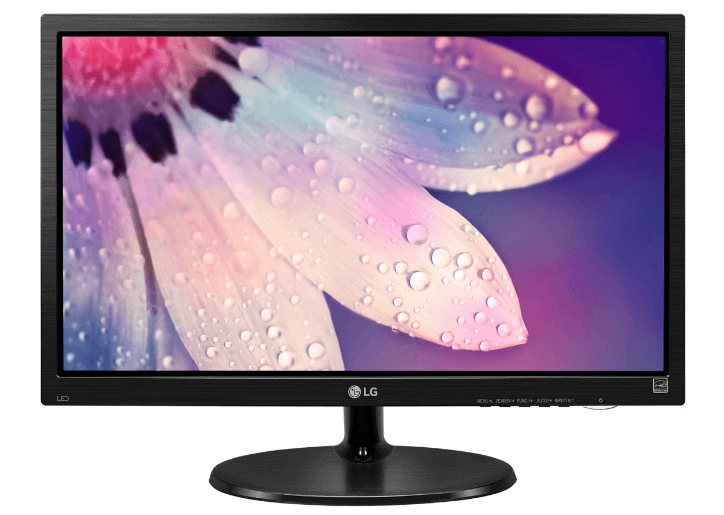 Product Description
The LG 19M38D-B Monitor is a Reader Mode and Flicker Safe monitor allowing you to maximize visual comfort by protecting your eyes from the harmful blue lights and minimizing flicker level to zero.
The My Display Reset and the on-screen control presets enable you to customize the monitor settings easily with few clicks of the mouse. The Screen Split divides display for the different tasks through resizing windows on the screen. With the PIP mode, individuals can now work while watching videos on windows floating on the screen. The color revision algorithms are utilized to help individuals with color weakness who are faced with difficulty of distinguishing particular color ranges.
Who Could Buy / Benefit from this Product?
Working individuals can purchase and mainly benefit from LG 19M38D-B monitor. The monitor does not occupy a lot of space and can be used when customizing their work-spaces for multi-tasking. Those with color weakness can also opt for this product as it features a more improved color vision.
LG 19M38D-B Monitor Highlighted Features
The LED monitor allows you to create visual connection regardless of the type of application. From the widescreen enterprise display suited for office settings up to advanced energy-saving LED backlit monitors for financial institutions and education, this LG LED monitor can meet the unique demands of your environment.
The following are the most highlighted features of this product:
Reader Mode and Flicker Save
This feature helps protect the eyes and allow individuals to view in comfort. This special feature also helps in maximizing visual comfort by means of protecting the eyes from harmful light.
Preset Customized Options with One Click
With the My Display and Onscreen Control presets, the monitor settings can be customized easily.
Customize Workspace for Multitasking
Working while watching videos is highly possible with this product. Display for the different tasks can also be divided with the Screen Split by means of resizing the windows in the screen.
Improved Color Vision
This feature is an advantage to those with color weakness. They can now view all the important contents.
LG 19M38D-B Specs
General
Size-18.5″ (47 cm)
Aspect Ratio – 6:9
Color Gamut (CIE1976) – 72%
Color Depth (Number of Colors) – 16.7M colors
Panel Type – TN (Twisted Nematic)
Resolution – 1,366 x 768
Brightness (Typ.) – 200 cd/m²
Contrast Ratio (Original) – 600:1
Surface Treatment – Anti glare, 3H
Viewing Angle (CR=10) – 90/65
Pixel pitch – 0.3mm x 0.3mm
Response Time, Typ. (on/off) – 5ms
(DFC) – Mega
Jack Output/ Input
Jack Location (Signal Input)-Back
DVI-D
D-Sub (VGA)
Power
Type – Adapter
Normal On (typ.) – 18W
Normal On (EPA) – 13W
Input-100 ~ 240Vac, 50/60Hz
DC Off (Max) – 0.3W
Sleep Mode (Max) – 0.3W
Frequency
V-Frequency (D-sub) : 56 ~ 75Hz
H-Frequency (D-sub) : 30 ~ 61kHz
V-Frequency (DVI-D) : 56 ~ 75Hz
H-Frequency (DVI-D) : 30 ~ 61kHz
Resolution
Digital (DVI-D / HDMI) : 1,366 x 768
D-sub : 1,366 x 768
Control Key
Key Type – Tact Type
Key Number (Power Key Included) – 6
LED Color (Power save mode) – White Blinking
LED Color (On mode) – White
Key Location – Bottom
OSD
Language: Germani, English, Spanish, French, Italian, Finnish, Polish, Russian Swedish, Portuguese, , Greek, Japanese, Chinese, Korean, Hindi, Ukrainian, Portuguese
Number of Language – 17
Special Features
Reader Mode
Original Ratio
Picture Mode
Plug & Play
Intelligent Auto (Auto Adjustment)
DDC/CI
HDCP
Color Weakness
Flicker safe
4 screen split
Smart Energy Saving
Key Lock
On Screen Control
Color
Front – Black Hairline
Stand – Black high-glossy
Base  -Black Hairline
B/Cover – Black Texture
Stand
Tilt (Angle) – 5º ~ 20º
Detachable Base
Weight
Set w/ stand – approx. 4.6 lbs (2.1 kg)
Set without – approx. 4.18 lbs (1.9 kg)
Box – approx. 6.17 lbs (2.8 kg)
Pros and Cons of LG 19M38D LED Monitor
Just like other electronic products, this LG Electronics 19M38D LED Monitor also has its own sets of strengths and drawbacks.
Pros:
Promotes visual comfort
Suited for multitasks
Smart and energy saving without compromising the brightness of images
Nice monitor
Ready and easy to use with all the needed cables
Great color
Delivers premium quality image resolutions
Offers crisps details needed for security applications
Color display delivers colorful and rich HD images on screen
Images are vibrant, sharp and highly detailed
Monitor is very environmentally friendly
VESA compliant which ensures easy mounting
LED backlight allows for sleek and slim design delivering brighter pictures than the conventional LED technology
Contrasts are enhanced and black got more depth
This LED monitor is backed with 3-year limited warranty on backlight, labor and parts and a 30-day money back guarantee
Attractive price
Cons
Color shifts when tilting the screen
Size may not suit those who need bigger monitor screen
Item is only shipped within US and not eligible for worldwide shipping
Given this list of pros and cons, it can be concluded that the positive points of this product still outweighs the negative ones. This means that if you purchase this product, you get the chance of experiencing the benefits first hand.
Conclusion
If you are planning to invest on LED monitor, the LG 19M38D-B 19″ Screen LED Lit Monitor can be your perfect choice. This is packed with excellent features that contribute to its overall amazing performance and style. When it comes to efficiency, convenience and functionality, this product won't fail you. This premium quality LED Monitor is indeed a product worth investing for.