It's not too hard to understand the attraction of a folding electric bike. After all, it's a transport solution that has the smallest possible footprint for feasible human commutation. Plus, it helps a modern-day office goer reach his/her workplace without being drenched in sweat. It's truly a great product to beat the crowd, say goodbye to public transportation, and rediscover the city like never before.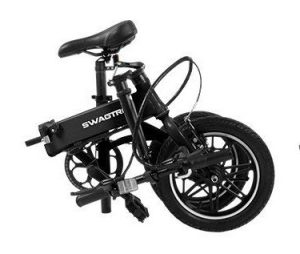 Not to forget the fact that the electric bike has hit the right chord with the environment-friendly guys too. Older guys who aren't too keen on giving up on their bikes are also welcoming folding electric bikes with open arms. Like all popular items, the sales of electric bikes have skyrocketed in recent times. Simply put, the folding electric bikes have been a huge hit with the masses.
But, electric bikes don't come at a shoestring budget. Unless you research the market well, you won't be able to tick off this item from your bucket list. The chances are that you might end up losing tens and hundreds of dollars. So, proper research is a must over here.
Gladly enough, it should not be a big deal for you because we have already done all the groundwork over here. So, let's meet the ten best folding electric bikes of today.
Ten Best Folding Electric Bikes 2019
1. SwagCycle EB-5 Pro Lightweight Folding EBike
If you want to take quantum leaps into the future without throwing an arm and a leg, it's time to embrace the SwagCycle EB-5 electric bike. It's a super-hot commodity to move around the city without getting tired like normal bikes. As you might expect, the bike is pleasant to ride and easy to fold as well. Overall, it's a fun machine to own on any given day of the week. It's also a great conversation piece.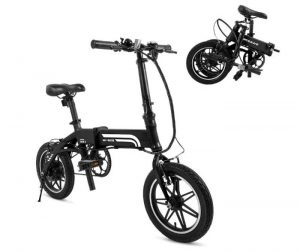 Features
In a nutshell, the SwagCycle EB-5 Pro features a 36V lithium Ion battery (non-removable), 14-inch wheel, and a 250W hub motor. For those who don't know, it would take around 5 to 6 hours to completely charge a fully drained battery. A rider also has the option to use the pedal if the battery dies out completely. So, you won't feel stranded in the middle of an ordinary day.
Speaking of the product specs, it weighs only 37 lbs, yet it can attain a top speed of 15 mph at full throttle. It's a power-assisted bike. Therefore, you will never feel tired on this bike. It can literally cut your work commute to half compared to a normal bike. To measure up to diverse user expectations, this electric bike is sold in two contrast colors – white and black.
Pros
This electric bike arrives pre-assembled. So, you won't feel like you have received a half-baked product.
Both the handlebar and the bicycle seat is height adjustable. Therefore, you won't feel like a misfit on the bike.
The expected battery life on this foldable ebike is praiseworthy. It has a shelf life of close to 900-1000 charges.
It has a very small footprint. The folded dimensions are as follows: 660 x 370 x 600 mm.
Users are fully protected against manufacturing defects for a full year. According to reviews, the company never turns down warranty issues.
Cons
This bike is not meant for extremely tall individuals out there. If you have a height of 6'1″ or above, you might not be able to stretch your legs comfortably.
It's best to get the it repaired by certified technician at Swagtron. Repair work done in any unauthorized service center can void the product warranty once and for all.
2. ONWAY Fat Electric Bike Ebike
The ONWAY Fat Electric Bike Ebike is pure joy in disguise. It offers everything that you would expect from a standard electric bike and a little bit more. This sturdy bike is mechanically sound, it collapses easily, and it's highly durable. So, it won't collect dust in your garage anytime soon. Basically, it  is everything that it's advertised to be.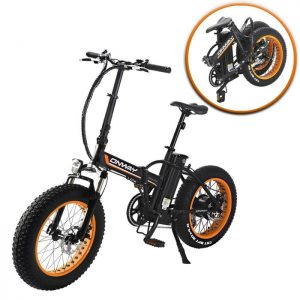 Features
The ONWAY Fat Electric Bike Ebike is housed in an aluminum body. So, it's pretty lightweight for what it is. Yet, it can support a maximum weight of 300 lbs. Better yet, the bike is equipped with a 350W rear hub motor and a 36V 10.4Ah lithium battery. The highly efficient lithium battery can be fully charged in 4-6 hours.
On pedal assist mode, you can expect a maximum distance of 40-50 miles. Furthermore, the bike comes with SHIMANO 7 speed gear for a comfortable riding experience. One can easily attain a speed of 15-18 mph on this machine. So, it is fast enough to come close to the top speed limit on most neighborhoods.
Pros
Constructed from top-shelf materials, this electric bike screams quality. It is surprisingly well-made to last for many years to come. Moreover, it comes assembled for the most part.
It is an excellent choice for larger riders. Since its height adjustable, it can easily accommodate someone as tall as 6'4″ as well.
Unlike the rivals, it features fat tires to make your ride smoother than usual. And, the bike stays stable even at top cruising speed. Plus, it gets a lot of attention.
The frame and the motor carry a 1-year warranty, and the battery comes with an 8-month warranty. As hinted before, the look of this machine has also been adored by the masses.
Cons
The battery is not fully charged when the item is delivered. Users will have to fully charge the battery before their first ride.
3. NAKTO Folding Electric Bicycle Sporting Shimano 6 Speed Gear
Do you need an folding electric bile that can put a smile on your face every time you use it? Well, consider that your prayers will be answered today. The NAKTO Sporting Shimano 6 Speed Gear Electric Bicycle is an easy to control and fun to ride machine that can please you till death. Simply put, this electric sporting bicycle is a great combination of practicality and sheer joy!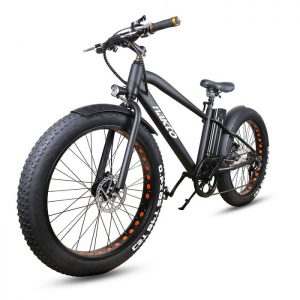 Features
It has a 36V 300W high-speed brushless motor and a 36V*10AH battery. Basically, it offers the right amount of power to cruise around the neighborhood without any hiccups. The electric powering on this it works like a charm. As such, the it can be used in manual as well as electric mode.
The folding EBike has a maximum load bearing capacity of 250 to 300 lbs. It's strong and sturdy enough to hold weights close to the maximum capacity. And, the bike can achieve a top speed of 25-30 MPH. It's a perfect vehicle for small commutes. It is the only folding ebike that has separate model for females.
Pros
It's easy to assemble. Users are provided with adequate instructions to assemble the bicycle without frying their brains.
Past users confirm that the battery on this thing lasts for a long time. So, you can expect less downtime from this bike. Better yet, it's easy to remove and charge the battery.
This EBike can really turn heads. It's truly beautiful. It's hard to imagine a better looking and superior performing bike for the cost of this product.
If you were to do a side-by-side comparison of the NAKTO Electric with its rivals, it would surely put its competition to shame.
Different variants like Classic, Cruiser, Fahion Black, Camel Female Black, Camel, Female White, Camel Male Black available.
Cons
The horn is too quiet. It's not sufficiently loud to be heard by motorists. On the bright side, the NAKTO Electric Bicycle also features a bell.
At 75 lbs, it's definitely not the lightest electric bike out there. But, it has a robust folding mechanism to it. As a result, it folds up effortlessly.
4. Cyrusher XF770 Folding Electric Bike
The Cyrusher XF770 Folding Electric Bike proves to be an amazing transportation device for a daily commute. Intentionally or not, it can give your sedentary lifestyle a major overhaul. There's no better way to enjoy the joy of riding while simultaneously improving your health. To avoid buyer's remorse, it's advisable to read the review till the end so that you learn everything that you need to know about this electric folding bike.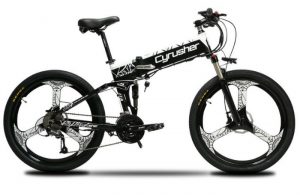 Features
To make riding effortless on all kinds of terrains, the Cyrusher XF770 bike has three modes of operation. Moreover, it's fitted with a large capacity motor and a 500W/250W 48V lithium battery. Battery gets fully charged in 5-7 hours. A fully charged battery can set a user up for long distance riding.
Combine this with a 9-speed Shimano gears and three levels of assistance; you have a high performing machine that can achieve a top speed of 30 km/h. The light aluminum frame contributes to the speed and efficiency of this E-Bike. And, the 250W disc brake along with 500W hydraulic brakes can meet the demands of most riders out there.
Pros
It's fun and less exhausting to ride this E-Bike even on low will-power days. The favorite part of the equation is that you can easily fold and store this E-bike in any small storage area.
This electric bike is sold in six different attractive colors. Most eyes will be attracted to this bike as if there is some sort of magnetic pull.
There's a one year warranty on the major components of this E-Bike such as the motor and the frame. Even the battery carries a six-month product warranty.
Cons
Pre-assembled home delivery of this E-Bike is only available in Los Angeles, CA. Riders in other locations will have to go through an assembly headache.
5. Kaluo Folding Electric Mountain Bike
The Kaluo Folding Electric Mountain Bike is a perfect commodity for non-regular bikers to enjoy getting around the city without torturing their sightseeing enjoying bodies. When used in conjunction with pedaling, this electric bike can get you a deal of exercise without overexerting yourself. The chances are that you might end up using this bike more often than your regular bike.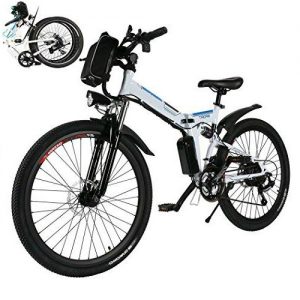 Features
The Kaluo Folding Electric Mountain Bike comes with a large capacity lithium battery. The charge time on this electric mountain bike is 4-6 hours. And, the battery stays half full even when returning from long rides.
Moreover, it features 21-speed Shimano gears for smooth and fast riding. And, it has a pedal assist system to completely transform a user's riding experience. The best part is that the gears and brakes come well-adjusted from the factory itself.
Pros
It's a strong, sturdy, beautiful, and fast electric bike. It's a great bike for home, office, or short leisure trips.
The engineering on this electric bike is second to none. It allows users to ride over rough terrains like a breeze.
No license, gasoline, or lavish insurance is needed to ride this beauty.
Cons
It does make a little noise at particular gear combinations.
6. Fluxx MW1 Folding E-Bike
The Fluxx MW1 E-Bike is a blast to ride on an urban/suburban environment. It is a fun and economical way to get around the town. In fact, there's no better way to bypass all the standstill traffic on the road. Simply put, this E-Bike is a great choice if you are not in a haste to reach somewhere. It's a no-frills transportation for kids as well as adults.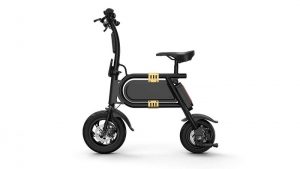 Features
The Fluxx MW1 E-Bike features a 350-watt motor. That's enough power to get a speed of around 15 miles per hour. And, it has a bright LED display to keep a check on the speed and battery life.
It has a lithium ion battery fitted around the center. It takes around 2-3 hours to fully charge the battery from scratch. For those who are not aware, it can handle up to 250 lbs of body weight.
Pros
The Fluxx MW1 E-Bike has a low-profile to it. It does not weigh a ton (31 lbs), and it can be easily folded without any fuss.
The pedal-free construction makes it a breeze to use it. A rider can simply use the throttle to accelerate the bike.
The oversized tires on it do a great job of shock absorption. So, users can expect lesser bumps than usual.
Cons
It's not very easy to inflate the wheels. This minor flaw aside, the Fluxx MW1 E-Bike is well-worth the asking price.
7. ANCHEER Folding Electric Bicycle
Inspired by the shape of dolphins, the ANCHEER Folding Electric Bicycle is a rare machine that combines beauty, technology, and performance like no other competing product out there. This little guy is great for the streets. The best part is that this folding electric bicycle can easily fit in your back seat or car trunk.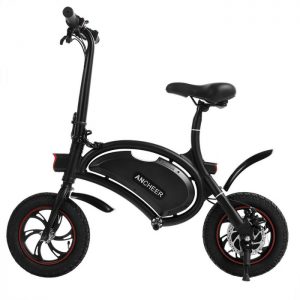 Features
With a 350-watt motor, the ANCHEER Folding Electric Bicycle can hit a top speed of 20-25 km/h. And, it's powered by a long-lasting 36V 6Ah battery to make bike commuting a hassle-free affair on the streets. The battery only needs three hours of charging.
This E-bike is technology at its next level. It is Bluetooth enabled, and it has motor locking password protection features. It also shows time and mileage recording stats. Above all, it features cruise control to help a rider attain a certain speed without the need of using the throttle. If you ride this E-Bike on a daily basis, it will most likely pay for itself within the first six to eight months of use. What more can a savvy budget rider ask for?
Pros
It is so light that you can easily carry it around with one hand. Better yet, the folding frame makes it easy to put this bicycle out of the way when not in use.
This ANCHEER Folding Electric Bicycle comes assembled. Right out of the box, you will be in a position to take the it out on the streets.
It has a waterproof body. So, it's a good transportation option for the rainy season. Not to forget the fact that the bicycle looks really cute.
It comes with a one-year warranty on the major components such as the motor, charger, and the battery.
Cons
The ANCHEER has only one rear disc brake. That said, you won't really feel the need for the front brake.
8. e-JOE EPIK SE Sport Edition Electric Folding Bike
Even if you are someone who tends to buy products that you don't need, you still won't regret getting this electric bike. This E-Bike clearly edges out its rivals by a landslide – a verdict offered by a myriad of past users. It's great fun to ride a bike of this quality with or without the assist. This folding bike can easily handle human weights up to 300 lbs.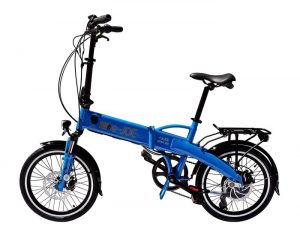 Features
It's a highly adjustable E-Bike with plenty of speed. This sport-edition bike features a 500w 48v battery, which has a great life. The bike offers a generous range of 30 miles. And, it takes about four hours to fully charge the battery.
The product has a tolerable weight to it. Plus, it has excellent power, pick up, and throttle operation. The disc brakes have amazing stopping power as well. For starters, the e-JOE Electric Folding Bike is sold in three attractive colors – blue, orange, and black.
Pros
It measures 35x24x17 when folded. That's small, and honestly, very helpful with storage.
There could be other E-Bikes with more power and range, but they would cost two or three times the cost of this product.
Although the wheels are smaller, the bicycle doesn't wobble when climbing a hill.
Cons
This is a high-end E-Bike. To treat yourself with a bike of this quality, you should be prepared to shave off top dollars.
9. Swagtron SwagCycle Classic E-Bike
If you are looking to regain your active lifestyle, the Swagtron SwagCycle Classic E-Bike should be in your radar. From taking care of local errands to cruising around the city in style; this electric bike is a fantastic choice to make daily commute a fun and exciting affair. Not to undermine the fact that this eco-friendly SwagCycle E-Bike collapses for easy storage.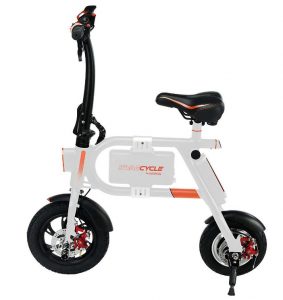 Features
The Swagtron SwagCycle Classic E-Bike features a handlebar display to turn on the headlight, keep an eye on the battery life, and to use the brake and horn. Gladly enough, the horn is loud and clear, and the headlight is quite bright. At a body weight of 24 lbs, the folding bike is really lightweight and a pleasure to ride.
This motorized E-Bike houses a 36v battery & a 250-watt motor. The motor is strong enough for incline rides, and the battery can be fully charged in 2.5 hours. Better yet, this stylish E-Bike can be easily charged on the go with a micro USB charging port.
Pros
The bio-mechanics are great. You feel safe even when you are riding at full speed. Better yet, it has a thoughtful design to it.
It takes almost no time to get used to this electric bike. Not to forget the fact that it can save you a lot of gas money.
The brakes are literally unmatched. They have great stopping power to keep the rider safe at all times.
The makers claim that it can go up to 15 mph. In fact, it can easily pass cars on a downhill route. So, you can definitely expect more!
Cons
The seat is little bit uncomfortable. That said, it's easy to remedy this issue with a better-cushioned gel seat.
It does not come with a rear view mirror, which is a surprising omission for an E-Bike of this quality.
10. ANCHEER Folding Electric Bicycle E-Bike
If you want to ride a light and smart bicycle around your neighborhood, the ANCHEER Folding Electric Bicycle E-Bike can satisfy your needs. This lightweight folding bicycle is a treat to look and ride. Believe us or not, it has tempted scores of riders out there to open their wallet. Therefore, this electric E-Bike finds a place in our honorable list of mentions.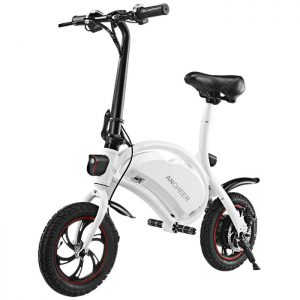 Features
At a bodyweight of 26.5 lbs, even a five-year-old can tell that this E-Bike is extremely lightweight for its intended use. And, the lightweight doesn't suppress the performance of this bike. All thanks to the 350-watt high-speed motor and the high powered 36V 6Ah battery. The bike can easily deliver a top speed of 20-25km/h.
The ANCHEER Folding Electric Bicycle E-Bike also features some bells and whistles. Unlike most other E-Bikes in the same spectrum, this bike is app supported. The E-Bike is Bluetooth enabled, and it has a built-in motor locking system. It also features cruise control that allows a rider to get a certain speed without using the throttle.
Pros
It is extremely lightweight. Even high school kids will be able to carry this bike with one hand.
It does deliver good speed in real-world conditions. It is definitely better and faster than your conventional bike.
Unlike other E-Bikes out there, the ANCHEER Folding Electric Bicycle E-Bike can be quickly charged within 2-3 hours.
All the features of the E-Bike work as advertised. From the stock brakes to the handles, the product lives up to its expectations.
Cons
The seat on this E-Bike is not very comfortable for long rides. That said, the seat has sufficient cushioning to support short rides.
Final Words
Believe us or not, finding a high-quality electric bike is harder than finding a virgin girl for marriage in today's age and time. To make matters worse, a lot of 'gurus' and 'experts' out there claim to know the best product for you but shy away from putting their money where their mouth is. Given our passion and experience in this field, we know what we are talking about. You can simply choose any E-bike from our list of recommendations and run with it. You will surely beam with pride over your decision.