We all love movies. A great movie can leave you inspired, sad, happy and so much more. The aspects that affect are the acting, the direction, the cinematography etc. It also depends on what platform you use for watching. Watching on a smartphone might be convenient when you are in a constrained by time and space. But it does not provide a great visual experience. Laptops and desktops have bigger screen but nothing can truly replace the fun of a movie theater. Although that can be expensive and you won't be getting the comfort of your home.
So is there a combination of both a big beautiful screen and the comfort of your home? The answer is yes.
The all new VAVA projector. While projectors have been in use for quite a lot time now, they always seem to compromise on quality and some features. You don't get that cinema quality and that can ruin all your experience. That's not the case with VAVA projector however.
VAVA projector projects a beautiful 4K picture on a huge 150″ screen. The display supports HDR10 which gives out a sharper contrast, deeper colors and clearer details. It also uses ALPD3.0 laser light source technology that enhances the quality and increases the light efficiency and has a widespread use in cinemas across the world. The picture is projected with a deep contrast of 3000:1 which enhances the picture even more. There is no problem regarding the brightness as well. The projector produces 6000 lumens of light which is more than enough even if you have to re-watch an extremely dark Game Of Thrones episode.
Many projectors have a common problem that it needs to be placed on a distance away from the screen it is to be projected upon. It can be a problem in limited space and can cause inconvenience. VAVA, however, comes with an ultra short throw technology. To project a 100″ picture you only need to place the projector a mere 7.2 inches away from the screen. And to project a full 150 inches picture you would only have to place it approx. 17 inches away from the screen.
VAVA is not just all video but audio too as it has a built-in high quality Harman Kardon soundbar. The soundbar produces refined Dolby audio and is 3 times stronger than a TV sound.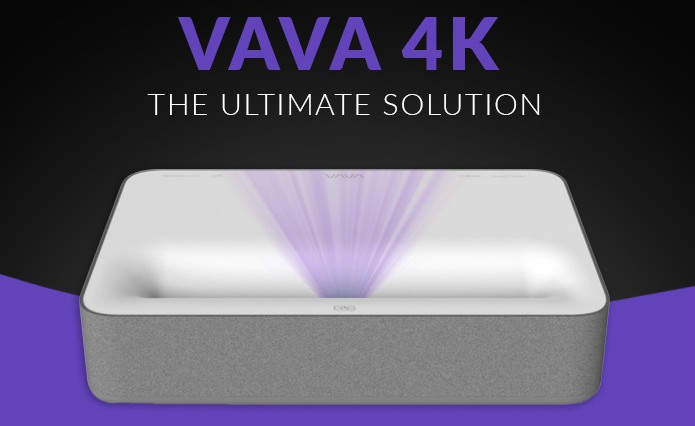 It also supports a wifi and HDMI connection which makes it possible for you to connect your smartphone to it and project something from your smartphone itself.
As VAVA needs only a small distance to project a picture there is no need of complex and costly installations. It uses a laser image technology that is way more long-lasting than commonly used bulbs in other projectors. The bulbs last short and need to be replaced time to time which is again very costly. While VAVA's laser technology provides a massive 25,000 hours of runtime.
VAVA is the only option as of now that combines and provides you all of these benefits. So if you love watching movies with the comfort of your home, VAVA is a perfect choice for you.
Source – https://www.indiegogo.com/projects/vava-4k-ultra-short-throw-laser-projector