Photos are great source of our memories. You can capture the moments you enjoy and visit it back whenever you need.
Reminiscing old memories and the nostalgia of the past brings you joy and comfort. Everyone loves clicking pics but not everyone is good at clicking them. If your hand is not steady and is shaky it will blur the output picture. That's where tripods come into the play. Tripods, as you might know already, are used for mounting your camera or smartphone to provide a perfect stability while clicking a picture. It helps in getting a much more sharper picture than handheld. Other than that, tripods are also very useful when clicking pics from an unreachable location like from the top of a cliff. Tripods are also more useful in low light conditions.
It's clear tripods are pretty useful and there are a lot of tripods out there. A new entry to this is the new tripod developed by Peak Design.
The main selling point of this tripod is space saving. Most of the tripods are very thick in size when folded. They eat up a lot of space and are not portability friendly. They are really hard to carry in your hand too. Peak Design has drastically reduced the pack-down size of their new tripods. When packed down it's thickness is reduced to that of a torch. It had sleek design and it's packing and unpacking is two times faster than a standard tripod. It is also half the size of a standard tripod.
For mounting, a ball head resides on the top of the tripod. It has a quick release button for mounting and un-mounting your camera. There is a lock ring that provides extra security just in case you need it. Under the lock ring there is an adjustment ring. The aluminium ball under the head makes it easier to change the camera position. You can rotate it and drop the mounted camera on the side if you want to click a picture in portrait mode.
The tripod can hold a total of 20lbs weight easily. It can be stretched up to a height of 60 inches. It can go really high but can also go in inverted position. This is very useful when you want to click macro pictures of flowers or grass or bugs etc.
Not just a camera, you can also use it for your smartphone. There is a universal, stowable mobile mount hidden under the centre of the tripod head. You can take it out, unfold it and mount on the head ball. There you can mount your smartphone.
This tripod might easily be the most space saving tripod out there. It is half the size of a standard tripod and two times faster in setting up. It makes the tripod a great portable option. You can use both a camera or smartphone to click sharper than ever photographs. Even if you're not a professional photographer, Peak Design's tripod is a great accessory for anyone with a smartphone even. And for the pros it is a great recommendation.
Peak Design Travel Tripod Vs Gitzo Series 1 Traveler Vs MeFOTO Roadtrip Vs Manfrotto BeFree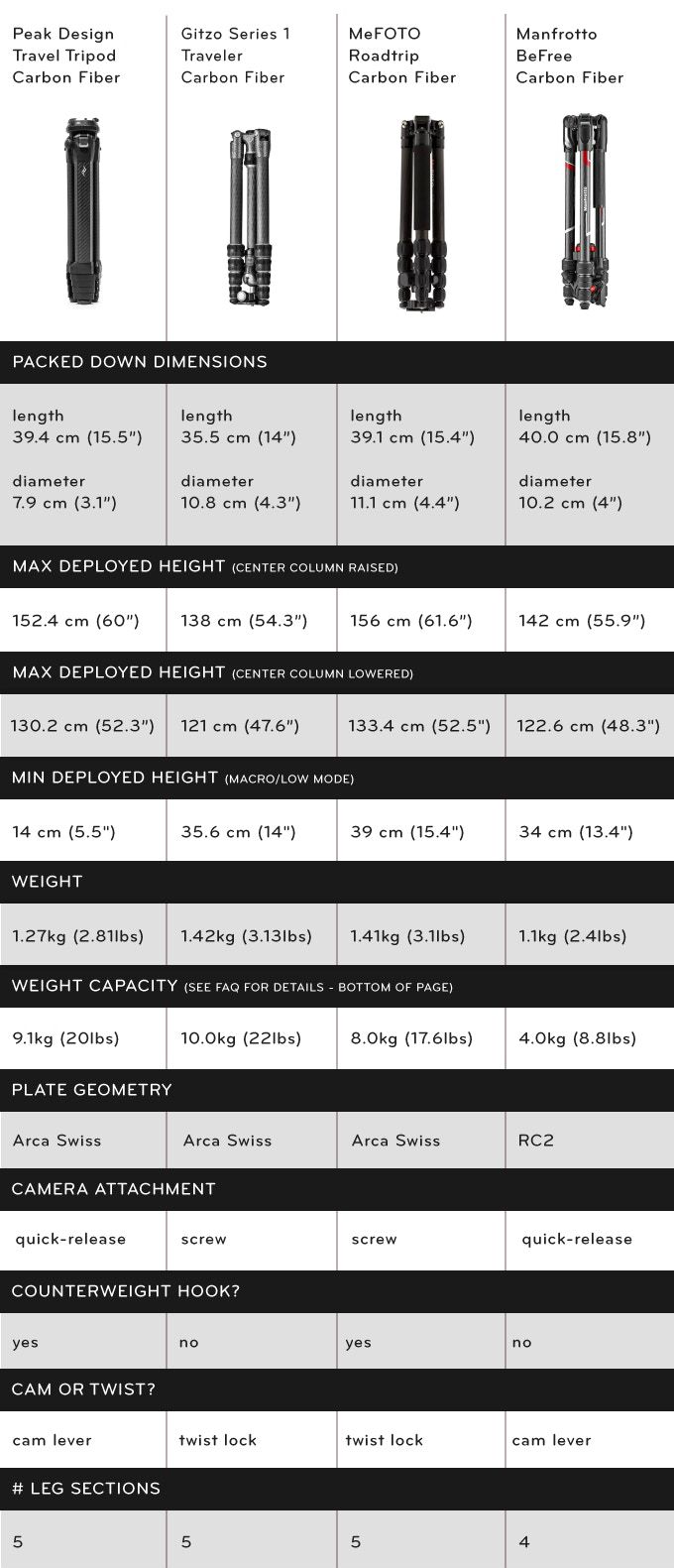 Source – Kickstarter