Gaming is fun. Whatever the scope may be, the purpose of it being fun will always be there. It is supposed to be fun but that can be ruined by ease of accessibility. One of the factors that contribute to it is the size of the screen you use. All of the gaming consoles use a big screen which is tough to move from one place to another. Sitting on a couch for a long time can't be comfortable as well. Comfort and accessibility can be a problem. But there also seems to be a solution.
TOPO Gamepad Mountable Monitor, a small LCD monitor that you can mount on top of a controller of your gaming console be it PS4 or Xbox One. The device turns your home console into a pseudo-portable gaming device, so you can play even in bed while lying on your back just like you would on a Switch. You might not quite enjoy the same wireless experience as you'll get from Nintendo's console, but it does give you a way to play some of the best games like God of War, Assassin's Creed or Spiderman while lying down in the comfort of your bed.
The Topo Gamepad Screen is a 7-inch LCD monitor that can be clipped on top of Xbox One and PS4 controllers. When set up on a controller, the monitor can be adjusted at different angles, allowing you to set it at just the perfect tilt to give you a perfect view of the game you're playing. The controller mount can also be used as a stand on a flat surface, so you can use it to play on your console while sitting upright in bed with the monitor set down on the table.
TOPO isn't really wireless though. It needs to be connected to the console using an HDMI cable. It might be letdown as you need to be near a console still. But on the positive side you can use it to connect a PC or laptop too. You can connect a DSLR even. And it's still easier than carrying a whole big screen. Other than for the connection, TOPO needs to be connected to the console for charging purpose as well. As it does not have an integrated battery you will need a MicroUSB cable.
As for display quality, the monitor has a resolution of 1024 x 600 pixels. That falls a bit shorter than 720p. It produces a 16.7 million color palette, and 250 nits of brightness. It comes with integrated stereo speakers, a 3.5mm audio port for plugging in headphones. There are physical control buttons for power, menu, and volume on the outside as well. The monitor is big but not bulky. It weighs only 170g and it's just as thin as your smartphone.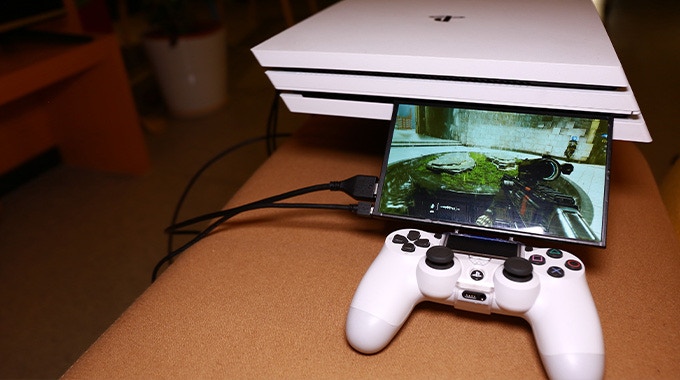 With all being said, TOPO does offer some good promises. It might not be as convenient as a Nintendo Switch but it's more convenient than carrying a heavy screen around. You still might need your console though. It retains all the graphics without lags which is a big positive. It gives off mixed feelings but it might be a good buy for people who own consoles.
Source – https://www.kickstarter.com/projects/2055222119/topo-gamepad-mountable-screen-play-anywhere