Pollution and global warming has put our environment in danger. They pose a big threat to both human life and the planet we live in. Increasing number of vehicles is also contributing to this cause. The smoke and fume that vehicles generate is one of the major air pollutants. Even though there are healthier substitutes like CNG it has disadvantages of their own. They have supply issues and limited filling stations. You might not find a CNG station when you actually need it. Thus we need a better substitute devoid of such limitations.
Created by Swytch Team, Swytch is the world's smallest and lightest E-bike kit. Electric bikes are eco friendly and work perfectly for shorter distances. Actually Swytch is not really an E-bike in itself. Swytch is an E-bike conversion kit that turns any normal bike into an E-bike. This leaves room for customization and removes any need to buy a whole new costly bike. You can turn your own bike that you love into a powerful E-bike. However you will need to replace the front wheel.
Swytch consists of a motorized wheel, an LED power pack, a sensor, a pedal sensor disc and a handlebar connector. Installation of the Swytch kit doesn't require a lot and easy to assembl by anyone. The front wheel of the desired bike should be replaced by the motorized wheel. Then the pedal sensor disc needs to be clipped on to the pedal of the bike. Then the sensor needs to be stuck on to the disc. Next connect handlebar connector. And finally mount the core of Swytch, the power pack on the bike.
How Swytch works is also a slick process. The pedal sensor detects the force used on the pedal and sends the info to the power pack. The power pack then generates the amount of power required according to the force applied. The power is then delivered to the motor in the front wheel which increases or decreases the speed accordingly.
Swytch has three different versions with varying specs and capabilities ; Eco, Pro and Tour. All the versions have a same 250W motor but the power pack is what makes the difference. Swytch Eco has a 180 Wh battery power pack, Swytch Pro has a 250 Wh power pack and Swytch Tour has the biggest 500 Wh power pack. Eco has a top speed of 25 kmph and a range of 35 kms. Pro's top speed is 32kmph and a range of 50kms. Tour has a same 32 kmph top speed but it has a double range of 100 kms. The Pro and Tour versions also have a 500 lumens strong front light. You can also buy and optional throttle that delivers extra power from the pack instantly on command.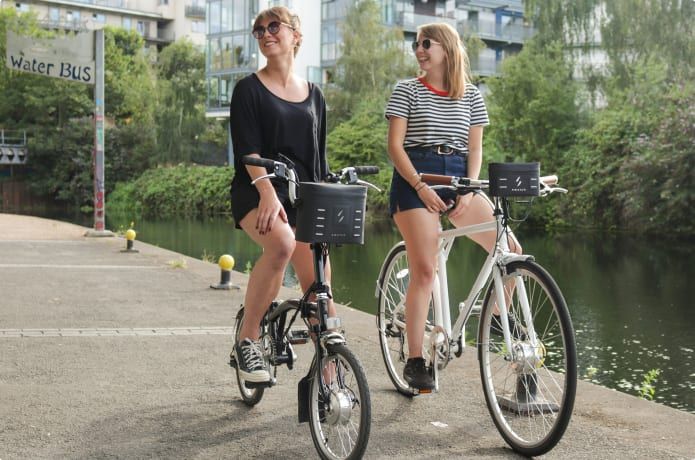 Both the motor and the power pack weigh just 1.5 kg each. The dimensions of the power pack are 12 x 7 x 19 cm. Both the motor and power pack are small and easy to carry.
Swytch is an even better version of Electric Bikes with which you can turn any bike into a powerful mean of transport. It wins in both specs and portability which makes Swytch an excellent choice for regular usage. All of this without hurting the environment. An absolute win.