The number of Vloggers and videographers is already huge and is still constantly increasing. Every now and then you can see someone holding a camera and making videos. One can usually also spot a gorilla pod or a regular tripod with these cameras. But there's a new product that could soon replace them. The SwitchPod is a product which caters to the need of the hour for vloggers and videographers. SwitchPod is a very convenient and advanced counterpart of a regular tripod stand. SwitchPod along with Pivo and a good vlogging laptop can take vlogging to next level.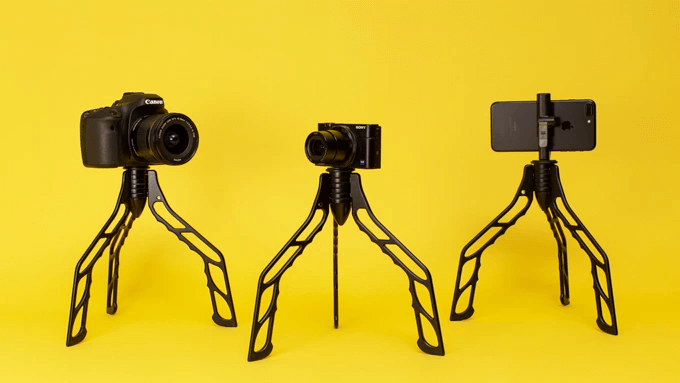 Available on Kickstarter, SwitchPod is a product designed specifically to ease the video making process on the go. It is a versatile, handheld tripod which can switch between a handheld 'stick' mode and 'tripod' mode. The switching between the two modes can be done within a matter of seconds. The tripod legs have magnets at their bases. The magnets keep them together when in 'stick' mode but also aren't strong enough to hinder the switching between modes. The legs can be separated by a mild flick of your hand to change it to 'tripod' mode. The base of the legs are stable on most surfaces and do not easily slide.
The SwitchPod is a very ergonomically designed product. It is very sturdy, strong and has a good aesthetic appeal. The grooves on the back of the legs are well designed for the fingers of any holder. The shape of the product improves the ease of handling a camera mounted on it. A heavy camera would require the holder to hold the stand from near the camera's base. But a lighter camera could be easily held from the farther end. The finger grooves run throughout the length of the product.
The camera can be easily mounted on the SwitchPod using the screw and tightening knob. The only drawback is that the camera's base is immovable and thus can't change angles. But this could be handled by changing the plate to a ball head for camera adjustments. This tripod can be set on any surface without wasting much time and having to turn off recording in between. There are two screw holes on the sides of the legs, near the knob. Any accessory like an LED light or a microphone could be easily mounted here.
Switchpod is made from an Aluminum alloy rather than from plastic. This makes it very strong and durable. The sleek design is easy to carry in a backpack or in any other kits. The fact that it is very lightweight just adds to it.
Source – https://www.kickstarter.com/projects/patflynn/switchpod-the-minimal-versatile-handheld-tripod