Fitness is something that we all sought after. Some people want a ripped movie-like physique. While some only want to have a normal healthy body instead of being loaded with abs. Whatever the purpose be, exercising plays a big role in fitness.
It's not all easy though. This can surely take toll on your muscles and your body. Gym goers get sore and muscles ache frequently. Even if not overdoing it, beginners can get sore muscles by moderate exercises too. Sore and achy muscles can turn people off from exercises as it disturbs your exercising schedule.
This can be a huge problem in your fitness program. And what is the solution? People use warm or cold compresses to get rid of the pain. But they aren't really quick. So that's not really a solution but a new product has risen to the occasion which just might be it.
SPRYNG. It is actually a pneumatic compression wrap. It acts like a compress but it really more faster than that.
Because unlike the standard compresses it uses an active leg compression technology. It compresses your legs, which encourages the circulation of blood where it needs the most support. This, in turn, can help reduce swelling and help push in fresh blood, nutrients, and lymphatic fluid to your legs to help accelerate healing and recovery.
Not just exercise-induced pains, SPRYNG also helps in improving the natural blood circulation in your legs. Lack of circulation can make your legs ache and swell without even exercises. This happens due to long periods of sitting and standing. SPRYNG fixes that too as it improves the blood circulation in your legs. It increases the oxygenation in your body providing more oxygen to your muscles making them perform even better.
We live rushed lives and don't usually get the free time. With SPRYNG, you don't even need that much time as it only takes 15 minutes to relieve you of the ache, swelling and the soreness. The device does all of the work and can use SPRYNG even while walking and it will work just perfectly.
It uses infrared technology to connect and sync with the other pair.
SPRYNG has three intensity levels which can be changed according to your preferences by using the intensity button on the side. Low compression gives out 30,40 and 50 Hg for Top, Medium and Bottom portion. Medium compression provides 60,70 and 80 Hg. High compression provides 90,100 and 110 Hg respectively.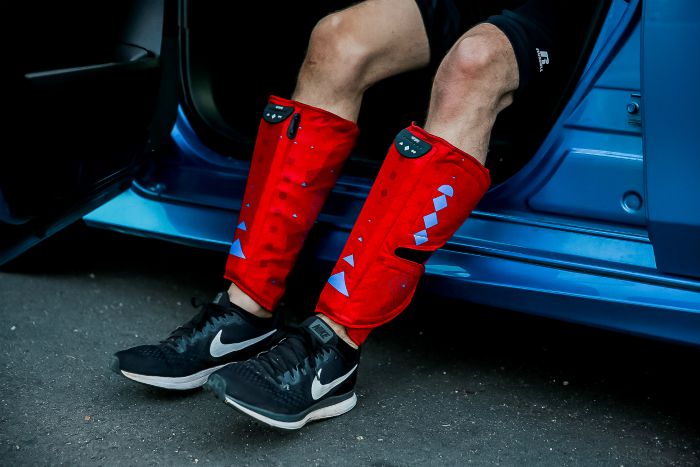 It does not have any messy wires to connect or any complex setup. You can wrap it around your leg and choose the compression pattern you want and that's it. It is really light and portable. It's battery provides 2.5 hours of active usage. It's durable and can be machine washed without any worries too.
So if you are a gym-goer who doesn't want gym routine interrupted due to sore muscles or just someone having sore legs because of a job that requires long standing or sitting periods, SPRYNG is highly recommend. It is a great product if you care about your health which everyone should, in my opinion.
Source – https://www.kickstarter.com/projects/790888388/spryng#