Pollution is a serious problem and it is still on a consistent rise. Pollution levels are now higher worldwide than they were ever before. One of the factors that contributes to it the most is increasing number of personal vehicles. It is also something that is easy to control by using healthier substitutes. The substitutes are E-vehicles. E-vehicles use electricity to operate instead of traditional fuels. These vehicles eliminate the fumes and smoke that cause air pollution. There are multiple e-vehicles that are available for public to buy at present. A new name to join growing list of ebikes is Spinciti.
Spinciti is a chargeable E-bike which is a more powerful substitute for a bike. Spinciti has three different variants based on motor power. It includes 250W, 350W and 500W. The 250W version is rated a Class 1 e-bike. Both the 350W and 500W versions are rated Class 3 e-bikes. The major difference that motor power makes is in speeds. The 250W motor gives a maximum speed of 20 mph (32.19 km/h). The maximum speed is 25 mph (40.23 km/h) for the 350W variant and 28 mph (45.06 km/h) for the 500W one.
All three versions have removable LG batteries. Both the 250W and 350W versions have a 36V battery. The 500W version has a 48V, 500Wh battery. The batteries are strong enough and provide all the three versions  maximum range of up to 50 miles (80.47 km). 50 miles (80.47 km) is nice mileage for an e-bike which makes it perfect for short to medium distance travels. The batteries will last for up to 700 full cycles. The batteries are replaceable once they expire.
Spinciti has 8 speed Shimano gear which can be used both on pedal and motor. It means you can use them even when the battery is dead. This makes it easier to ride over hills or inclined surfaces. All the bikes have speed sensors which restrict battery usage depending on the speed. The 350W and 500W also have torque sensors. You draw only required amount of power which you need according to the force being applied on the pedals. Spinciti has 5 different adjustable power levels. The 250W has Tektro disc brake while the other two versions also have HDE350 front hydraulic disc brakes. The disc brakes can prove to be a lifesaver when you have to make a sudden stop under some circumstances. Spinciti also has a 30 Lux luminance headlight for safety during night.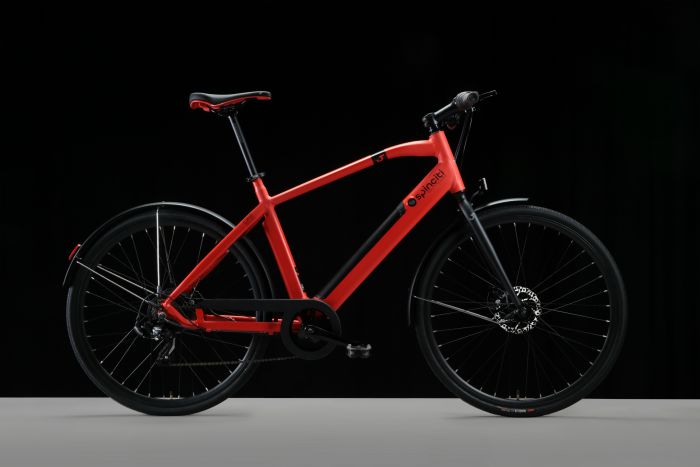 Spinciti has an OLED screen which shows all the statistics like speed, battery level, distance traveled etc. It is easy to connect it to smartphone via Bluetooth. By doing this you can use the Spinciti app. From within the app you can even limit the power delivery and battery usage. The app shows all the information like speed, battery etc. Other than that you can also connect with other Spinciti users. You can also make challenges for others or accept their challenges. Spinciti also options to connect with other fitness apps to keep track of your physical activity.
Spinciti has a great speed and a good range for anyone who regularly travels over medium distances. Fuel is getting only costly with time and produces dangerous pollutants. Thus, E-bikes are better for both our pockets and the environment. While there are already such vehicles out there, Spinciti puts forward a great resume that books it a seat among the top of the list.
Source – Indiegogo