E-vehicles are slowly and steadily rising up into the mainstream and for all good reasons. Gadgets like E-bikes provide a powerful but environment-friendly substitute for our traditional vehicles. They use electricity in place of traditional fuels that produce harmful gases like CO when they burn. As petrol and diesel keep getting costlier, these e-vehicles also prove to be better for our pocket. There are lot of e-bikes out there at present and many new ones keep coming out as well. One of these is SDREAM.
SDREAM is created to serve as an ultra-portable and powerful folding e-bike. The portability factor exists thanks to the foldable capability of SDREAM. SDREAM can be folded in half with an easy folding mechanism. The handle and the saddle can be pushed down to a small size as well. So you get a smaller stature both horizontally and vertically which makes it easy to carry along. After folding the dimensions of SDREAM are just 2.53 x 2.95 x 1.24 feet. The bike's body has magnetic suction buttons that keep the bike folded strongly. It also has a roller wheel which makes it possible to carry it along without having to lift it. The maximum weight of SDREAM based on its different model is 17.9 kg which is not difficult to carry. Despite lightweight it is still strong thanks to its magnesium allow build. SDREAM can carry a load of up to 100 kg comfortably.
SDREAM is available in three models based on motor power ; Ur 250, Ur 250 Lite and Ur 500X. The Ur 250 and Ur 250 Lite have maximum speed of 25 kmph. The Ur 500X has a maximum speed of 32 kmph. The models also differ in terms of ranges. Ur 250 has a maximum range of 40 kms. Ur 250 Lite has a maximum range of 64 kms and Ur 500X has a big range of 80 kms.
SDREAM has just a single-sided front fork as compared to traditional double-sided forks. One benefit that we can get from this is that it is possible to change the front tire without having to remove the wheel. The bike also features an LCD screen that displays all the essential info like speed, battery level, distance traveled etc. The Ur 250 and Ur 500X versions also come with torque sensors. The sensors take input from the force that is applied on pedals and provides only as much power as needed. It helps in prolonging the battery life of SDREAM.
SDREAM has three operating modes ; Pedal, E-assist and full E-power. Pedal mode works on complete manpower like a regular bike. E-assist mode provides 30% to 70% electric power to operate. In Full E-power, the bike works fully on the electric power.
SDREAM Ur 250 and 250 Lite have a built-in Lithium ion battery of 5.2 Ah while the Ur 500X has a Lithium ion battery of 7.5 Ah capacity. It takes around 4.5 hours for a full charge of the battery. The battery life depends on the assist level. Full E-power mode eats the most amount of battery and would likely reduce the range distance. E-assist uses moderate battery. Pedal mode allows you to use the bike even when it runs out of battery.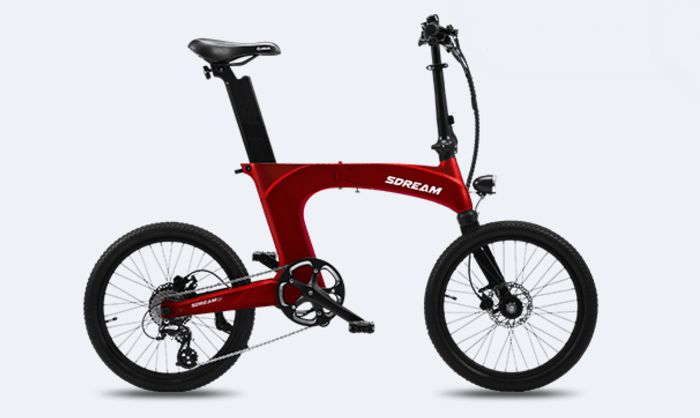 SDREAM is really comfortable for riding. First of all, it has a patent-pending anti-vibration damping system that can absorb any shocks or jerks while riding. The 20″ tires are puncture resistant which ensures a safer ride. SDREAM also has a front light for helping in a ride in the night. Other than being comfortable for the rider, SDREAM is secure as well. It had a built-in motion sensor which sends you a notification through the SDREAM app if someone tries to tamper with the bike. SDREAM also has built-in GPS. If it gets lost, it can be tracked with the help of the SDREAM app.
It's safe to say that SDREAM is powerful, portable and comfortable. Thus, for anyone who needs to travel moderate distances daily, SDREAM can be a permanent companion.
Source – Indiegogo