Proxybunker is one stop solution to access all unblocked torrent website and streaming sites.
As you know most of the torrents sites are blocked by ISP due to govt regulations. And accessing torrents sites is not very easy for people who are not very tech-savvy.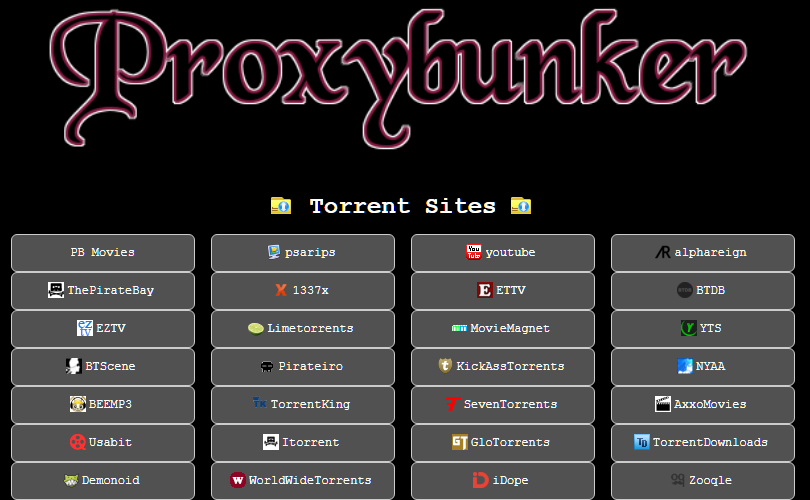 A proper way to access blocked torrent websites, movie streaming sites and sports streaming website is to use good VPN. But not every person can afford VPN. Moreover using VPN requires some technical knowledge and it is not everyone's cup of tea.
Easiest way to unblock torrent site is to use mirror links. Mirror liks or proxy links as name suggest, creates a copy of original site. Whenever original site is blocked, you can access blocked content via mirror links. But sooner or later even mirror links will be blocked or mirror links will be shut down.
Mirror links are not consistent. They keep changing. So you have to keep looking for new mirror links all the time.
This is where Proxybunker comes as boon to everyone.
What is Proxybunker?
Proxybunker in simple term is a proxy portal that lists all the mirror links for highly popular torrent sites like thepiratebay, kickass torrents, extratorrents & more. It also has big list of movie streaming sites and sports streaming sites to watch sports online. Some of the prominent sports streaming websites are Sky Sport, BT Sport, NBCSN, ESPN etc.
So you can say goodbye to hunting proxy sites and instead use proxybunker for accessing torrent websites and watching movies or sports online. This is the easiest method to bypass ISP restriction placed on your Internet connection.
Best Features
Proxybunker has some really nice features that makes it a must go place for accessing all the proxy sites.
It is 100% free to use. There is not payment required to access proxy lists on proxybunker.
No user registration is required. Just go to proxy bunker website and use it. It is as simple as that.
Proxybunker always lists quality proxy websites. It checks each mirror link every 60 minutes and only lists premium websites that are working and fast and have good uptime.
Proxybunker site has very simple and intuitive user interface. Everything is accessible from first page. No more browsing through multiple pages to get what you need.
No pop-up ads. Usually these kind of websites are stuffed with pop-up ads that really annoys users. But surprisingly Proxybunker is not using any pop ads.
You can watch premium TV channels on this website using available mirror links or proxy links.
Movie buffs can enjoy latest movies online through available proxies. Many movies are available in HD.
People who want to watch favorite sports online, there is huge list of sports streaming websites to watch from comfort of your home.
How to access Proxybunker?
Now lets discuss how to access proxybunker on laptop, desktop or smartphone. If you are worried that your Internet browsing might be tracked by ISP or govt or just want to keep yourself on safer side, it is better to use a VPN. There are lots of free VPN provider available. You can use any of them. You can either install stand alone VPN client software or use browser extensions. Advantage of using browser based VPN extension is that it is really easy to use and no complex setup is required.
Install VPN client or browser extension.
Open Proxybunker site in browser. Earlier domains were proxybunker.cc and proxybunker.online. Now both these domains are down. Click to open website.
Click on any link to access torrent website or movie streaming website or sports streaming website.
Download your favorite torrent or watch movies or live sports online for free.
Access Locked Mirror Sites
There is big list of unblocked site. All popular blocked sites are in the list. You can view these blocked site by clicking on respective links.
Streaming Movies & TV Channels
There is a separate section that lists only working streaming movies and tv channels websites. Just click on proxy sites to visit blocked site and have unlimited fun watching all kind of movies and tv channels and programs. There are also anime torrent sites like Nyaa.
Torrent Proxy Sites
Whether you want to access Kickass, The Pirate Bay or 1337x torrent site, there is mirror site for every popular torrent website on proxy bunker. Click on mirror site and you will see complete torrent site in your browser. No more blocking content.
Streaming Sports Sites
Who does not love play sports and watching sports. Sports section has almost all the sports streaming sites listed. Click on mirror link of streaming website that you want to watch and enjoy watching your favorite sports from anywhere.
Final Words
So this was all about Proxybunker, a one place for all your torrent proxy needs. This is the only site that you will need from now on for accessing torrent sites or watching tv shows or movies or watching streaming sports online. Proxybunker will put stop to manual hunting of proxy sites. You will not visit any other proxy site after using Proxybunker. Overall Proxybunker is a nice handy website to bypass internet restriction and view blocked content. If you are having any problem accessing Proxybunker, let us know in comments.
Note – Always use a good antivirus software on your pc or mobile phone. Whenever you download any torrent, it is advisable to scan it through anti virus software. Never ever trust any torrent download. If you want, you can also use online antivirus scanning tools. Online virus scanning tools are good for small files. For large files, it is better to use anti virus programs on pc.