Populife is a smart lock that can be used anywhere without the need of having a key. As it doesn't have any key, it reduces the risk of the key being stolen or duplicated and thus leaving your home risk-prone. You can use it on your room doors, house gates or in warehouse. You can also use it in case you misplace any key.
Populife uses a secure cryptographic encryption for locking. There are multiple ways of unlocking it which only authorized people can do. It is easy to manage and controll the lock by the Populife Andoid or iOS app. From the app you can create Time Sensitive Passwords which you can use to unlock the smart lock. You can set temporary passwords that last for a short while. This makes for more security as even if someone gets to know the password he won't be able to use it as it would automatically expire. You can choose the duration for the PIN as how long you want it to last i.e. hours, days, weeks or months.
Another thing that the application provides is Bluetooth Keys. It creates a virtual key with your smartphone's Bluetooth that unlocks Populife whenever your phone's Bluetooth is in the range. The app also keeps logs of access. The best thing about the app is that it does not require an internet connection for it to work. It comes handy when you have to get access to the lock while being offline. There is option to connect lock with Amazon Echo or Alexa. That allows you to control the lock with just your voice.
Populife has even better security features. First is the Automatic Re-Lock. If the lock remains unopened for more than 60 seconds after being unlocked, it locks itself again. Second, it will set a beeping alarm if the lock is not properly closed. Third, you can set a decoy PIN on the lock. A random 8-digit code can be entered before the actual password to prevent guessing of the code by someone. The last but not the least ; a Security Lockout Mode. If an invalid PIN is entered 5 times, the lock will go into a lockout mode and will stop operating for 5 minutes. It also has LED lights which makes it easy to type PIN during night.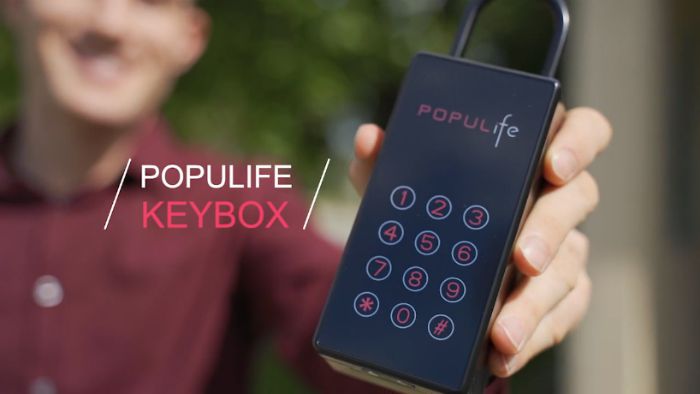 The Poulife is physically secure too. It is IP65 certified waterproof. Thus, it can not be disabled by spilling water on it. It adds some more security to its already rich features. It is also resistant to weather from 13℉ to 149℉ degrees.
Obviously, you need a battery for all of it to work. Populife key box uses BLE Technology for battery efficiency. It has 4 AAA Alkaline batteries inside that give you up to 10,000 open and close operations. 1 set of batteries lasts for approx. one year. It also notifies automatically when the battery level reaches 20%. If the batteries die, you can connect an external 9 Volt battery to it for power.
Populife is an affordable and rich-in-feature smart lock that is need of the time. If you are looking for a smart lock, Populife has to be one of the top considerations.
Populife vs Toor Pro Vs Master Lock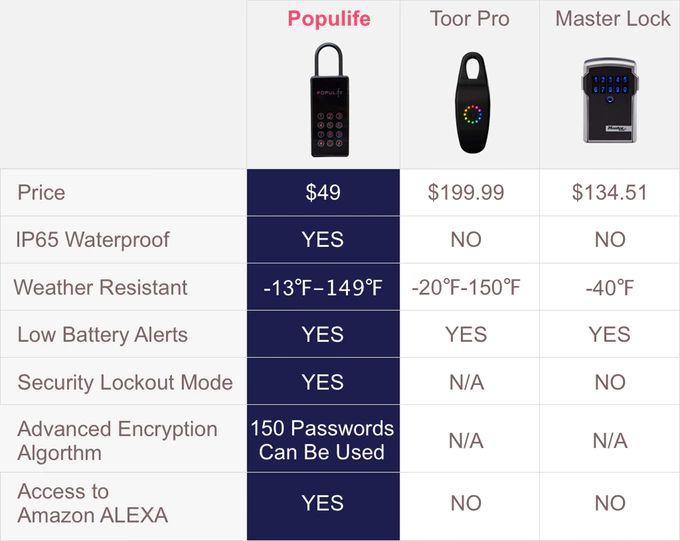 Source – Kickstarter