Our lives are full of moments that we want to remember forever. We capture those moments in photographs which stay with us as great memories. Camera was a great invention. For years it was the only source of getting your photographs clicked. As cameras have always been expensive, not everyone could afford it. Times have changed now. Our smartphones now come packed with a camera and even multiple cameras of their own. It has certainly changed the photography scenario a bit but mobile cameras are nowhere near a match of a professional DSLR. Camera apps and mods created by developers can make only a limited amount of difference. So when the software can't make a difference, the hardware comes in play.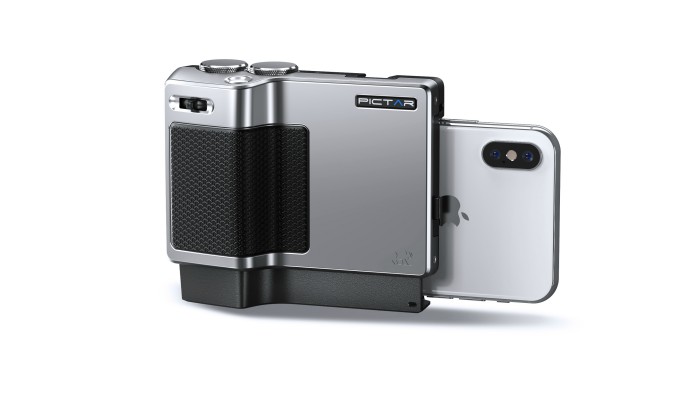 Pictar Pro. A camera grip developed by Miggo just changes the whole game. The grip is tailor-made for phone photographers who can't afford a DSLR. It gives you more amount of control and a premium feel than ever.
The grip is pretty weighted and gives you a solid feel when it's mounted on the mobile. Usually a spring vice is used in such grips which can be annoying at times and would stop working. Here you get a ratchet vice which holds onto your mobile securely and comfortably. As the vice holds on to your mobile, the grip slides onto your smartphone and turns it into a DSLR. Sounds like magic, works like magic. Unlike just a fancy gimmick, Pictar Pro actually makes a change. It enhances the camera performance of an ordinary smartphone and gives you output like an actual DSLR.
Pictar Pro works both on software and hardware. The Pictar App connects to the hardware grip. Most of other such grips use a bluetooth connection to connect the smarthphone to the app. Instead of that, Pictar Pro connects with your smarthphone with a high frequency dual tone. This works better than a Bluetooth or any other physical connection. Slide the grip on, launch the Pictar App and click pictures like a pro.
There are two metal dials installed on the top of the grip. One smart wheel lets you scroll through and select one of the 9 pre-set camera modes. The other dial lets you control the amount of exposure in your picture while clicking. There is a shutter release button on the top that makes it easier to focus on the subject. A zoom rocker switch in the front lets you control the amount of zoom easily. A cold shoe socket makes it able to mount a microphone or an LED light. There is a separate socket specifically for a tripod so you won't have to compromise on the number of extra accessories. After all of this, there is still enough room to add extra lenses.
To make sure Pictar Pro lets you click pictures without draining battery, it comes with an in-built 1400 mAh battery. The battery supports Qi wireless charging which is like a cherry on the top. Because this will not only charge the grip but your mobile as well.
Along with the grip, you get accessories like a viewfinder which you can attach on to the grip to enhance the performance even more. The full kit includes a secure case and straps for your neck and wrist too.