Wireless is the new cool. Everything is becoming wireless for the good. Wires can be a mess and no one wants that. Bluetooth earphones have been popular for a while already. Apple's airpods removed even more of extra body and left just the earbuds. A lot of new devices have come into existence since then accompanied by new features. One of these is MIFE FREE.
MIFEFREE is developed by its namesake company MIFE FREE and is billed as world's most advanced true wireless stereo earbuds.
MIFEFREE has an advanced Qualcomm QCC302X chipset that is compatible with the latest Bluetooth 5.0. The Qualcomm chip allows each MIFE EE to pair to your device individually. You can choose any earbud separately or switch between the earbuds any time you want without any interruption. Usually Bluetooth earphones have a signal receiver in only one earbud which then transmits the signal to the other earbud. In MIFE FREE, however, both the earbuds receive signal simultaneously thanks to the Qualcomm chip. This results in a highly stable Bluetooth connection and thus better quality.
MIFEFREE also uses Qualcomm aptX audio codec that provides CD-level audio quality over the Bluetooth connection. Combined with the Qualcomm chip you get a more consistent and low latency audio. Its compatibility with Bluetooth 5.0 also makes for a true lossless uncompressed audio-quality and it also has a 5 mm composite sound cavity driver which provides a high definition audio. The cavity's design refine the sound frequencies and provide a 3-D surround sound.
The Qualcomm chipset also provides battery efficiency and cut down the power usage. This makes for a long 8-hour playtime over one single charge. However, the earphones case has an 1800 mAh built-in battery. This built-in battery can give up to 125 extra hours of playtime. That makes MIFEFREE a perfect travel companion. Not only that, the case can also act as a backup charger for your smartphone. The charging case can be easily charged with a Qi wireless pad or a Type C cable through its USB C port. The charging case is made of leather and stands durable.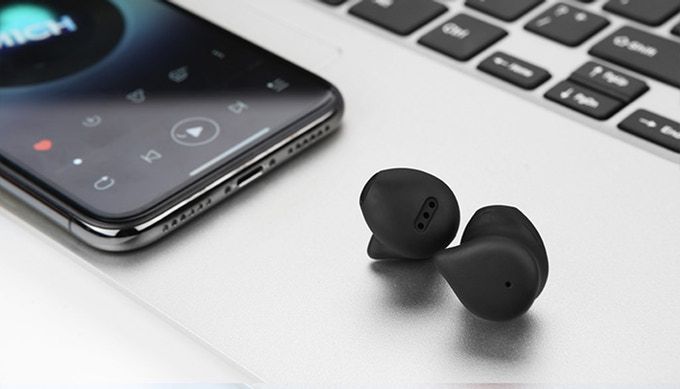 The MIFEFREE has built-in touch sensors instead of hard buttons. The touch sensors allow you to control the MIFEFREE easily with light touches or even your hand gestures. You can Play/Pause music or Accept/Reject calls with just easy touches. Elimination of buttons not only makes the controlling easy but also removes any risk of water leaking to inside and causing damage. Any water or sweat can't pose any harm to MIFE as it is 100% IPX7 Water and Sweat Proof. You can take it to surfing or your bathroom or for even swimming.
It has an ergonomic semi-in-ear design that keeps you aware of your surroundings while keeping you immersed in the HQ audio at the same time. Thus, MIFEFREE keeps safety and comfort balanced.
MIFEFREE is a pair of highly capable truly Wireless earphones. It is powerful inside with the chip and durable outside. Having a great battery life, it is a perfect travel companion and a must have gadget for any music fanatic.
MIFEFREE vs Apple Airpods Vs Bose SoundSport Vs Jebra Active 65
Source – Kickstarter