Video games have been in existence for decades now. Everyone in this generation must've had at least some share of video games across different platforms. There are multiple gaming platforms available now. Be it consoles like Nintendo, PlayStation, Xbox or PCs or even mobiles. However, not all games are available on all the consoles. So if a game you want to play is not available on one platform then you either have to pass on it or buy a new console. Not everyone can afford to buy multiple consoles and what we need is something that can be used as any console we want. It looks like we do have something now.
Developed by Creoqode, Lyra is an all-in-one handheld gaming console. Lyra works like a physical emulator. Emulators as you might know simulates a different system on your computer device. The system can be both a computer or any gaming console.
Lyra virtually emulates various gaming consoles enabling you to play thousands of games across those different platforms. Now it can not emulate powerful devices like PS4, Xbox One or even PS3 but it supports other old retro gaming consoles. Even though these consoles are not as powerful as the modern ones, they still require somewhat powerful specs to  emulate without any lags. For that, Lyra does have powerful enough specifications to provide smooth game play.
It has a strong 64-bit Broadcom BCM2837B0, Cortex-A53 (ARMv8) 64-bit SoC. A 1.4GHz 64-bit quad-core ARM Cortex-A53 CPU along with 1 GB of LPDDR2 SDRAM powers gaming console.
Lyra game console also has 32-bit VideoCore IV, with clocking frequency upto 400 MHz. The specs are powerful enough for any retro game you want to run. For storing the games, it has a 16 GB expandable memory card.
You need a battery for running the games obviously. Lyra has a 3000 mAh LiPo battery that can be charged with Micro USB 2.0 which means it does not support fast charging.
It has nice 5″ TFT LCD screen with a resolution of 800 x 480. The console has an integrated speaker for sound and a 3.5 mm audio jack for connecting earphones/headphones. For gaming it has standard game pad configuration that is a d-pad, XABY buttons and two shoulders buttons.
Lyra comes in two different versions : Ready-To-Go or DIY. In R-T-G, Lyra comes fully assembled out of the box. In DIY you get all the components in the box which you can assemble by yourself.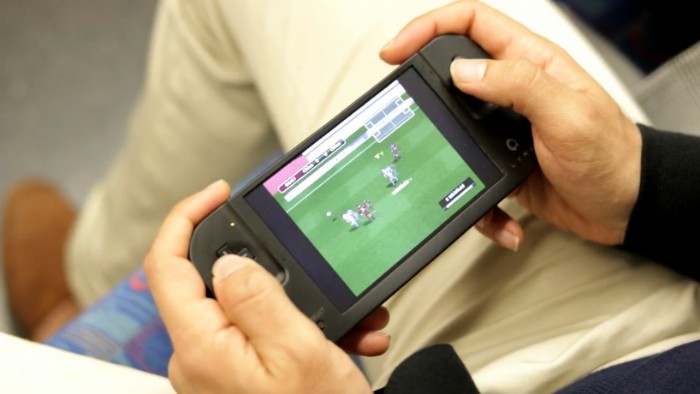 It also has an HDMI port with which you can connect Lyra to a bigger screen which makes things even better. You can also connect keyboards or mouse to it. There is option to connect additional controllers for multiplayer games.
A Raspberry Pi Compute Model 3 Lite powers up Lyra. You can access it through the GPIO pads and create custom projects. You can connect up to 8 sensors or electronic gadgets to Lyra and add functions of your own to the device.
Lyra is a powerful and customizable emulator console which lets you play practically any retro game from any retro gaming platform. You can also use it as a mini desktop PC with Raspbian. However, for someone wanting to play just new games there is nothing to do here.
Source – Kickstarter