Virtual Reality has been a part of our lives for years now. There are lot of VR headsets and smart glasses coming into market. Turn your mobile into a huge interactive screen and play games or watch movies in a whole different experience. VR changed the concept of the whole entertainment prospect. They are more mainstream than ever now but still there are some drawbacks and great room for development. Every new VR Headset or smart glass comes with a new feature or a new improvement now and then.
The new LUCI immers is one of them. What's new about is LUCI immers' own new immersion-on-demand technology.
As described by the developers, Immersion-on-demand (IOD) is characterized by a super-giant visual screen, high resolution, super high pixel density, high contrast ratio, native 3D effect and fast response time. They have perfected a way to balance the above features to deliver stunning visual experiences. LUCI immers is designed based on the IOD standard and it allows you to enjoy an immersive entertainment experience anytime and anywhere.
When you put the LUCI on you get a huge 1023″ virtual screen. With 3147 pixels per inch, you get a resolution of 3840*1080. The contrast it provides is 100:1K. It is clear the huge screen size doesn't compromise with quality. It doesn't give you a pixelated picture. The amount of ppi gives you dense and crystal clear picture quality providing you a theatre-like experience or even better. You can turn your mobile into a movie theatre just like that. You can watch 2K, 4K or 8K videos in 2D, 3D or 360°. Watch movies, TV shows or even a full-blown concert and feel like being actually present in there. LUCI emits HQ stereo sound which makes you feel like fully immersed into the surrounding.
Not just movies, you can use it to play games too. LUCI supports plug-n-play. You can plug your smartphone with a USB-C connection and play games on a bigger screen than ever. It also supports an HDMI connection. This lets you connect your PC, laptop or gaming consoles and play your favorite games on a huge screen in an amazing first person view with great audio and picture quality.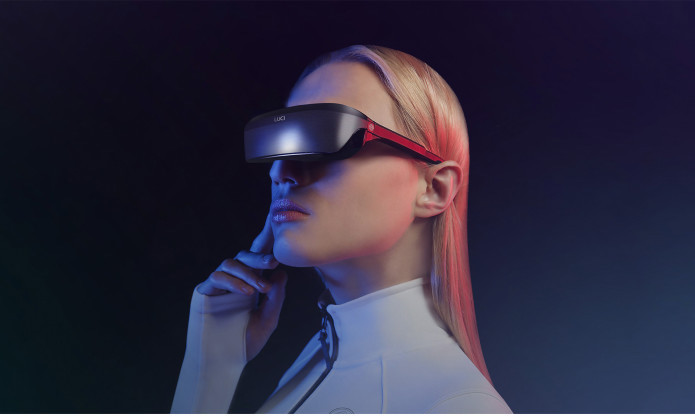 It's ergonomically designed to fit perfectly without causing any discomfort. A soft little cushion is present on the part of the glasses that goes over your forehead and around your eyes to make it comfortable. Weighing just 188g, it's not more heavier than a pair of ski glasses. This might actually be the lightest VR glasses present in the market. All of this combined makes sure it doesn't put any weight or strain on your face. There is also a really soft headband for extra safety. You can also adjust the distance between the lenses to get a picture that fits perfectly according to your eyes.
All in all, LUCI is one of the best VR headset presents in the market. It gives you one of the biggest screens with one of the most high definition visuals. Even with all this LUCI is the lightest headset out there. LUCI gives you stunning and immersive visuals like nothing else. If you love movies, games and huge screen, LUCI is a perfect buy for you.
LUCI immers vs Sony HMZ-T3W vs GOOVIS PRO
Source – https://www.indiegogo.com/projects/luci-immers-most-lightweight-immersive-viewer#/