Baby monitors are like a gift of technology to parents. They have become an essential part of the baby care routine. They help parents take care of little ones by keeping an eye on them. It keeps the parents' mind at peace as they can check on their babies anytime they want. If anything goes wrong they can take the required action at once. Thus, a baby monitor proves to be helpful for both baby and parents. There are various types and brands of baby monitor out there at present. KamiBaby is another new addition to that list.
KamiBaby is a smart baby monitor that's comes with Artificial Intelligence and Edge computing technologies to provide smarter baby monitoring than ever. The Edge AI technology can monitor a baby's breathing which is arguably the best feature of KamiBaby. Parents can always know if their baby is breathing properly or not. The device also magnifies the breathing up to a good extent. The AI also keeps the temperature and humidity of the room in check. Proper temperature and humidity are essential for a good sleep and thanks to KamiBaby parents can monitor it from their smartphone itself.
The AI can detect a baby's crying as well. A baby can start crying easily, whether it's due to hunger or any other reasons. KamiBaby detects and notifies the parents whenever the baby is crying. All of these notifications are sent on the KamiBaby app that can be installed on both Android and iOS. Statistics like room temperature and humidity too, are available on the app.
KamiBaby has a camera that can click pictures and record videos at a 1080p HD resolution. The camera features IR vision and can record a clear footage at the night. It would be useless if a baby monitor couldn't record clear footage at night as night is the most important part of a baby's routine. The camera provides a FOV of up to 160°.
KamiBaby automatically clicks pictures of baby throughout the day randomly. It might capture some special moments that parents could normally miss. It also records short clips throughout the day and creates a highlight reel. KamiBaby detects motions & movements and records only those moments. All of it can be found on the KamiBaby app.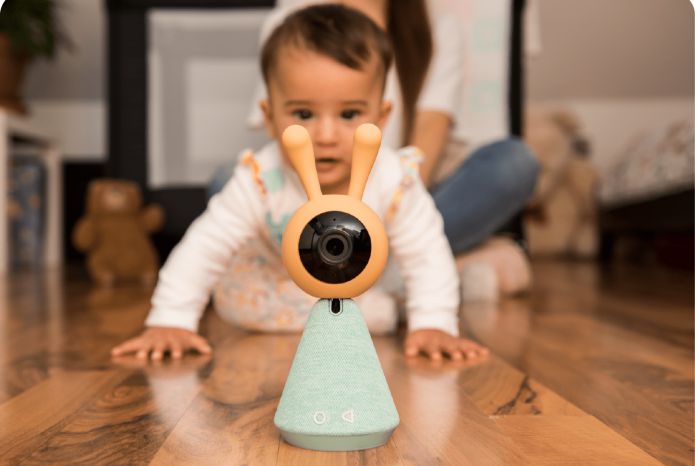 From the app the video feed can be streamed or directly shared with friends and family across various platforms like Facebook or Instagram etc. KamiBaby also has a built-in two-way microphone. Parents can hear their infant's voice or sing a song to them through their smartphone itself. You can record and save the two-way exchanges as well to watch it in future.
All the footage and voice recordings can be stored on either a MicroSD card or on YI cloud. It support a MicroSD card of up to 128 GB.
KamiBaby has an adorable design with gentle colors. The head that contains the camera is easy to manually rotate up to 300° horizontally and 100° vertically. The device is customizable with three different select-able costumes ; bear, bird and bunny. The rubber material used on the device is safety-grade silicon, baby-friendly and non-toxic. There is a gentle LED light that shows the on/off status of the device.
KamiBaby is an excellent product for all the parents. While not all parents might need such a device but for those looking for baby monitors, KamiBaby is one of the best choices out there.
Source – Indiegogo