We live in an era where technology is changing things faster than we can imagine. E-vehicles are a part of that change. They are the call of the modern time where environment is in danger. They don't use fuel and don't cause pollution. Instead of using irreplaceable resources, they use electricity which is unlimited. Recent time has seen a rise in the number of such vehicles for good. They are becoming more relevant than ever. One of these is the new Juiced Scorpion.
Created by Tora Harris of Juiced Bikes, Juiced Scorpion is a powerful E-bike. It is designed to look like a moped but works just like a bike. It comes in two versions ; Scorpion and HyperScorpion. The major difference between them is the motor. Scorpion has a 750W motor while Hyperscorpion has a 1000W motor. Both the versions are classified as a Class-2 e-bike. It means they feature a speed higher than 20mph (32.19 km/h) and throttle-assistance. The maximum speed that Scorpion can reach is 28mph (45.06 km/h) which is considerably good. HyperScorpion tops that as it can go to speed more than 30mph (48.28 km/h).
The batteries are also different in the base model Scorpion and HyperScorpion. Scorpion has a 52V 13Ah battery and HyperScorpion has a 52V 19.2Ah battery. A single charge can give Scorpion a maximum range of 45 miles (72.42 km) while HyperScorpion gets range of 75 miles (120.7 km). You can ride 45 or 75 miles (120.7 km) without worrying about running out of battery depending on which version you choose. The base model has a standard 2 amp charger included. The HyperScorpion, however, brings along a 2 amp quick charger.
The body of Scorpion looks like a retro moped which looks cool. It also uses a moped seat for sitting. The bike gives a feel of a lowrider as the handlebar is high rise. On the handlebar, it has a small display with some feature. It can show battery level, speed, bike temperature etc. It is fully customizable and user can choose what will be displayed on it. In front of the handlebar, there is a big LED motorcycle headlamp. It is 2000 lumens bright and can illuminate the surroundings enough to make a ride in the night safer. It also has a rear LED light that shows your presence to the traffic behind you in dark.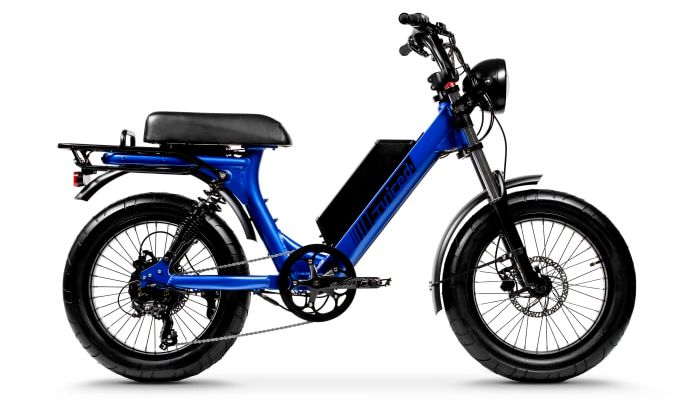 Scorpion e-bike has both front and rear suspensions to keep a ride free of any discomfort. In the front, there is a hydraulic lockout suspension combined with a coil suspension. In the rear there is spring-loaded swing arm suspension. Scorpion uses a Cadence Pedal Assist Technology while HyperScorpion uses a Cadence & Torque Pedal Assist Technology. For brakes, there is 180 mm hydraulic disc in both versions. It comes handy when you have to make a sudden stop due to some situation. It also has puncture-resistant 20″ x 4″ tires that also provide stability due to being wide.
The Scorpion weighs 77 kg and the HyperScorpion weighs 82 kg. Both the versions are strong enough for covering daily distances that are not too big. To top it off, you are doing your part in saving the environment while fulfilling your own needs. That does sound like a win-win for everyone.
Source – Indiegogo