The world is moving towards a wireless future. More and more devices are coming with wireless support thus removing wires and cables. However, they are not completely extinct and are still needed for a lot of purposes. People own multiple devices which requires multiple cables. Managing them is a nightmare. You also have to buy a new cable if any cable stops working. There is a lot more important work to do in our lives than spending time between wires and cables. That's why we need something to fix this messy situation. And maybe there is something that can help.
Infinity Cable, developed by ASAP Technology, is the world's first universal USB cable. A cable that is usable with any kind of mobile, tablet or laptop/mac. You can connect it to any device with any kind of port. Infinity Cable does so with the help of connectors provided along with the Infinity Cable. It gives you three connector types ; micro USB, Lightning (for Apple devices) and USB Type-C. Just switch between these three ports according to the type of device you need to charge. The connectors are magnetic and thus easy to connect. You can clip on any port that you want to use easily. Each Infinity cable set has N52 grade neodymium magnets which are the world's strongest commercial magnets. It makes for a strong connection without any worries of the connectors falling off.
Other than versatility, Infinity Cable is also very capable in terms of charging. The cable is capable of charging at a power of 100W PD. It makes Infinity Cable the first gadget to provide such power in Lightning and Micro USB ports. Infinity Cable also supports Qualcomm 3.0 and 4.0 quick charging. It is also fast at data transfer as well. Infinity Cable is capable of fast 480 mbps data transfer speeds.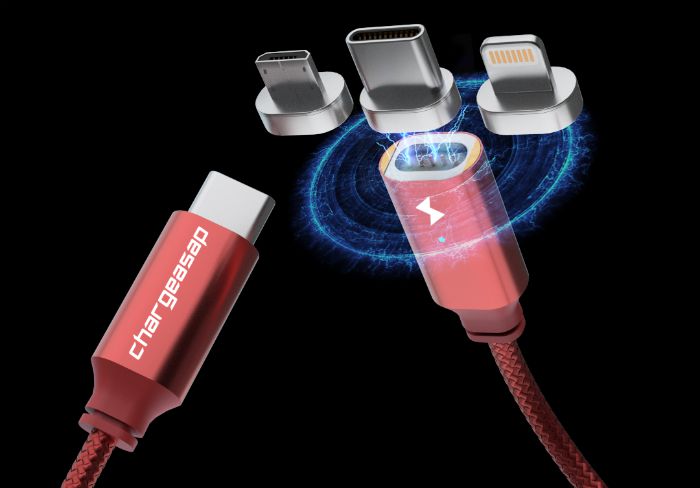 The Infinity Cable is made out of 9T which is a strong temperature resistant material. All the high speed charges or data transfers will not heat up the cable and it will stay cool to touch. Its material consists of military grade tangle-free thick nylon. The cable also bring along a cord wrap. The wrap allows to change the length of the cable according to convenience.  You can wrap it down to a short length which is more travel-friendly.
Infinity Cable also has an anti-fray neck that would keep it from snapping off. The cable is also snag-free and yank-free. If somebody accidentally walks through the cable while it's plugged into a phone or a laptop, the cable will detach from the connector instead of pulling the device along. The connector then can be removed easily. But as a bonus, you also get a tip remover tool. However, leaving the tip inside would protect the port from dust and dirt.
Infinity Cable comes with a tremendous 15 years of warranty. Standard USB cables don't last more than a year at maximum. Some don't last even 6 months. With Infinity Cable you are getting all the solutions for all your cable problems for more than a decade. This makes Infinity Cable a must have gadget in this age.
Source – Kickstarter