Everyone loves movies. Everyone like different genres but one good movie can fix a bad mood.Thanks for technology, there are a lot of different platforms for watching them. And with services like Netflix, people can watch movies on their smartphones itself too. However, due to the limited screen size, the viewing experience is not that good. Watching movies on a bigger screen provides different kind of experience and fun. But you can not go to a theater for every movie. That's where projectors come into the play. Projectors are getting popular and new ones keep coming to market with improved features. One of those is Ilumee.
Created by Yuton, Ilumee is an Ultra Short-Throw LED projector. The throw range of a projector is the distance it needs to be placed away from the projection plane for projecting the picture perfectly. Higher the throw range, more the projector needs to be placed away from the plane. Ilumee has a throw range of just 4.3 inches (10.92 cm). With a throw rate of 0.2:1, Ilumee has the world's smallest throw range in any projector. This is possible with the help of a built-in ultra wide lense.
Ilumee can create a 100″ screen from just a distance of 4.3 inches (10.92 cm). Further it can be stretched to a big 150″ by increasing the distance. The output picture is in a legit 4K Ultra HD resolution. The output picture has 8.3 million pixels which produce stunning images. Instead of focusing on just brightness, Ilumee provides a high Color Light Output. A higher CLO increases the vividness of the colors while also increasing the overall brightness of the picture. A lot of projectors provide high brightness but that leads to the dull colors. Ilumee avoids that and thus proves to be a winner in that department.
Ilumee also has a High Dynamic Range (HDR) technology that boosts the color and the details even further. It also comes with other image enhancing technologies like denoising, gamma correction, color calibration, and enhanced color gamut coverage. For audio, Ilumee has a Hi-Fi stereo sound system of its own.
As said above, Ilumee is an LED projector instead of a traditional Light Bulb projector or a Laser projector. LED projectors have longer lifespans and higher efficiency. It creates a stable picture without any unwanted tint or distortion. It doesn't require any extra components either. The lamp inside has a lifespan of 30,000+ hours. If you use it 4 hours a day, it will last for 20 whole years which is huge.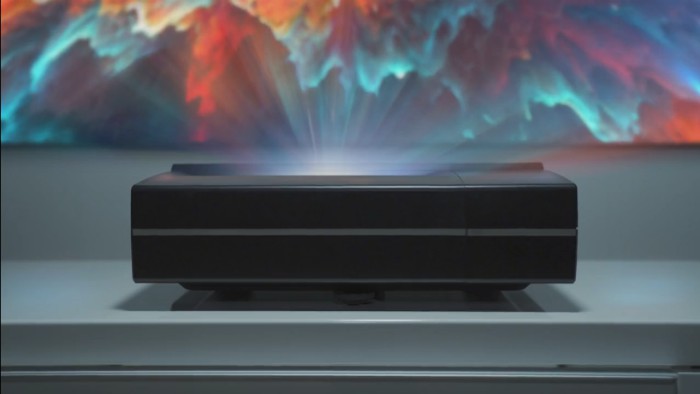 ILUMEE is universally compatible with flash drive, hard drive, DVD player, video recorder, Chromebox, game station, etc. It works on Android and you can install content streaming apps and use with the projector itself. A remote control comes along with the projector. However, touch panel is present on the projector to control projector.
Ilumee has all the qualities of what an ideal ultra short-throw projector should be. It is easy to install, efficient, effective and also has the world's shortest throw range. For someone who wants to buy a projector Ilumee should be a top choice.
Source – Kickstarter