We all love pets, don't we? Be it a dog or a cat, we all love our little wild friends. And they love us back as well equally if not more. They like being around us, walking with us, playing with us and everything. So when we are not around them, they miss us too. We can't stay at home all the time always. Neither can we take our pets with us everywhere we go. We might have to leave out pets alone for long hours. This is not good for their health. Dogs and cats suffer from depression and loneliness when are alone. They won't play by themselves and it can lead to obesity as well.
This is a big problem for everyone who owns a pet and there might just be a solution for this.
Well to solve this problem, GomiLabs has created GomiBall. It is an interactive smart pet toy ball. Equipped with Bluetooth and powered by AI. You can connect smartphone to ball with Bluetooth. It works on internal-motorization controlled by Artificial Intelligence with the help of the GomiBall interactive application.
The ball's purpose is to roll on the ground for your pet to run behind it and play with it. Dogs love playing with balls. GomiBall stimulates the real life playing for your pet and keeps them happy and fit. There are two ways to use ball. You can control the ball using the interactive app controlling the direction it goes. Or you can auto-program the ball to roll by itself. That's what helps when you can't be with your pet.
The ball will keep rolling by itself on any type of surface in autonomous direction. The AI has a set of 12 different playing patterns that keep changing so that playing with does not get monotonous. Just to add more fun, whenever your pet bites the ball, it vibrates.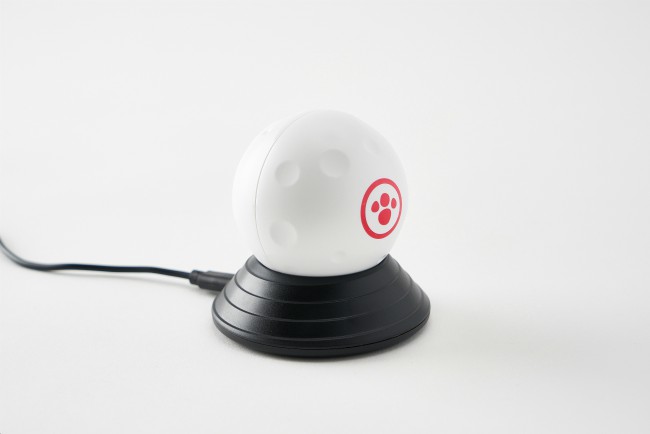 It's body is made of FDI-approved polycarbonate and covered in vegetable ink. It is safe for your pet to bite it or lick it. The ball is rugged so pet can bite it without any danger. The ball is big enough in size so there is no risk of it being swallowed by your pet as well. If the ball gets dirty you can clean it under running water because it's completely waterproof. You also do not need to worry about losing it. If you forget where you have placed ball, you can use the app to turn on a function that turns on the LED lights on the ball and even make audible sounds.
There is nothing to worry even if your pet has to stay alone for a really long time. It takes 3 hours to charge ball completely but once fully charged it can go on for approximately 15 hours. It gives your pet enough hours of playtime. Plus, the ball supports wireless charging as well.
If you have to leave your pet alone for hours, GomiBall will make sure they stay entertained, fit and away from depression, anxiety and obesity. The simple and effective concept makes it one of the best smart pet toys.
Source – https://www.kickstarter.com/projects/gomilabs/gomi-the-interactive-smart-ball-for-your-pets