Technology has advanced to a huge extent in this century. We have been introduced to many gadgets and technologies which have made our lives easier in one form or another. One of these technologies is GPS. Global Positioning System is a satellite based navigation system which is used for mapping and locating locations. Military applications first used GPS but now it is available for all. There are specific apps and tracking devices that use GPS technology. One of these is the new GoFindMe.
GoFindMe is a real-time GPS tracker. While there are already such trackers in existence, GoFindMe promises to be different. What creates that difference is the fact that GoFindMe can work without cell service. This is possible with the built-in GPS and long-range radio technology in GoFindMe. GoFindMe works in real-time. It can locate any person or place instantly according to their live state. The traced locations are always saved automatically. This helps in tracing back to the point where you started from. This can help a lot in adventurous activities like hiking or trekking. People often lose their ways in jungles. Such areas usually don't have mobile network with which they can contact someone for help. Sometime these incidents even turns fatal. GoFindMe can help in preventing tragedy caused due to such circumstances.
GoFindMe has a bunch of useful features which can prove to be lifesavers. If you are in a group, you can create a virtual circle of a variable size around the group. GoFindMe can track up to 32 people at one time. If anyone from the synced members is move out of the virtual circle, GoFindMe will send alerts in form of voice and flashing lights. You can pin a location to be the home base. Pinning a location or message will notify every synced member simultaneously. With GoFindMe you can send texts, location and voice messages to other device without internet.
GoFindMe works on its integrated GPS module which has an accuracy of 3-5 meters. GoFindMe creates a local network between all the users in the range without network or WiFi. All you need is to pair the device with a smartphone and install the GoFindMe app. You can download offline maps of your hiking or trekking destination before you go and venture onto it safely. The device can show all the available paths without any internet.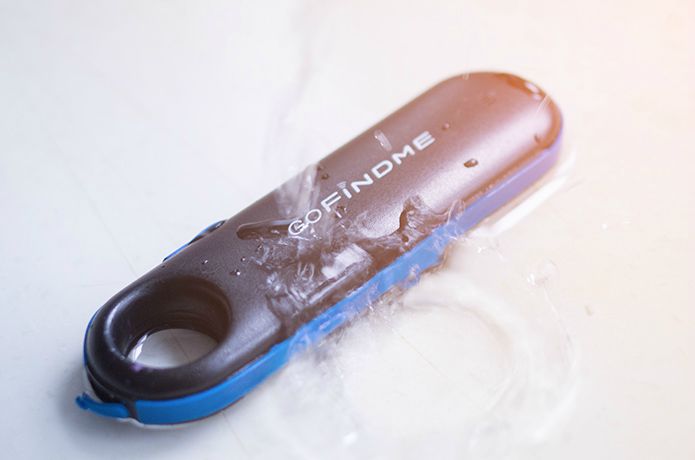 GoFindMe has a built-in rechargeable battery. Over the battery, it can work for 72 hours nonstop. Thus, you don't have to worry about running out of battery either. GoFindMe is also capable enough to take care of itself. It is waterproof, dust proof, shockproof & weather-resistant as well. It can also withstand a temperature ranging from -4 °F to 140 °F.
GoFindMe comes with a strap and can be worn by kids or pets. It helps to track their location and keeping them safe. GoFindMe is also compact and easy to carry. Thus, GoFindMe is easy to carry and can last for days of usage. It is a gadget that can prove to be really helpful to parents or pet keepers. While for hikers or trekkers it is a must have gadget.
Source – Indiegogo