Become a sensation in the world of photography with a genius little pod, Pivo. Pivo will make you an insanely creative genius with crazy GIFs, videos and photos. Pivo is a smart interactive pod to take your smartphone photography game some notch higher.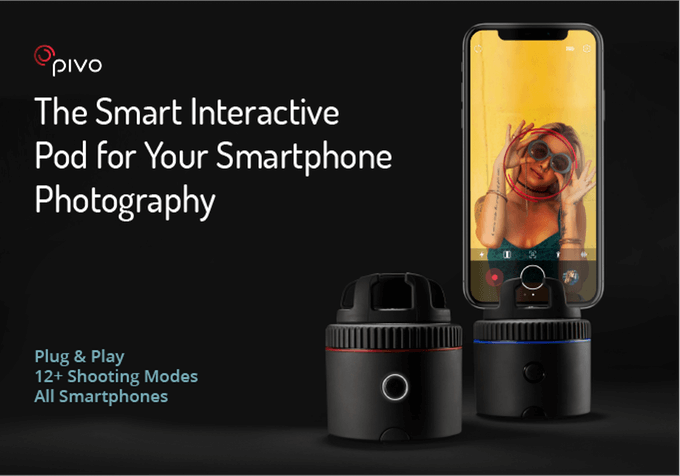 You just have to plug and play with your Pivo pod to get what you want your audience, to see. It has 12+ shooting modes to present various perspectives to end product. Pivo is compatible with al smartphones.
Pivo is the upcoming superpower for the increasing industry of smartphone photography. It can be a small pod but it gives infinite, insane yet shareable visuals.
Pivo device comes with the Pivo app for your smartphone. There are 12 astonishing features in this little and compact real companion for smartphone photographers.
With Pivo, anyone with a smartphone can produce videos, images and GIFs that are dynamic in nature. Only few taps on the screen will do the work for you.
9 Quick Create Modes:
Now there is easier way to create crazy videos, GIFs and photos, quickly and easily with Pivo.
Versus Mode : With the Versus Mode you can very easily and quickly set up an automated videos with angle cuts.
ManyMe : Take various pictures of yourself with various places across a fixed frame. Then unleash the ManyMe mode and get awestruck with its illusion creation of a fun image that shows a clone army of you.
Perfect Panorama : With Perfect Panorama mode of Pivo, you can easily create panorama and you don't have to worry about missing arms or distorted heads in the photo.
Tiny Planet : You can now take images which looks like globes of extremely small size. These photos can be taken by many expensive lens, but with Pivo, you just have to flip it into the inverted Tiny Planet mode.
Motion Timelapse : You can now capture a awesome time-lapse without being equipped with many gears. Pivo can do wonder with its Motion Timelapse mode.
Double Take : Double Take gives a fun filled meme-ready effect. The effect is the old looking-away-then again-looking-back one.
50/50 : Yes now you can make a single framed, combined creative content with 50/50 mode. 50% of the content will be still image while other half of it will be animated. Pivo is giving a quick and easy access to cinematography.
Flash : It is a motion blurring mode which is stitching two different events together.
More special effects will come soon for Pivo.
2 Auto-Follow Modes:
FaceFollw Auto-Tracking : Pivo can auto-track your face and follow you across the room within 4m of range when your front or back smartphone camera is on. This mode makes Pivo a must have gadget for vloggers along with vlogging laptops.
Object Tracking : Your smartphone camera now can also follow some moving object instead of just following a person. It is a perfect mode for some quick action sequences.
Smart Capture
You just need to snap your finger to trigger Pivo and it will take picture or commence a recording. You can decide what can be your trigger or simply say "cheese" or snap your fingers.
Multi-Platform Live
Go live on various social media networks simultaneously and take all the benefits of Pivo's face tracking and remote controlling.
Pivo comes up with its own travel case and there are options for some add-on products for it.