Reading and writing has been in use for centuries. From ancient passages and epics to groundbreaking mathematical evaluations, everything was made possible with the help of these two factors. We have evolved form engravings on stones to pen and paper. Pen and paper have been relevant and timeless. While paper is an excellent choice but it is limited.
So is there any option? There is now.
E-Pad developed by Eewriter. It is the world's first ever E-ink tablet. You don't need pen, you don't need paper, just E-Pad and it's multi-purpose stylus. E-ink has been used here and there but hasn't been really mainstream yet.
Sized a bit higher than the standard tablet parameters, E-Pad comes with a 10.3″ ultra HD E-ink Carta touch screen. Carta is an upgrade from the previous E-ink Pearl screen technology. The greater length and width gives it the size and feel of an average paper of a book. The touch screen supports dual touch. It also supports a front light which helps in case of being in poor lighting conditions.
Majority of people prefer papers because it has a unique feel to it writing on a real paper or reading off of it. That feel is missing in virtual books and mobile screens. But E-Pad does the best work in mimicking reading and writing on a paper. The screen's tint and contrast makes it look like a real paper. The 10.3″ Carta screen is super responsive which gives you a feel of writing on a real paper. The smart screen also detects and ignores the touch of your palm while writing.
The stylus is designed like a pen and moves smoothly just like a real pen. It also acts like a eraser and you can erase off any mistakes easily. You can write notes, solve equations, write mini stories and everything without worrying about shortage of paper. The never-ending digital ink erases off the worries of getting a new pen too. You can also change your handwriting into preset font texts. You can save your writings and upload it onto cloud storage so that you never lose it.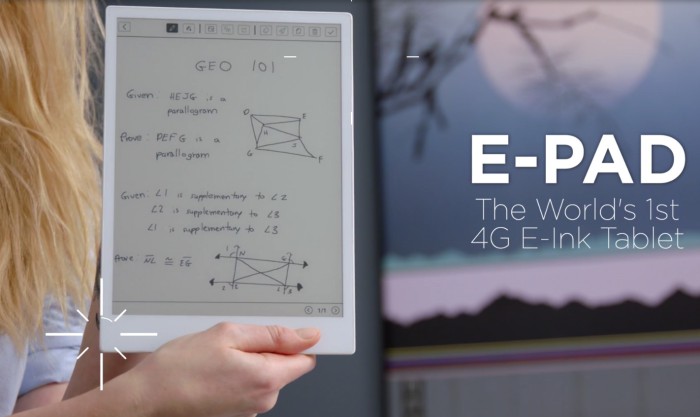 But E-Pad is way more than just a notepad. You can read e-books and makes notes off them by underlining or highlighting the important lines. You can read anything you want i.e your textbooks, newspapers, novels or even manga. It allows you to change your pen size and pen strokes. You can zoom in to fill in minor details and undo an action in case of any mistake. You can use it to sketch even
But that's not it. E-Pad supports 4G, which means you can insert your 4G sim card and use internet. You will have to use apps for that and you can because E-Pad works on Android Oreo. You can use Google, Amazon, Microsoft Word or even Adobe Photoshop. There are built-in speakers so that you can rock some music while you are writing a story, reading a novel or sketching your friend.
All of this makes E-Pad a really valuable multi-purpose and one of a kind gadget that any reading or writing enthusiast really need to own.