Everyone owns a good pair of earphones at some point in their lives. Whatever brand it may belong to, it is a must have possession for especially music lovers. Everyone might have their preferences but everyone wants quality and comfort. Earphones have changed over years with technology advances and one of these changes is turning wireless. Wires are thing of pas for the better. They always create a mess and can ruin the fun. There are a lot of wireless earphones out there with different additional features. One of these is Cheetah.
Cheetah is a pair of wireless earphones for music lovers. It uses Bluetooth 5.0 for connectivity which is the latest version of the technology. Bluetooth 5.0 makes for a more stable connection which results in distortion-less sound. Hence, improving the overall sound quality. The Bluetooth range distance reaches up to 30-50 m or 98-164ft. Cheetah's 3D sound system further improves sound quality. It also has a deep bass for some more enhancement. There is a built-in sensitive microphone as well.
Another selling point of Cheetah is it being waterproof. It is IPX7 certified waterproof and won't get spoiled by any amount of water. You can listen to music while taking a bath or even swimming. You won't lose them either. The earbuds have ear hooks that stay stuck with your ears. ZITSUGEN boasts of the earphones being completely fallen proof. They won't fall out of the ears even while running or even dancing. The earphones are also sweat proof and would stay unaffected from the sweat you build up while running.
Cheetah has a built-in battery of its own. On one charge it can last a massive 30 hours on standby. It charges wirelessly as well over fast charging. The wireless charging case's 25 minutes of charge can make Cheetah last up to 5 hours. You can also use a Micro USB for charging instead.
Cheetah also features an automatic pairing function along with automatic power on/off. Removing earbuds from the case turn them on and they pair with a known device automatically. Similarly, when the earphones are inside the case, the pairing turns off and power also turns off. This saves battery as well.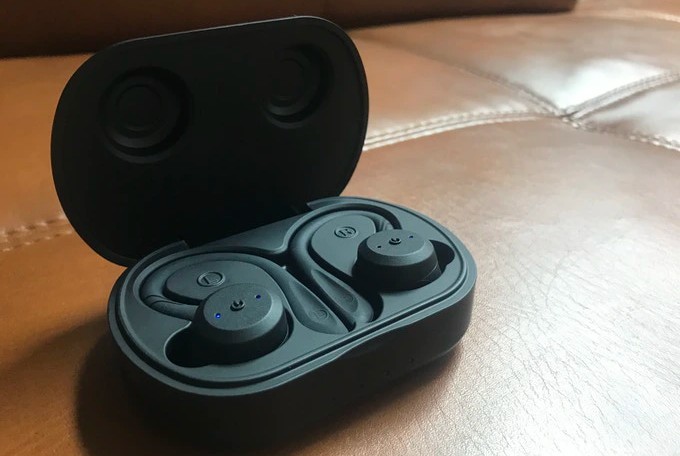 Both the buds have one button each that serves various purposes. Pressing any of them plays or pauses the music and answers an incoming call. A double-click would play previous or next song on the list and reject an incoming call. Both the earbuds can be used for the calls. Long pressing a button for a while would send the earbuds into a boot state.
Cheetah is a pair of durable and easy to use wireless earphones without any compromise on quality. Its resistance against water, sweat and falling off makes it a long term keeping option. For anyone looking for earphones that last long, Cheetah is a top contender.
Source – Kickstarter