Now you can travel without the worrying about charging your favorite gadgets when you have a powerful and interesting companion with you. Here comes only one of its kinds traveling power station – Roamproof's PWR27. You can charge any electronic portable objects on the go.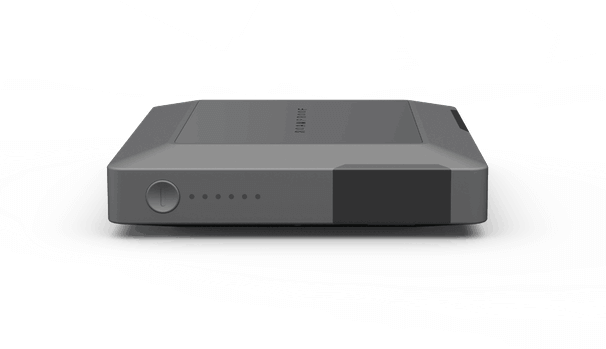 PWR27 is designed for the modern travel lovers or business personals. It has the capability of staying charged for up to 7 full-days maximum, without a fail.
PWR27 is the first A/C power-bank with IP67 in this industry. IP67 takes care of the device from dust and also makes it waterproof. It is the first powerbank which is fully waterproof.
The device is also crush-proof and can withstand up to 2 tons of weight. Roamproof powerbank PWR27 has been tested by running a truck over it to justify its potentiality of crush resistance- up to 2 tons. Roamproof has used a Jeep which weighs around 4000+ LB. The run-over test has failed to disrupt and break the device and it hadn't received any scratches also.
Like its crush-proof power, PWR67 is also resistant to the drop from the height of maximum 1000+ ft. Roamproof's hand-built sample powerbanks have went through our extreme drop-proof test, where a sample is dropped from 1000+ ft height, but didn't receive any cracks or scrapes.
PWR27 is easy to carry around as it weighs only 2 LBS. PWR27 is a small yet way too hardy to resist extreme conditions or situations.
Roamproof PWR27 has the exclusivity of emergency trickle recharge and most importantly the integrated solar battery. The solar battery has the capacity of 500 mAh/h integrated solar power. The charger has five battery indicators and one solar indicator.
The Roamproof PWR27 has two 2.4A Fast USB-A and two 3A Fast USB-C outlets. It has 120 V A/C outlet. You can charge 5 devices all at once. Capacity of the powercharger is 27,000 mAh or 99wH. TSA and all the other foreign air regulations that give restriction over 100wH limit, has approved that this powerbank is the largest battery to carry on. It has the ability of pass through charging. So your power charger will charge other devices and will also get charged at the same time. PWR27 can run smoothly for 1000+ charge cycle life.
The LG cells are ultra-stable in this Roamproof PWR27 model. This powercharger has Premium Power Management & Protection Modules and Advanced 7-Layer Heat Management System. You get a 2-Year Roamproof Warranty with your purchase.
Roamproof is equipped with one 4-in-1 LED Strobe and Torch. It makes these battery chargers perfect as all in one emergency partner at the time of traveling.
Following are some of the devices that the Roamproof PowerBank can charge:
iPhone X – 10x
MacBook Pro (2018) – 2x
Bose  Quietcomfort Headphones – 50x
Dji Mavick Pro 2 – 2.1x
RoamPrrof Macro.II
GoPro Hero 7 – 22x
Canon DSLR Battery – 12x
Galaxy S9 – 9x
Google Pixelbook – 2.1x
AirPods (Charging Case) – 66x
Nintendo Switch – 6.25x
iPad (2018) – 2.35x
RoamProof Gigaboom – 1.75x
Sonicare Toothbruch – 33.75x
Electric Razor – 19x
This power-battery is build to roam around with you everywhere you go, be it for vacation, international business trips, in a snow-clad mountain to the vast sand-covered Sahara desert.