Smartphones have become a staple of our daily lives. They are like a supercomputer that can fit in our pockets. Mobiles nowadays are very powerful, and can perform a big variety of tasks. While their small size is a positive as it makes them portable but it can also make them limited at times. Mobiles have a single small screen which can only do so much. This problem also rises in accounting laptops and desktops but there are lots of external monitors available for them today. Some of them can be used for mobiles but now we have finally something which is made exclusively for mobiles.

Ken Mages has created castAway and called it the world's smallest Chromebook. castAway is actually a case containing a built-in mobile screen that can mirror your smartphone's screen. The case has a cavity where your smartphone needs to be fitted. The cavity part and the screen part of castAway are connected with magnetic hinges and can be detached. After detaching you can use any one of the two screens however you want. The magnetic hinges also allow free motion at complete 360 degrees. Folding the both parts close can act like a screen protector for both the screens. Or they can be folded out to make a triangular shape which works like a stand while using one screen. You can also stream content on both screens so that more people can watch it together.
castAway supports both Android and iOS based smartphones. Although it's obvious castAway can not fit every mobile device in existence. castAway comes in three different sizes ; Small, Large and Extra Large (S, L, XL). S size can fit mobiles of size 5.8″. L size can fit a mobile of 6.3″ size. XL can support a mobile that is 6.9″ big. The size of the built-in screen also corresponds to these sizes. You get a second screen of the same size as of your mobile.
castAway has a working system of its own. It has a built-in OP1 processor that clocks at 1.5 Ghz. For graphics it features a Mali-T864 processor. It has a 32 GB storage of its own with 4 GB RAM. Over the processors lays the operating system which is the latest version of Chrome OS. castAway also has a built-in battery of itself which is rechargeable. It's a Li-Po battery with a capacity of 32 WHr. castAway supports charging through any USB Type C cable.
castAway proposes a lot of benefits. It can make it easy to multitask and boost one's productivity. You can work during a video call, watch video while browsing, watch a movie while texting etc. Or you can just turn one screen into a virtual keyboard which makes it easy to work on the other screen. What makes all of this possible is the MultiTask+ app. It connects your smartphone to castAway screen and is responsible for all these functions.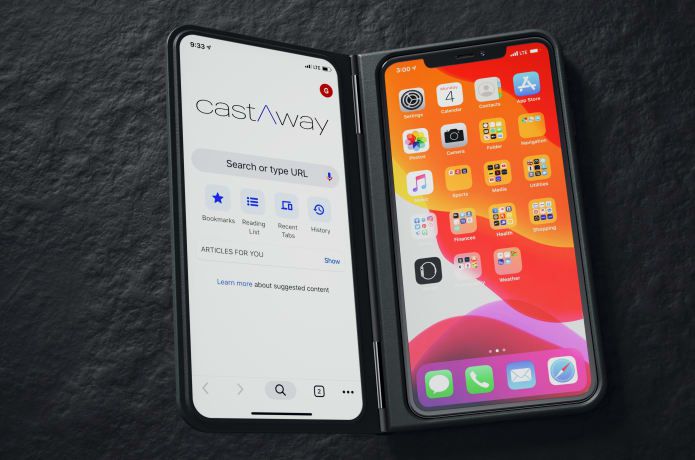 castAway has 2 MP font and 5 MP rear camera of its own. It also has stereo speakers for audio. You also get some external accessories that make things more convenient. First one is a docking station which will enable castAway to connect with lot of other devices. Another accessory is an ElectroMagnetic Resonance (EMR) stylus. It makes it easy to use the touch screen.
castAway only weighs 180 grams even with the built-in screen. It is small and easy to carry. Plus it makes your daily mobile usage easier than ever. This makes castAway a great accessory for a daily mobile user. However, it might not support everyone's mobile.