Calamus One, developed by Calamus, is an advanced uni-body ultra-bike. It has 3 different variants; One-25, One-50 and One-75. They vary according to their motor power which are 250W, 500W and 750W respectively. The maximum speed vary too, which is 20mph (32.19 km/h), 28mph (45.06 km/h) and 28mph (45.06 km/h). All the models have the same voltage of 48V.
All the models have Ultra-drive mid-motors from Bafang, and are driven by carbon belts from Gates. Ebike models are ultra-responsive and also ultra-efficient. It produces a torque of 160 nm. The Calamus One gives you up to 50 Miles/80 km of range on a single charge. It has a detachable battery with a capacity of 504mAh in One-25 version and 672mAh in other models. It charges ultra fast and takes only 3 hours for full charge.
Calamus One takes care of not just speed and battery life but also the safety of the rider. It has a Blind spot assist technology. The bike has inbuilt ultrasonic sensors that studies the traffic from behind and inform the rider if he/she is about to take a turn or change the lane by providing haptic feedback using inbuilt vibration motors in the handlebar. Its detection range goes up to 25 m. The bike is google map-enabled and has a built-in GPS chip inside. The GPS chip chip makes it easy to navigate anywhere around the world using a global network card. The GPS chip also helps in locating bike incase you forget parking location or someone steals bike. Hence, you can track ebike using the Find my ride feature of Calamus One's mobile application.
It also takes care of the off-road security of itself. There is a fingerprint scanner located just below the screen on the handlebar. The ebike ultra-fast biometric scanner for locking, unlocking the bike and rider profile recognition. Calamus One's components are secure as well due to its theft-proof fasteners. These fasteners can only be opened by a unique tool that comes with the bike. To top it all off, Calamus One has a 2-stage alarm system. If someone tries to tamper or steal the bike, it will first give a warning and send a notification to your smartphone. If the person keeps on trying to steal it, it will trigger a loud alarm along with a notification. It also has a smart lock that can be unlocked only by fingerprint of an authorizes user.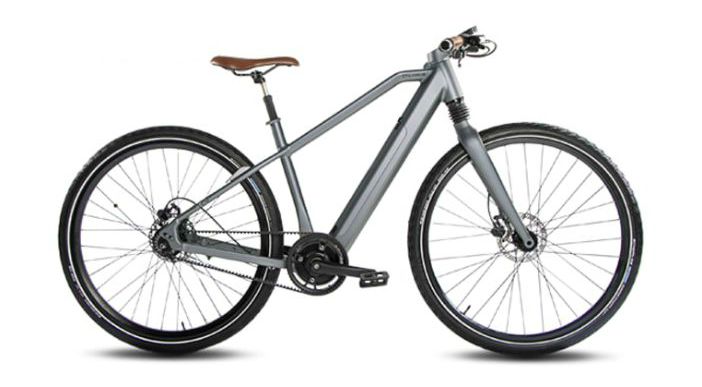 It has a 5″ integrated TFT screen that shows the speed, battery level etc. Calamus One comes with a hydraulic brake system and a front monoshock suspension. It has grippy and puncture-proof Schwalbe Marathon GT tires. Calamus One has a 2-year warranty as well.
Calamus One is a super advanced E-bike with two patent-pending unique features ; smart lock and theft-proof fasteners. It fares in speed, efficiency and security and proves to be a great option for long term use.
Calamus One Vs Stromer ST5 Vs Trek Super Commuter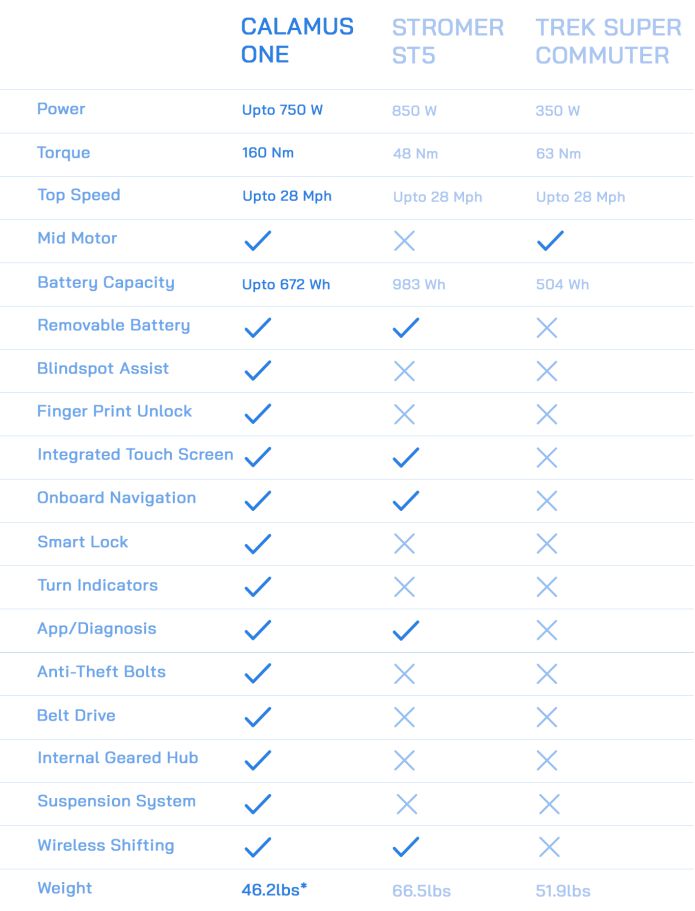 Source – Indiegogo