Do you travel alone and find it super boring? Do you feel trapped while watching movies with your parents? You can take refuge in portable DVD players that can keep you entertained during travel and you can watch movies in the peace of your room. Yes, you can get hours of entertainment at a reasonable price and you can connect them to your home television to use it like a normal DVD player. Unlike computers or laptops, portable DVD players for car are lighter, easy to operate, can be controlled with a remote and have longer battery life.
For your convenience, I have reviewed a few DVD players that you can take as a head start.
Best Portable DVD Players 2018
DBPOWER 10.5″ Portable DVD Player with Swivel Screen
I find this to be a great companion while on the move as it is light in weight. It is convenient and you can watch movies for hours without any distractions.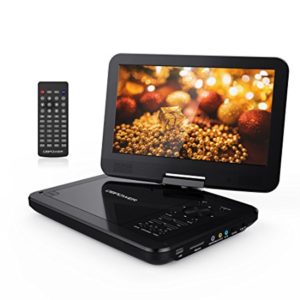 This is a unique DVD player and comes with a screen that can swivel 360 degrees. Moreover, it has an extended battery life of three long hours that means you can enjoy movies on the go. It supports all DVD, CD, JPEG and MPEG1 formats that make it an excellent choice. You can even try playing games with this player and have fun while traveling.
Pros
Elegant design
Comes with a remote control, user manual, AV cable, AC and car adapter
Can read USB, SD card and compatible with most media formats
Has 5 years warranty
Easy to operate
Final Verdict
It is indeed a reliable product to go for because it not only serves your purpose but if you have kids on board, you can keep them busy while traveling.
Sylvania SDVD1256 11.6-Inch Portable DVD Player
It needs special mention that Sylvania is a leading manufacturer of portable DVD players. It leaves nothing out and what makes it a remarkable is its screen size of 11.6 inches!
What makes this player impressive is the reasonable price, compatibility with CD-R/RW, DVD+/-,R/RW, MP3 and JPEG formats. It has a built in rechargeable battery that can run for 3 hours. Small DVD player is a handy device that you can use for watching movies of your choice anytime you want. It weighs only 3.5 pounds. This makes it suitable for a traveler, a student in the dorm or a family with kids.
Pros
Big screen size of 11.6 inch
Easy to work with
Comes with AV cable, remote control, AC and car adapter
Simple to operate
Cons
Make sure to buy from trusted seller. Some sellers are selling fake product.
Final Verdict
The Sylvania SDVD1256 is a cool DVD player that you can trust with all your senses. It has big screen size and quality at this price is certainly beyond any comparisons.
RCA DRC98090 9-inch Portable DVD Player
What attracts you to this DVD player is the neat design. It has 9 inches wide display and the LCD screen has clarity that you seek in a quality DVD player. You can consider this perfect for your leisure, travel, kids that want their player and for office use.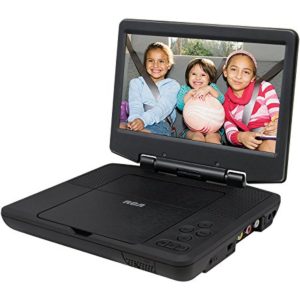 It comes with multimedia support that you want in a DVD player, built in speakers and headphone jack. It has both audio and video jacks to connect to desktop speaker and television or monitor. Nonetheless, what takes away the cake is the 5 hours battery life that is otherwise hard to find in DVD players in this price range.
Pros
Uncomplicated operations
Car and AC adapter make it worth
Has a built in rechargeable battery
It is pretty affordable
Cons
User manual is not in English
No remote control
Final Verdict
Ideal for home viewing, trips, long traveling or just for fun; you are free to use the way you want. Keep entertaining yourself and you will never run of it because of the long battery life.
SYNAGY A29 9 inch Portable DVD Player
SYNAGY is another leading manufacturer of portable DVD players. They tend to offer products at most affordable prices and ensure fast delivery.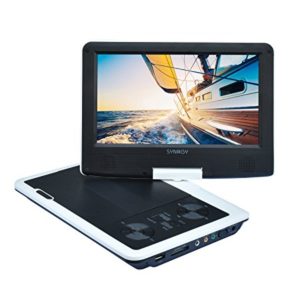 As for the SYNAGY A29 9 inch all you need to know is that this is a high resolution player with swivel screen. The battery works for almost 3.5 hours in real time and it supports all multimedia formats that helps you watch movies or listen to music at your convenience. The manufacturer guarantees 100% satisfaction or you can get directly in touch with them for more.
Pros
Can be folded flat like a tablet
It has controls for digital volume
Comes with built in stereo
Native display resolution of 800X480
Fully operational remote
Includes car charger and video data cable
Final Verdict
It is quality product with ability to read USB and SD cards efficiently and comes in different colors. The manufacturer is approachable and you can have a word with them if you have further queries.
NAVISKAUTO 9 Inch Portable DVD/CD/MP3 Player for Car
This device lasts for 5 hours long with its 2600 mAh and that certainly makes your trips more entertaining. It has a swivel screen that can move around 270 degrees making it extra amusing.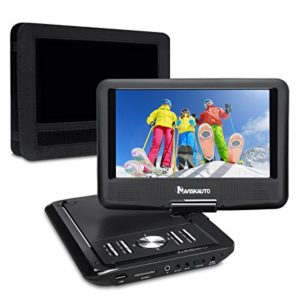 Without a doubt, this is suitable for both grownups as well as kids because of its varied features. It can play a movie or a song from last memory, an attribute that mini DVD players in this range usually lack. Another feature makes it stand apart from the rest, is the built in anti-shock operation. This function renders it safe for use at a very low price. It also comes with customized car headrest mount to mount it on backside of front car seat.
Pros
9 inches TFT swiveling screen
Can support up to 720X576 resolution
Comes with many goodies like a remote control, user manual, cigarette charger, wall mount and charger
Final verdict
The NAVISKAUTO 9 Inch is a device within reach and there are no qualms about it. If you like watching movies in car or listening to music privately, then this is a solution to it. It is the best dvd player for car.
Sony DVP-FX930 9-Inch Portable DVD Player
Sony is a heavyweight champion when it comes to electronics and it would be unfair if we missed on it. To be fair, we had to bring the Sony DVP-FX930to the fore, as it is one of the most sought after portable DVD player.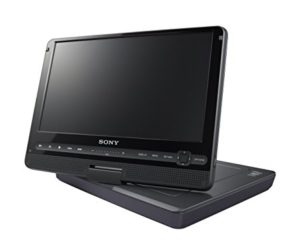 It has a clear design, 6 hours rechargeable battery and swivel screen being a Sony. Of course, that is what we expect from a Sony, right? In addition, the dual sensors help you use a remote control from all angles. The touch-screen is easy to access that is located on the bezel of the screen.
Pros
180 degrees swivel screen
High resolution display (800×480)
Works with Digital to Analog Conversion – 12-bit/108MHz
Can play multiple formats
Has built in headphone jacks
Available in vibrant colors
Plays from last memory
Cons
Battery does not last long
Final verdict
It is a Sony! It has quality, the resolution is worth a watch and you get at major online retailers. What more should we say?
Sylvania 9-Inch Swivel Screen Portable DVD/CD/MP3 Player
We could not help but add another Sylvania and this 9-Inch Swivel Screen player has a mind of its own. With slim design and light in weight features, you can tug it along anywhere you want.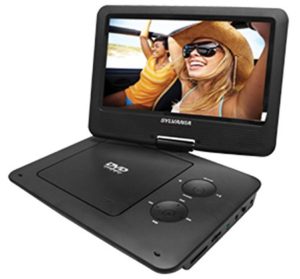 Not only this, this Sylvania can run for 5 hours long with a single charge with a built-in battery. It is easy to operate as you can jump to a movie simply by loading it with a disc. It supports all major formats like DVD, DVD-RW, DVD-R, S-VCD, VCD, MP3, MPEG4, CD, JPEG and WMA. This makes it a versatile solution for many and includes both home as well as car chargers to sweeten the deal.
Pros
9 inches screen that is large enough while watching movies on the move
Can read multiple files
Solid battery life
Comes with earphones, user manual, remote control
Available in pretty colors
Final verdict
It is simple to control and does not require much of a learning curve. This is no fuss DVD player for car. Though it has low sound problem but users can buy additional portable speaker to solve this problem.
Conclusive Words:
We recommend our readers to focus on a few thing while buying a portable DVD player and they are as follows:
Look for a stronger battery life, the standard is 6 hours and most will last for 4 hours
If you want clear image, then you should opt for a larger screen size and the usual sizes range from 7 to 9 inches with the exception that are 13 inches
Choose a good one with better audio quality and they are at par with your laptop audio, some players are equipped with one headphone jack and others with two
Just make sure that your chosen product is compatible with most all DVD and JPEG and audio formats for maximum entertainment