A mini keyboard is an external device that makes using a smartphone or a tablet convenient. In case, you face problems while typing your messages or mails, then you have a small portable keyboard at hand to help you out.
Best Mini Keyboards 2018 Reviews
We have curated a list of the best small keyboards that can make it easy for you to take a pick.
1byone Foldable Portable Mini Bluetooth Keyboard
This tri-fold mini keyboard can be paired with the use of Bluetooth with devices like tablets, iOS, Android Smartphones, personal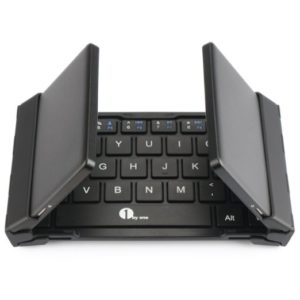 computer, mini windows pc. It makes it convenient to use your mobile devices with a QWERTY arrangement. The hot keys help you type faster and manage your system the way you want. This enigmatic black colored keyboard is easy to operate and it is light in weight so that you can carry around it with ease.
Pros
Tri-fold layout
Sleek deign and stainless steel back panel makes it highly durable
Folds into a compact package
Light in weight
Has lithium built in rechargeable battery of 210mAh
Can work for 64 hours continuously or 114 days in standby mode
Expect to get high speed connection
Cons
Takes 4 hours to charge
No compatible with Windows 8 Mobile and Android 4.4
Final Verdict
Though it is not compatible with Windows 8 Mobile and Android 4.4 users may find some features missing, otherwise this device works fine with rest of the gadgets. Sturdy stainless back panel makes it perfect for travel gear.
iClever Portable Folding Ultra Small Wireless Bluetooth Keyboard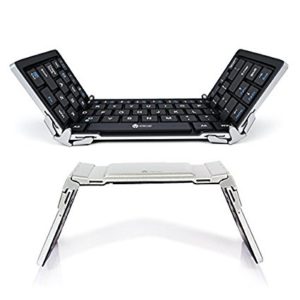 What makes this compact keyboard different from the rest is its build. It has been designed from an aluminum alloy of aircraft grade that makes it sturdy, yet stylish. This ergonomic keyboard turns your mobile instantly into a QWERTY layout. The built in lithium battery is rechargeable and can last for hours. Moreover, this is compatible with iOS, Android, Windows PCs and tablets. It can be paired with Bluetooth and it can make the most out of your mobile device while on the go.
Pros
Ultra slim design
Tri-folding system
Cute but rugged because of its strong body
Light in weight makes it easy to carry
Carry pouch with keyboard
18 months warranty by the manufacturer
Lifetime support
Cons
Does not work with Windows 8
Rii Rechargable Mini Bluetooth Wireless Keyboard Touchpad Combo
This is a real deal with a combo of Bluetooth 4.0 Mini Wireless QWERTY keyboard that comes with TouchPad and an adapter with USB interface. This handy keyboard has an innovative shape and is very portable that is easy to carry around. It is compatible with PC, Android TV Box, iPad, Xbox 360 and Google TV Box to name a few.
Pros
Light in weight
Has a built in lithium ion battery
92 hot keys and touchpad can be flipped 360 degrees
Comes with a user manual, data cable for charging along with the keyboard
Final Verdict
Whereas, the Rii Mini is a handy mini keyboard, it lacks one feature, that of a backlight. So, if you want to use in the dark, then you may have to depend on its touch functions. Again, it takes 2 to 3 seconds to connect to your device. Other, than these two problems, this one does not have a grave issue to address.
Jelly Comb Mini 2.4 GHz Wireless Universal Keyboard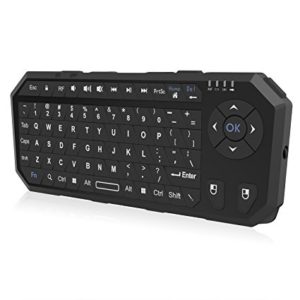 If you like gaming, typing, writing, messaging and prefer using multiple devices for office work, then a mini keyboard is a must for you. Technology has made our lives easier and we should take advantage out of it. This is a plug and play (no driver required) kind of a keyboard that makes it an effortless job to manage your work through various devices. That is correct, you can use it with your PC, Tablet, smart TV and smart phones. It has more to it like:
Pros
Ergonomic design makes it convenient to use
The keys are constructed with what is called scissor design that makes typing undemanding
It is a lightweight product
Is compatible with Android, Windows and Mac OS
Easy to connect with a dongle
Can work upto distance of 10 meters
Built in rechargeable lithium ion battery
Cons
Plastic body finish is not perfect
Final Verdict
The plastic body is a big turn off though the nice rubber keys have impressed us a lot. We would have appreciated if the body was made of sturdy material!
WOSUNG Wireless Mini Keyboard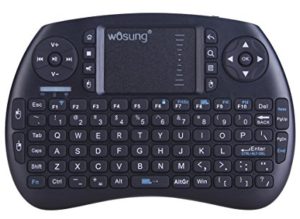 This slim wireless keyboard can work with PC, Raspberry pi, XBMC, HTPC and Smart TV without much of a problem. Moreover, it can work like a QWERTY set as well as a touchpad device. It has a rechargeable battery with long standing battery life and can actually last for weeks on a standby mode. Have a look at it for more:
Pros
Good looking mini keyboard
Needs you to plug the receiver and then you are good to go
Can work within 20 feet signal, of course without obstacles
Reasonably priced and it lives up to its price
Rechargeable battery can really last long which is ideal for teaching, exhibitions and traveling
It is easy to operate
Very light in weight
Final Verdict
The only problem that may mark it down is the blue LED lights that sparkle every time you type. You can cover the light with a tape as a solution, but this is a diversion you have to put up with.
Logitech K380 Multi-Device Compact Bluetooth Keyboard
Take this mini keyboard anywhere you want around the house and type on it. Without doubts, this gets connected to any Bluetooth
enabled device for you. You can invest in a bluetooth mouse later to make it a complete set and experience the joy of sharing, mailing, typing or chatting with any device of your choice. You name it Windows PC, iOS devices, Chromebooks, Android devices, Mac or Apple TV (2nd and 3rd generation) and you can pair it with them.
Pros
Smart looking device
It is available in different colors
Is OS-adaptive as it recognizes the OS and maps its keys to provide you the best of experience
The EasySwitch button makes it absolutely uncomplicated to pair with 3 devices simultaneously
Compact in size that means you can carry it all along
Cons
Little heavy in weight
Alkaline Battery
Final Vedict
The only con that we can think of is that this is little heavier than the other mini keyboards. It uses alkaline batteries and that should be taken as another setback. However, it does come with 2 years battery life but that is dependent on your usage.
Arteck Ultra-Thin Apple iPad Mini Bluetooth Keyboard
Okay, we have to agree that this one is specifically designed for iPad M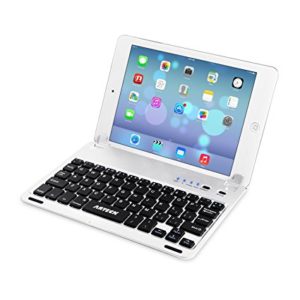 ini 1st, 2nd and 3rd generations. It perfectly fits their light and slim look lending the whole set an elegant look. Nonetheless, this is a very durable product that you can come across and the brand name that it carries is totally comprehensible. It comes with Auto Wake and Sleep functions that can wake iPad when required and on the other hand can put it to sleep or standby mode when inactive.
Pros
A mini keyboard with looks
Gives more of a relaxed typing experience
It can be tilted up to 130 degrees for comfortable viewing
It has a strong battery that lasts 50 hours of use
24 months of warranty
Final Verdict
Every product comes with its own limitations and this is not an exception. It needs to have better instructions as we gather from our experience and the keys are little odd in arrangement as compared to QWERTY layout.
FAVI FE01 2.4 GHz Wireless USB Mini Keyboard with Touchpad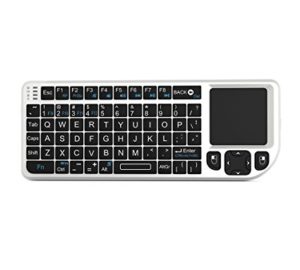 If you are looking for a small usb keyboard that can get connected to your home theater PC, Plex, gaming consoles and more, then this is it for you. The FAVI FE01 can get paired with Windows 10 as well as Mac. It comes with a strong battery that can last for 6 months! Not to mention, that this takes your wireless experience to another level.
Pros
A compact keyboard in real sense
A keyboard with a touchpad alternative and laser pointer
Long lasting battery life
Convenient to use as you can just plug it and play
1 year warranty
Cons
Keys are somewhat difficult to operate
Final Verdict
Although, we have the keys to be difficult to work with, yet they are not disappointing. This is not a Bluetooth connector but a wireless keyboard that may be a concern for some. We request you to know about this before you invest in it as that will make it easier for you to decide.
Adesso Mini USB Keyboard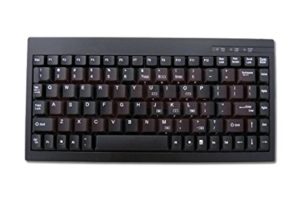 The Adesso Mini USB Keyboard is all that you have been looking for if you want to connect your devices to enjoy a mini keyboard experience. This is specially designed for Windows devices and has 104/105 functional keys in total. Its compact size will make room on your table if not anything else. You can navigate with it in an effortless manner that adds to your experience all the more. This is a quality keyboard that you can lay your hands on.
Pros
You can consider this as a cross between a traditional keyboard and a laptop keyboard
You can feel the key feedback to be crisp with medium length keystrokes
Key layout is almost similar to a standard keyboard
Final Verdict
We have one possibility that you need to type slowly on it because going too fast may not be recommended with this mini keyboard. It may cause some trouble for those who type with a strong hand. Besides, these two misses, we don't think there is much to worry about this mini keyboard for now at least.
GMYLE Compact Wired USB Mini Keyboard for PC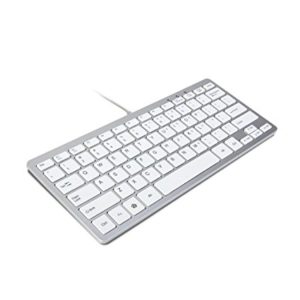 For all those PC lovers, we have a mini keyboard for you in the GMYLE Compact. What make this a unique product are the silver color and undoubtedly, its performance. It has been declared as a trendy product by almost everyone that has used it and we are not deferring from it. Its super slim body makes it easy to tug it along and we have found it to be an ideal product for notebook users too.
Pros
The metallic color makes it a looker
It is ultra-light in weight
It has 78 keys that makes it as an efficient product
Is compatible with Windows Vista, Windows 7 and 8
Can work with PC, Mac and Xbox360
Cons
Keys need to be hard pressed
Final Verdict
The biggest problem with the GMYLE Compact Wired keyboard is that its keys need to be pressed hard for typing. This makes it a bit a problem for those that type light and hard typing pros can give it a thought. No, there isn't any other thing that we can recall as of now. That suggests, you can go ahead and give this a consideration.
Conclusion:
If you want a quality mini keyboard, then you must give these above mentioned names a consideration. These products have gained popularity owing to their performance and these indeed are the best of the lot. Trust our research as we have taken time inspect these products. With that being said, you are free to make your own choice!