A clear protective case becomes the primary option whenever style and protection have a clash. While the heavy-duty shock-absorbing frame protects your iPhone against accidental falls, a transparent back allows it to catch the attention effortlessly. Keep the elegance of your iPhone intact without risking defense against drops and scratches.
Transparent cases have a lot more, besides well-designed to let the iPhone shine-through. Are you among the ones who cannot give up on style in favor of protection? Then, this handout is for you. Here you will find an all-embracing lineup of the best clear cases for your iPhone 11 Pro Max.
Showcase your new iPhone 11 Pro Max with daily drop defense plus lasting clarity with the Spigen Ultra Hybrid case. It features a hard and durable PC back with a flexible TPU bumper. Remove a protective film on either side of the case and put it on your iPhone.
Raised bezels along the edges of the case keep it flat and give ultimate protection to your iPhone's screen and camera. 0.13-inch ultra-hybrid depth of the case protects your iPhone 11 Pro Max from drops and surface scratches.
The ultra-hybrid crystal clear case is compatible with wireless charging. Precise cutouts make it easy to feel and press pronounced buttons. The best part is that it's easy to wipe your fingerprints over the case. The perfect grip does not slip out of your hands, and you can display your iPhone admirably.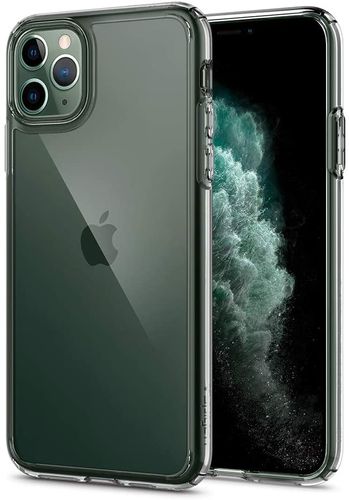 Shock-absorbing air-guard corners and flexible TPU frame featured by the ESR case offers military-grade protection to your iPhone 11 Pro Max. The high-quality material frame provides a comfortable grip, and shock-absorbing corners protect against short-distance drops.
Raised 0.95mm screen and camera edges offer enhanced screen and camera protection to your iPhone. The crystal clear case resists yellowing that provides long-lasting clarity. Without adding bulk, the case is thin and lightweight that provides an excellent grip plus the best protection to your iPhone 11 Pro Max.
The crystal clear case allows you to showcase your iPhone 11 Pro Max's original look. It supports wireless charging, which means you can charge your iPhone with your case on.
The rigid PC backplate is tough enough to withstand everyday drops and wear-tear. It keeps your iPhone's glass back looking as fresh and good as new. So, without sacrificing clarity, you can provide comprehensive protection to your iPhone.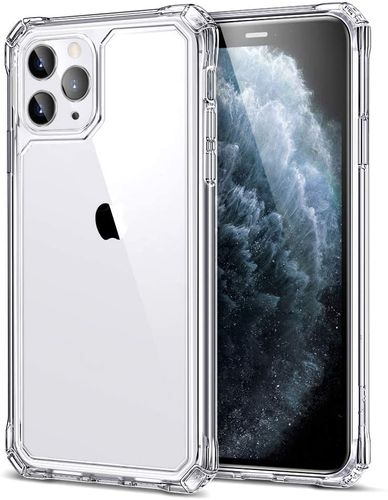 Protect the back and the front screen of your iPhone 11 Pro Max with SURITCH clear case. The plastic built-in screen protector provides full access to the iPhone screen, including the edges. The back case made of transparent tempered glass material has good hardness plus strength to prevent daily scratches and bumps.
9H tempered glass back offers 360- full body protection to your iPhone. The protector has good sensitivity so that you can rapidly recognize your typing. The soft shock-absorbing material provides maximum impact protection. The case is the perfect combination of durability as well as style.
Electroplating technology makes the border of the case never fade. Additionally, the metal layer on the surface dramatically enhances the wear resistance of the case. Sufficient raised lips to lift the camera and screen off flat surface protect the back camera and front screen from scratch. The clear case with a stylish metallic frame allows you to show your iPhone 11 Pro Max's original beauty.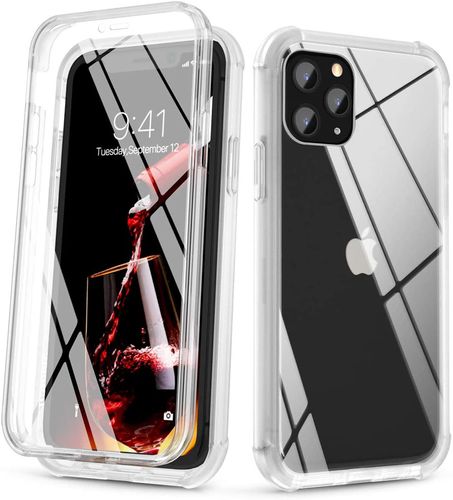 Prevent your new iPhone 11 Pro Max from a collision with TPU plus PC material featured by the Mkeke case. The case is severely following 1:1 open mold protection. The perfect fit of keys enables effortless press with high sensitivity. It provides rapid access to buttons, ports, speakers, and other functions.
The raised edges cover all the corners of your iPhone 11 Pro Max and offer better protection to your iPhone. Now there is no need to remove the protective case out of your iPhone for charging. It's because the Mkeke crystal clear case supports the direct use of wireless charging.
Made of soft TPU bumper and hard PC material, the case offers fingerprint protection. Along with it, it protects your iPhone from scratches, sudden dropping, and falls. You can reveal and enhance your iPhone 11 Pro Max's original design or color with this crystal clear case.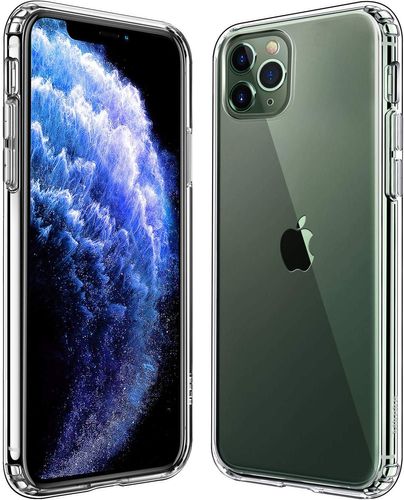 Avail long-lasting clarity along with more robust protection for your iPhone 11 Pro Max with TORRAS Diamonds Clear Case. It adopts the world's leading polycarbonate material that makes it 1.8 times more transparent and more anti-yellow than other ordinary cases.
X-Shock space cushion ensures that this case prevents your iPhone from sudden shocks and drops. The case features an anti-fingerprint and anti-scratch property that keeps your iPhone looking excellent and clean.
Moreover, this clear case keeps your iPhone thin and lightweight for excellent portability. The soft bumper provides an effortless installation plus a comfortable grip. The unique designed buttons are easier to respond and press during work time, sports, relax time, or others.
It provides 1mm raised edges for the camera plus 0.6mm edge for screen protection. Apart from it, the case gives four 0.9mm corner bezels to add further screen protection. With zero loss of charging, the case works perfectly with wireless charging. Moreover, this transparent case features a silky comfort grip that provides you with a better grip while holding the iPhone in your hands.
Get two layers of crystal protection in a slim and pocket-friendly case for your iPhone 11 Pro Max. It's a durable and polycarbonate outer shell attached to an inside layer of protective cushioning to offer your iPhone ultimate protection.
The case is well-designed for impact resistance and meets all the military drop-test standards. Raised bezel resists screen breaks or cracks for those times when your iPhone falls or lands face-down. The case offers protection against damages, abrasions, drops, and more.
The plus part is antimicrobial treatment provided by the case. Speck case has a micro ban that provides invisible cleanliness and lifetime protection against odor and stain-causing bacteria growth.
Gemshell case features a repositioned Speck logo. The precision-engineered design fits your iPhone perfectly, and rubberized covers shield buttons precisely. It enables you to clearly show off your iPhone without worrying about drops and falls.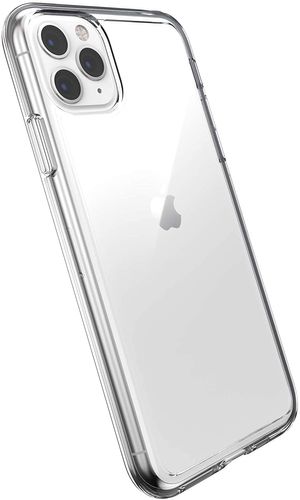 Freely use your new iPhone 11 Pro Max without worrying about daily drop and fall by putting the CASEKOO case on it. The crystal case features bouncy airbags to protect your iPhone from sudden shocks, drops, and scratches.
It provides three layers of protection to your iPhone, including anti-scratch coating, non-slip soft TPU bumper, and anti-yellowing protection. The adopted aliphatic polycarbonate clear back and diamond antioxidant layer prevents your iPhone from stains. It is hassle-free to clean your iPhone with a cloth and make it look like a new one.
1.5mm raised lips provide the best camera protection and 1mm higher from the screen provides excellent screen protection. Along with it, 1mm corner lips raised to the back of the screen offers complete protection in case of fall.
Without being bulky or heavy, the case provides your iPhone with maximum portability and a comfortable grip. Moreover, the clear case comes with advanced microdot technology to not face any heating issue while playing games or charging your iPhone Pro Max.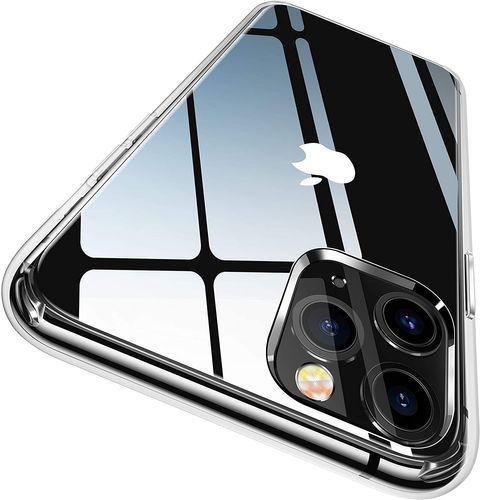 Double airbags featured by AINOPE crystal clear case provides double protection to your iPhone 11 Pro Max from shocks and drops. The crash-proof double airbag protection allows no damage to your iPhone even if it dropped from 10 feet.
Made of high-quality TPU material, the case features anti-scratch property. Unique and standard quality airbag cushion design provides all-around protection to iPhone 11 Pro Max. Moreover, there is no need to take off the case while charging your iPhone with a wireless charger as the case is thin and friendly with wireless chargers.
Protect your iPhone whether the front screen or corner hit the ground with raised 1mm screen edge and 0.6mm from the screen. The ultra-high clarity feature allows you to show the original beauty of your iPhone.
In conclusion this crystal clear case fits 1:1 perfectly to your iPhone and provides you with effortless access to all buttons and ports. Additionally, the case's back is consistent with the principle of ergonomic and perfectly fits your palm while you hold the phone. The world-class environmental protection layer keeps the stains and air bubbles away from the case.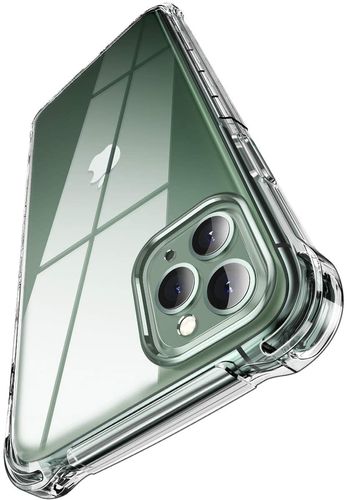 Symmetry Series case provides the style and protection you want for your new iPhone 11 Pro Max. The case is slim and protective and transparent, showing off your style. It features a one-piece design for easy flash on/ off access.
The case is ultra-slim to showcase your iPhone with complete protection from scratches and drops. It's too slim so that you can have a comfortable grip while holding the phone in your hand. With wraparound colors and graphics, the case adds graphics style to your new iPhone.
It is compatible with Qi wireless charging and fits well if you look for a slim and protective case for your iPhone 11 Pro Max. The case offers durable protection that shields against fumbles, bumps, and drops. Raised bezels around the camera protect your iPhone camera lens effectively.
The cutouts are so precise such that all of your phone's functions, buttons, and features work flawlessly. Additionally, it's effortless to install and remove the case.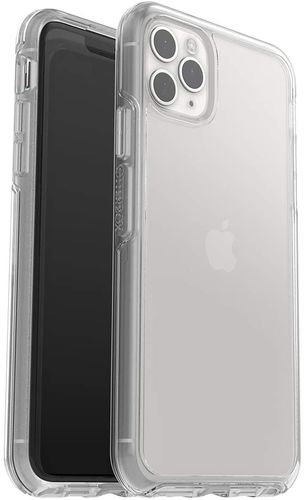 The unique wavy pattern inside the MATERPOX clear case's bumper protects your iPhone 11 Pro Max from unintentional falls. 1.5mm raised screen lip, and both sides of the back offer excellent protection to your iPhone from being scratched.
Corners wrapped design and precise cutouts enable flexible press and answer buttons. Dual-layer structure and four corners protect your iPhone from shock. It supports wireless charging and universal to all car mounts. The sleek, smooth surface does not add any additional bulk and provides a comfortable grip while holding the iPhone in your hand.
No watermark and 1.8mm super crystal clear PC back allow you to show the beauty of your iPhone. The soft bumper is made of premium TPE material that will protect your phone from scratches.
Featuring ultra-transparent and anti-yellow back, the case is clear, slim, stylish, and pocket-friendly to protect your iPhone. Made from a blend of optically clear PC and flexible TPU materials, the iPhone 11 Pro Max Clear Case provides a comfortable feel.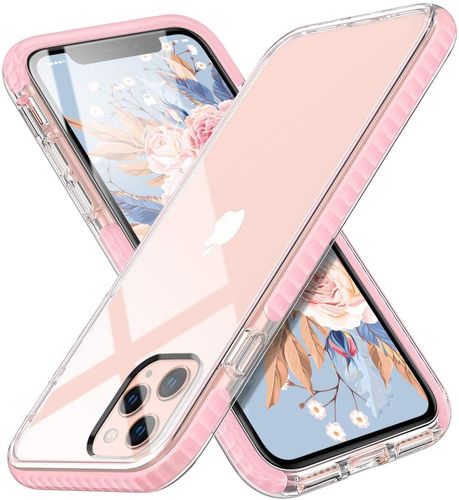 Keep your iPhone 11 Pro Max in the natural look with raised edges around the camera and screen for better protection. Designed with shock-absorbing air-guard corners, this clear case protects your iPhone from sudden falls and other impacts.
0.3mm raised edges provide overall protection for the front and back of your iPhone. The scratch-resistant featured by this case enables your iPhone to withstand everyday wear and tear. It keeps the glass of your iPhone looking as good as new.
The reinforced corner design provides additional drop protection against damages from drops and falls. It features precise cutouts that enable the case to fit like a glove. It offers easy access to every button, speaker, charging, and other ports or the iPhone.
The case is too light and soft for easy installation and removal. It features anti-fingerprint hybrid-protection property to prevent your iPhone effectively.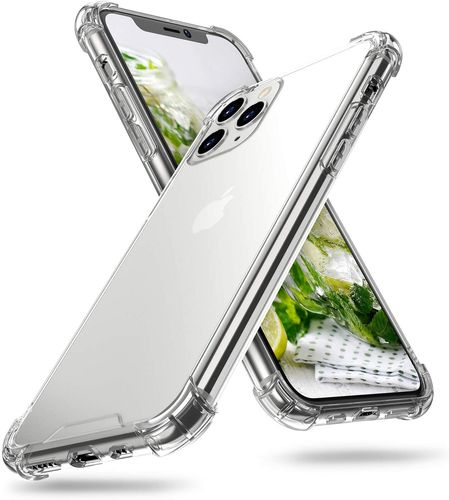 All these clear cases for iPhone 11 Pro Max are tremendous in terms of protection as well as meet the style factor.
Whatever case you choose among them, you will always have a comfortable grip. It's worth engineering work that prevents your iPhone 11 Pro Max from scratches and drops by allowing you to show off your phone entirely. All these cases have precise cutouts to have quick access to buttons and ports of the iPhone. The best part is that all these clear cases are pocket-friendly, giving you a unique option to select anyone that suits your needs.