You may have heard of different stories about videos that are released online, or camera footage of activities done in a place where there had been no sight of a CCTV camera. Well, you don't have to think too far as there has been big advances in the world of monitoring cameras.
The new small device is called "Hidden Camera" otherwise known as a spy camera. It can record people's activities in a particular place without them knowing because it is not visible, unlike other CCTV cameras.
Mini spy camera is often placed in hidden places that one wouldn't have considered checking and despite how inconspicuous it seem, it has the capacity to take into record every slight movement or activities in a whole room.
A secret camera is usually attached to common gadgets such as computers, door knobs, phones, and windowsills especially in areas that provide the right angle needed for a complete coverage. Spy cameras are especially good for security surveillance reasons as it is not easy to detect them.
Best Hidden Spy Cameras 2018 Review
Combrov T10 Photo Frame Hidden Spy Camera
Combrov T10 is a motion activated security spy camera cum spy video recorder which can be used undetected in homes and offices to track every activity done within that location.
It has long lasting built-in battery of 10000 mAh capacity. The powerful battery provides 30 hours manual recording in day time and 10 hours night visual recording and 2 years of Passive Infrared Sensor (PIR) motion activated recording in standby mode.
Once fully charged (20 hours by 2 A USB power adapter), micro spy camera is easy to use without power supply. This camera has an extremely concealed lens that has been built to match the photo frame it is attached to. It is so invisible that one wouldn't find the lens despite looking into it.
One unique feature of this spy camera that makes it more professional in quality is its loop recording feature which solves the problem of storage space by overwriting old files with new files. Combrov T10 can work in a very dark environment without giving out any light indicator that would reveal its location.
It has a clear video quality of 1280*720P at 30 fps with a good quality voice and sound recording. Combrov T10 is a multi-functional camera for different uses such as loop recording, mute recording and motion detection.
Specifications
Dimension – 11.5 X 9.3 X 1.2 inches
Quality – 720P HD super clear video quality
Battery – Lithium Ion built in 10000mah capacity
Weight- 1.1 pounds
Angle – 75 degrees wide angled lens
Detection distance – 15-25 feet motion detection distance
Maximum storage – 32 GB
Motion activated
Video recorder/security camera
Pros
Multifunctional to serve as a camera, detector and a recorder
Memory space cannot be used up
No light night vision technology
Durable battery capacity
Clear video quality.
Cons
Overwrites old files, so you need to copy files immediately.
Expensive but worth its price.
The Combov T10 hidden camera is a great product to own in the home and in offices to monitor various activities. It is a great replacement for the conspicuous CCTV cameras and one of the best-hidden cameras to be used as a Nanny cam in the home.
NexGadget Spy Pen & Hidden Record Camera
The NexGadget spy pen is micro spy camera hidden inside pen. It can be used as a video recorder cum camera to monitor activities.
The HD video camera recorder can capture high-resolution video and images. It has a rechargeable built-in high capacity Lithium battery. Hidden camera can be operated manually in standby mode to record activities even while you are away.
Spy pen camera provides up to 90 minutes of digital recording. As small as it seems, it has the capacity to support a storage memory of 32 GB which enables it to serve as a portable storage drive or to capture still images and videos on the move. It can be connected to a PC with the USB port which allows you to transfer files to computer.
Specifications
High capacity Lithium battery
32 GB micro card
Full HD 9712 lens, 8mp
Customized video setting
Writable tip
Charging/data USB cable with the USB standard Port
Pros
Fully rechargeable through the USB port
Functions as a pen even while actively recording
Large storage capacity
Low light performance (at least 1 Lux)
Features a date and time stamp that makes files easy to filter
Cons
Short battery life (70-80 minutes).
Can only function under low light, not on a dark night.
Needs a regular or consistent supply of power to recharge it when down.
NexGadget spy camera pen is a portable camera device that can be used to monitor activities without raising suspicions from others around as it still functions well as a writable pen.
AES Alarm Clock Radio Spy Camera (Hidden Nanny Cam Spy Gadget)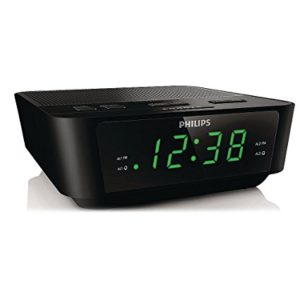 The AES Spy camera not only serves as an alarm clock but as a functioning radio plus a monitoring device that can keep track of activities in a room or an office.
Being an alarm clock, it can be taken with you anywhere without any restriction. It not only records but also serves as a motion detector. It has a storage capacity of 32 GB while consuming up to only 1 GB space per 30 minutes of recording.
Specifications
720P HD 1280 X 720 resolution
32 GB storage space
AVI video format
70-degree viewing angle
Pros
Spy camera & Alarm clock.
Detects motion
Auto recycling feature to create space
Easy to use
Time and date stamped for easy sorting.
Cons
With its auto recycling mode, files need to be transferred immediately to avoid losing them.
Functions only as a video recorder and motion detector and so cannot take pictures.
MEAUOTOU Wi-Fi Hidden Camera Power Bank
This device is a secret spy camera hidden inside a regular power bank. Hidden camera can easily be operated  while recharging  phone without any indicator light flashing.
This wifi spy camera can also acts as a motion detecting device that alerts you of any movement around. With the MEAUOTOU app on your smartphone, you can get instant notifications. There is an option to set motion detection sensitivity and alarm schedule.
It works with a 2.4 G Wi-Fi and is supported on iOS, android, and Windows PC.
Specifications
Motion sensor
2000 mAh battery capacity
LED light
Memory space of up to 64GB
Full HD real-time video
Loop recording
Pros
Can connect to wireless router
Works well while plugged in to charge
Extremely concealed
Can be operated on smartphones with the application installed
Captures snapshots, record videos and detects movement
LED lights to illuminate surroundings when its dark
Cons
Only supports 2.4G Wi-Fi
Works for only 1 hour after charging
Loop video allows overriding of old files
FREDI 360° Wide Angle Fisheye WiFi Hidden Spy Camera Bulb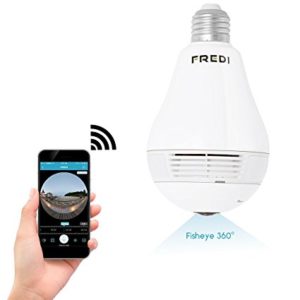 FREDI 360⁰ camera is not just a LED bulb to illuminate your home but also serves a dual purpose of monitoring movements and activities around the home or wherever it is used.
It has a fish eye lens that overlooks the room at 360⁰ and a side angle of 180⁰, a wide angle view that makes you see your entire room in a clear HD video quality.
The FREDI fisheye camera also enables you to operate it on your smartphone through app. It sends alerts to phone whenever a motion is detected and let you decide what you choose to do by sending a feedback signal to the device.
It has a loop recording feature that doesn't override old files but automatically saves them to create space for new records.
Specifications
LED light hidden camera
Synchronizes with iOS and android phones
Wide view angle
Motion detector
Clear night vision enabled
Storage capacity of up to 128 GB
Advanced H.264 technology
Pros
Easy to use (simply scan, connect and view).
Sends motion sensor alert to supported phones.
Clear visibility of up to 16 feet on very dark nights.
Can be used at home and in offices for a discreet surveillance purpose.
Large storage space (128 GB)
Full 1-year warranty
Cons
No built-in rechargeable battery
Conbrov DV9 Portable Hidden Spy Camera Book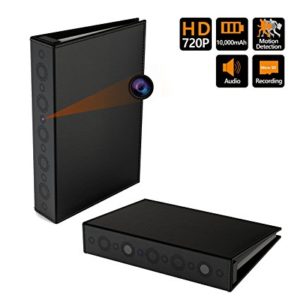 A uniquely designed portable spy video camera that can capture activity in a room without being noticed. With its discreet design look no different from the book, it is portable enough to carry about as a book, yet monitor everything done around you.
The Conbrov DV9 has a built-in 10000 mAh capacity battery which continuously records up to 30 hours and gives a 10 hours night vision recording time. Like some other hidden security cameras, it has advanced no light night vision technology.
Specifications
PIR detection angle: 60⁰
Size: 8.4*6*1.6 inch
PIR standby time: 2 years
32GB memory space
20 hours full charging time
2 A USB power adapter
Date/time stamp
PIR motion detector
Black LED with a 25ft vision range
10000 mAh built-in Lithium-ion battery
Pros
Does not take up space
Portable
Night vision enabled
Easy to use
Multi-functions as a book, motion detector, loop recorder and camera.
Covers a longer distance in the room
Cons
Easy to pick off the shelf like any other book.
Mini Wireless WiFi Spy Hidden Camera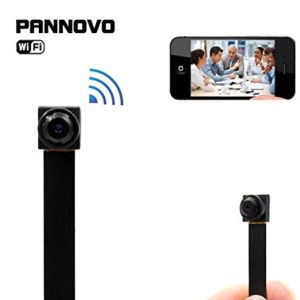 The mini hidden cameras are the smallest camera you can own to capture images and record various activities. It fits perfectly on any tool or device you can carry about or place at a specific point to record without calling attention.
This smallest wireless spy camera has a compact design just like a button which makes it lightweight. The tiny spy camera has capacity to support a 32 GB micro TF card and it also has motion detect feature.
This mini spy camera great tool for detectives. It is also a good surveillance camera in the home or offices.
Specifications
Video resolution: True HD 1280 X 720P
Battery: 4000mAh built-in Lithium-ion battery
Storage: 32 GB
Wi-Fi Spy camera
App software
Video format: AVI
Pros
Easy to connect Wi-Fi camera
Very small and can easily fit other devices or gadgets
Comes with a rechargeable battery
Comes with password protected Wi-Fi for enhanced security.
Multi-functional.
Recording on motion detection
Small and lightweight
Cons
Phone must be Wi-Fi or internet accessible, does not work offline.
With its small size, it is very fragile
Corprit Full HD Mini Pocket Spy Video Recorder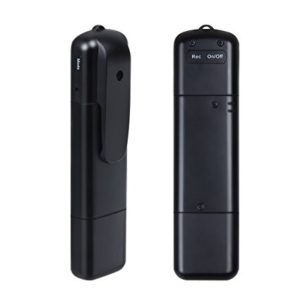 Corprit pocket camera is just 4 inch in long and 1 inch wide. It easily fits in the hand. It serves as great portable hidden cam for recording conference, meetings, and seminar recordings.
Pocket spy camera is useful for taking photographs and making audio recordings (spy voice recorder). Its in-built fully rechargeable battery makes it capable of recording for an hour and a half.
The mini pocket hidden pen camera does not in any way interfere with one's dressing, be it corporate or casual as it is easy to attach to the pocket flap.
Specifications
Storage : 32GB SD card
Photo format : JPEG
Video format : AVI
Photo resolution : 2560*1920
Sensor : 5MP CMOS sensor
Lens : F2.8 6G lens 100 wide angle
Video resolution : Full HD 1080p/30fps
Audio recording format : WAV
Recording time : 90 minutes
Charging time : 2 hours
Battery : 560MA Lithium polymer
Loop recording
Motion detection
6 lay all glass pinhole lens
LED indicator and Microphone
Pros
Portable and stylish
Gives a high-resolution image
Easy for everyday use
Motion detector video recording
Cons
Does not come with charging cable
Conbrov T11 Mini Spy Hidden Camera Portable Covert Nanny Cam
The Conbrov T11 is a tiny spy device with a multi-function features. The video quality exceeds what one can expect from a device as small as this, yet with a PIR motion range of 26 feet maximum.
It has a loop recording capacity and can easily overwrite old files to save new ones. The micro spy camera is easy to charge by connecting to a PC or power bank with a USB cable. It has storage capacity of 32 GB. Files can be copied either by plugging into a system or by using the SD card in a card reader to read the stored files.
Specifications
Size: 2.5 x 1.4 x 1 inch
Loop recording: enabled
Built-in Battery capacity: 1000mAh
PIR angle: 60⁰
PIR detection range: 25 feet (max)
Storage capacity: 32GB
Resolution: 720P
Super night vision
Rotatable lens angle
Pros
Can continuously record for 4 hours (day time) and 1.5 hours (night vision)
Easy to operate buttons and indicator instructions
LED does not light up when in use at night which makes it concealed.
120⁰ wide angle and 180⁰ vertically rotating lens which extends vision
Can easily fit in for webcam use
Cons
No wireless control
Does not work without SD card
Instructions not clear
MEAUOTOU Wi-Fi Hidden Camera Fire Detector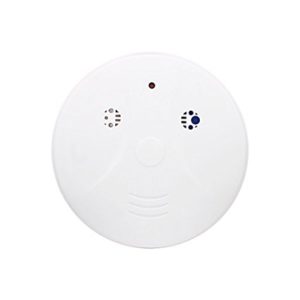 The MEAUOTOU is a discreet camera, hidden inside a regular fire detector without any indicator light to show when it is working. You can easily operate camera through smartphone app. Using app, capture screenshots, record videos, turn off indicator lights or sound, adjust video resolution with few clicks.
Features/Specifications
App monitor with 1080P real-time HD video
Motion detection alarm
Full HD real-time video
Micro SD card loop recording
Storage Capacity : 64GB
Viewing angle : 78⁰
Pros
Live streaming on app enable phones- iOS or androids
No indicator light
Discreet and covert
Easy to set up
Uses a Wi-Fi router
Cons
Only works with 2.4G Wi-Fi system
Can not store recorded files for long
Battery charging time of 5 hours is long compared to recording usage time of between 1-2 hours
Conclusion
Conclusively, having made a list of the best-hidden cameras you can afford in addition to the brief highlight and features given, we hope you can now select from the various choices listed and get the best out of your hidden camera.
You can easily use this cameras in offices to monitor your staff and the daily activities or use at home as a nanny cam or as a surveillance camera on your property.