The Apple Watch is no doubt one of the best smart watch available in the market. You can manage all your daily activities and entertain yourself using just a little strap on your wrist. The Apple Watch comes loaded with features that we use on a daily basis. As it is used a lot, it does put strain on the battery. If you use the watch a lot, your battery gets low and it interrupts whatever you use it for.
The watch does have a charger, of course. And there are a lot of other third party chargers as well. Wireless chargers, charging pads, charging stands and what not. But the problem arises when you are outside and low on battery. Other chargers can't charge your watch while you are on-the-go. You can't charge it if you don't have any power socket. And that is a problem.
But every problem has a solution. And to this problem the solution is Batfree. The world's first ever charging strap for the Apple watch. It's just like wearing your Apple watch. The only difference will be that it will be charging alongside. Just fit your Apple watch of any series 2, 3 or 4 on the strap and charge it wirelessly, quickly, anytime and anywhere.
BatFree has two rechargeable 300 mAh Li-polymer batteries integrated on both the sides of the strap. Two batteries being present inside of it gives your Apple Watch an extra total of 27 hours of battery life on just a single full charge of BatFree.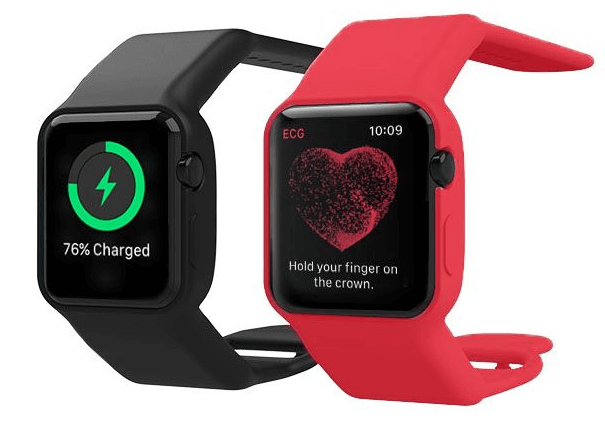 Once you fit your Apple Watch on the strap you don't need to take it out again and again after it's fully charged. There is a special on/off button which starts and stops charging in just one simple click. There is no need to take the watch out when you are charging the strap. The strap can be conveniently and quickly charged via the pin charge point recessed into the side of the watch case. It will charge Apple Watch first and then the strap.
The BatFree strap won't hinder any of the features of the Apple Watch from working. It doesn't cover any part of the digital screen so the controls remain unchanged. It doesn't interfere with activity tracking features of the Apple Watch as well.
The strap is made of high-quality silicon. It's soft yet durable. You won't have to worry if you wear it while exercising because the strap is sweat-proof. It can resist sand, dust and dirt too. It is waterproof as well. So there is nothing to worry even if it falls off on whether it's a hard surface or water. You can even swim while you are wearing it and track the amount of calories you burnt.
Weighing in at just 100g, it is lightweight. The strap is just 30mm wide & 14.4 mm thick and fits the wrist of both a male and a female comfortably.
So if you are an Apple Watch user who would want your watch to stay alive in action for a long time, Batfree is the perfect option for you.
Source – https://www.kickstarter.com/projects/798072516/batfree-worlds-first-power-strap-for-apple-watch