Technology surrounds us in this modern age. No aspect of our lives has stayed untouched. Everything is turning smart and it surely had helped make some of our stuff easier. Artificial Intelligence has helped develop gadgets more advanced than ever. There are smart TVs, smart glasses and even smart toys. They do more things and better than their old traditional counterparts. One of these new smart gadgets is Ayi.
Developed by Ayi technologies, it is an AI-powered smart mirror. It looks visually stunning and does way more than just showing one's reflection.
First of all it serves as a home assistant. The smart mirror uses machine learning and user feedback to give practical advice regarding your query. It can not only make schedules for you, but along with that it can analyze your schedules and suggest what you may need to achieve the task scheduled.
For example, if you schedule a meeting at 2pm, along with a reminder Ayi will also suggest automatically making call to an Uber at 2pm.
It can also show your daily, weekly or monthly data regarding your daily usage in one dashboard.
Ayi has speech recognition too. You can control everything hands-free just using your voice commands. Place orders, check weather, make calls, do mathematics everything with your voice easily. Also, it has a voice of its own like any smart assistant.
It can track your physical activities throughout a day after being paired with fitness devices. Ayi can also give you fitness and health suggestions by using that data. You can pair it with sleeping devices to receive sleep analysis.
Ayi acts as perfect control hub for any of your home devices. You can control the temperature, lights, locks and cameras all by just your voice with Ayi. Just give voice commands to increase the temperature or to unlock the doors or turn the lights off and Ayi will take care of it.
Even more, the smart mirror comes with several Augmented Reality apps, so it can show you how a pair of sunglasses or some jewelry or hats etc would look on you. It is made possible by the built-in 1080p HD camera. You can also use camera for video calls.
Ayi can also work as a display. The device can show videos and it can also play music or your favorite podcasts if you ask it to. You can use over 1 Million apps available on Google Playstore. It can keep an eye on your health and entertain you at the same time.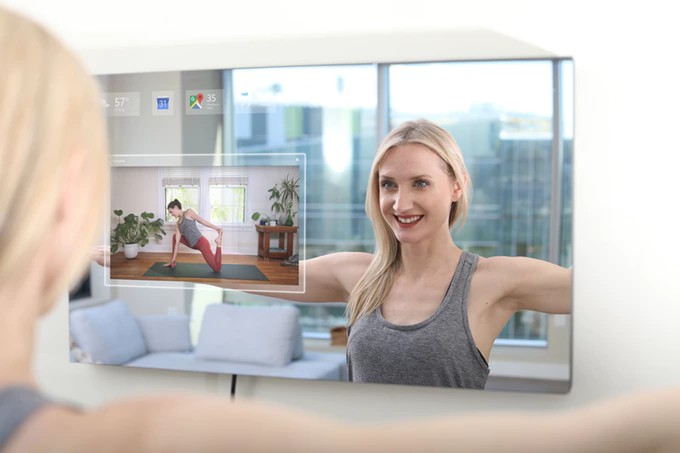 As for the technology behind Ayi, the mirror is actually a Samsung display with HD resolution and it comes with a Corte A9 processor and Realtek Sound card. It's operating system is Instinct OS. It has 16 GB of RAM and 64 GB internal storage.
The glass is anti-print and the screen is just 2 cm thin. All of its electric components are stored in one adapter that keeps Ayi that thin.
Ayi is user-friendly and visually stunning. Its rich in features, easy to use. So for anyone who loves technology and buying it, Ayi is one gadget to buy.
Source – Kickstarter