If you're looking for a one stop solution for your need of air quality detectors and air purifiers, you must have a look at the 'Aura Air'. It is claimed to be the world's first total air solution. It has the ability to detect, analyze and filter an array of air pollutants, allergens and microbes. And thus, it eliminates the need of several devices for the mentioned purposes.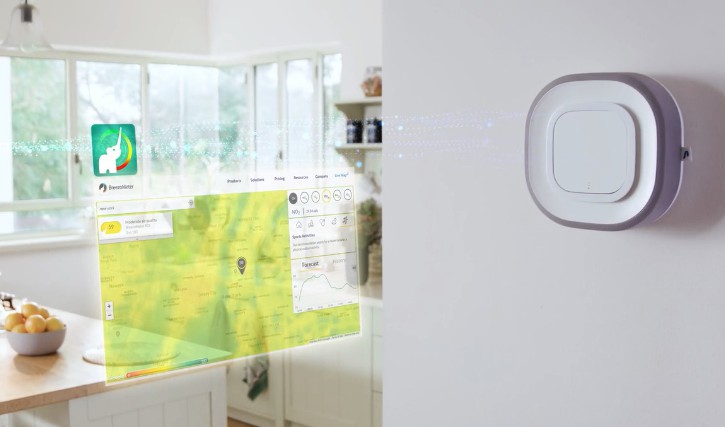 The product claims to be a cutting edge technology in terms of indoor air quality management. If the combination of detector, analyzer and purifier wasn't enough already, the product also comes equipped with wholesome features. It has compatibility with IoT and seamless connectivity with smart devices like Amazon Alexa and Google Assistant.
Not only does it remove the major allergens, pollutants and microbes present in the air but it also has specialized sensors to check and maintain the CO and VOCs levels. On top of it, it also senses the levels of LPG in the air and notifies you to address the issue before it becomes a threat. What's more in store is that it absorbs and nullifies any kind of bad odors present in the air and preserves its natural freshness.
A thorough in-depth cleaning of every square inch while maintaining the gentle homeostasis of a home's balanced air.
Aura Air stays connected to you through a smartphone app under the same name. It sends you real time updates about the Air quality of your indoors. The device is claimed to work well with voice controls and it can also be personalized by the user. This makes it easily accessible to anyone operating it.
It comes integrated with a feature 'BreezoMeter' which enables you to quickly and easily monitor outdoor air data and pollution levels. You can even get actionable recommendations based on the current pollution level.
Aura Air's algorithms consider outdoor air quality, your geo-location, recent air patterns, and other variables to provide an accurate representation of your indoor air quality, trusted by scientists worldwide.
It comes with a one year warranty and can be bought along with extra filters, each of which is supposed to work perfectly for a year. The small device measures 11.5 X 11.5 inches and weighs 3 kg. It has an ability to efficiently cover a reasonably large area of 65 m2 and it works well on an input AC voltage range of 100V to 240V.
Just hang it on a wall or put it on the ceiling, this beautifully designed air purifier will add to the indoor ambience and give you a breath of fresh air.
Link – https://www.kickstarter.com/projects/782203745/aura-air-the-worlds-first-total-air-solution