Charging is an essential part of any smartphone or laptop or any gadgets. We need to charge them if we want to use them. We have seen rapid evolution of charging technology in last few years. Many changes and many new technologies were introduced. Wireless chargers, multi-purpose chargers, charging stands, charging pads, even combinations of the aforementioned. In short, charging is not what it used to be. We have moved on from the basics according to our needs and comfort. Even after many new technologies there is always something missing. Like if you own multiple devices with different types of ports, charging them all can be a headache.
The all new AllHub looks like a solution. A powerful multi-port USB-C docking station.
USB-C is one of the most in things these days. New gadgets come in a Type C port and if you don't have a compatible charger you will have to go through messy cables and dongles. Which is completely opposite of what they are supposed to be. Which is to be convenient.
AllHub solves a lot of that problem. It has multiple Type-C ports and you will never run out of place to charge if you own multiple devices. It has 5 USB-C ports, 3 USB 3.0 and 2 USB 2.0 ports. These ports result in faster charging and faster data transfer as well. You can charge 5 mobile phones and/or tablets at the same time.
The top of this small square powerhouse is not just for decoration purposes. But it's a 10 Watts Qi wireless charging pad. While you have your other devices charging with the 5 ports you can charge another device wirelessly by just placing it on the top of the AllHub.
Not just mobile phones but you can also charge your laptops. It supports up to 100 Watts Power Delivery which is powerful enough to charge a laptop.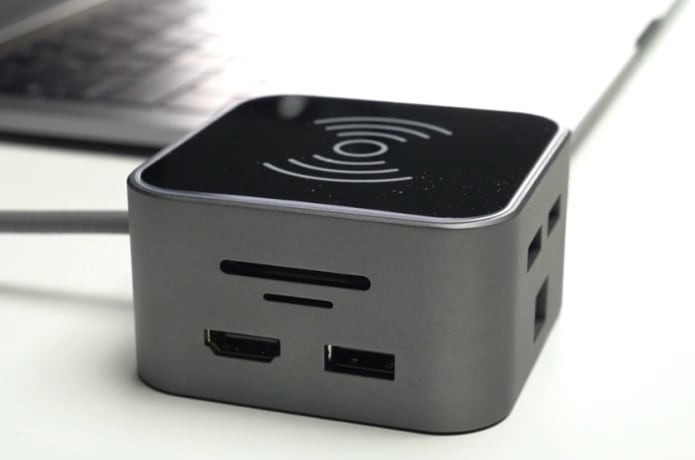 AllHub serves as more than just a charger. It comes with a HDMI port. You can turn your mobile into a desktop or even a TV. Connect both mobile phone and the desktop or the TV with AllHub and whatever you do on your mobile, you can do on a bigger screen. You can even watch 4K videos because the HDMI does support 4K Ultra HD output which is an amazing bonus.
Speaking of bonus, AllHub has even an Ethernet port which supports speed upto 100 mbps. Along with that it has a built-in 3.5 mm headphone jack and a mic line-in port. AllHub even has SD and micro-SD slots.
It's really small in size and lightweight. You can easily carry it anywhere you go and solid aluminum body will make sure it doesn't get damaged.
You can transfer data, charge multiple smartphones, charge tablets, charge a laptop, turn your mobile into a TV, connect your desktop, connect your keyboard and what not!
All of this makes AllHub one of the most multi-purpose chargers out there and helps it stand out. It truly is a mini powerhouse.